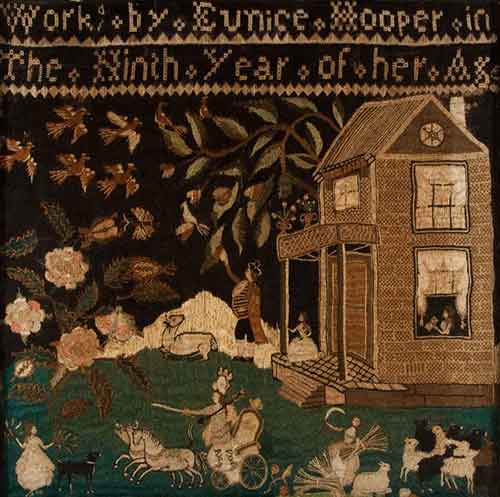 Cobblers are an American deep-dish fruit dessert with a thick crust and a fruit filling. Apples were brought to North America by colonists in the 17th century and were first grown near Boston.
Apple Cobbler Recipe
For the apples:
2 apples, peeled, cored and thinly sliced
1/4 cup sugar
1/2 teaspoon cinnamon
For the dough:
1 1/3 cups all-purpose flour
1/4 cup sugar, plus more for sprinkling
1 1/2 teaspoons baking powder
1/2 teaspoon salt
5 tablespoons chilled unsalted butter, cubed
1/2 cup chilled whole milk, plus more for brushing
Position a rack in middle of oven and preheat to 350° F.
Mix the sugar and cinnamon together. Place apples in an 8x8-inch baking dish and toss with the sugar cinnamon mixture. Set aside while making dough.
Whisk flour, sugar, baking powder and salt in a medium bowl. Add butter and, using fingertips, rub butter into the flour until coarse meal forms.
Add milk and stir just until dough forms. Spoon the cobbler mixture over the apples brush the top lightly with milk and sprinkle with sugar.
Bake until apples are tender and topping is cooked through and golden all over, about 45 minutes to one hour. Serve warm or at room temperature with vanilla ice cream.
Serves 4 to 6
Recipe courtesy of Maite Gomez-Rejón
Image: Eunice Hooper, Sampler , ca. 1790.