Taking inspiration from The Huntington's collection of WWI posters and ephemera, and the evolution of victory gardens, Maite Gomez-Rejón shares nuggets of culinary history and a delicious recipe for fresh herb soup.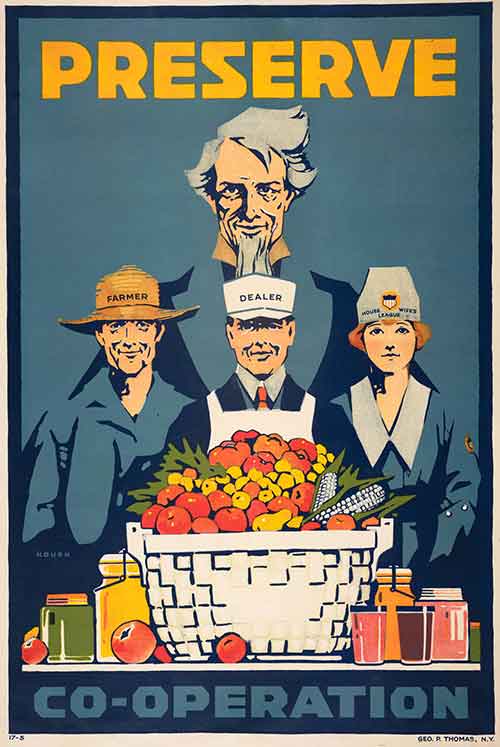 Under the direction of Herbert Hoover during World War I, the United States Food Administration set food conservation and preservation goals, along with goals for local food production through the Victory Gardens. Citizens in the US, UK, Canada, Australia, and Germany were encouraged to plant fruits, vegetables and herbs to supplement their rations and to boost civic morale. Nothing could be more relevant today.
This simple and inexpensive soup can be made with any fresh herbs.
Fresh Herb Soup Recipe
2 tablespoons butter
2 shallots, minced
3 baby potatoes, peeled and diced
6 cups chicken or vegetable stock
2 cups parsley
1 cup basil leaves
1/2 cup cilantro leaves
2 tablespoons tarragon leaves
1 tablespoon lemon juice
salt and pepper
1/2 cup crème fraiche, optional
Melt the butter in a large saucepan. Add the shallots and cook over low heat until softened, about 5 minutes. Add the potatoes and stock and bring to a boil. Cover and simmer over low heat until the potatoes are tender, about 10 minutes.
Add the fresh herbs to the soup. Working in batches, puree the soup in a blender or using an immersion blender. Return the soup to the saucepan, add the lemon juice and season to taste with salt and pepper.
Add a dollop of crème fraiche to each bowl and serve.
Serves 6
Recipe courtesy of Maite Gomez-Rejón
Image credit: World War I Poster and Ephemera Collection, Huntington Library.