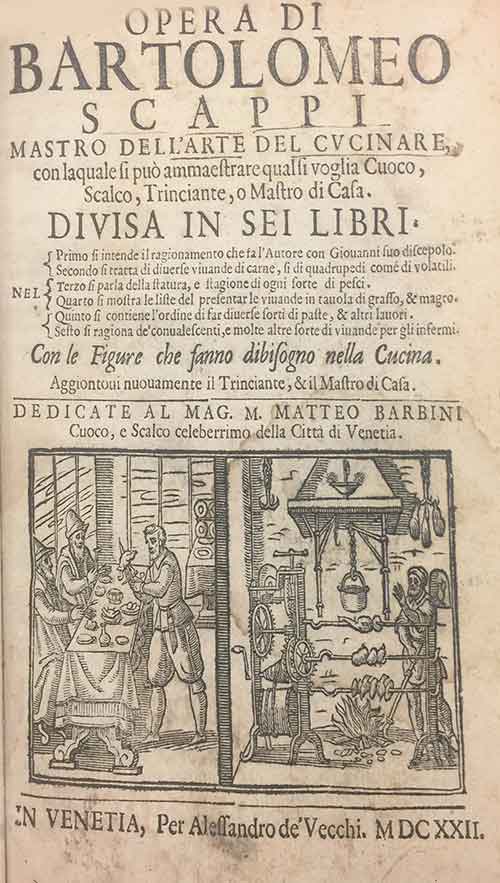 This recipe is inspired by Bartolomeo Scappi's Opera: The Art and Craft of a Master Cook. Published in 1570, Opera was The Joy of Cooking for the Italian Renaissance, and Scappi is often considered the first internationally recognized chef.
In his recipe for Mushroom Crostata, Scappi advises using mushrooms that "grow in the woods at the foot of chestnut trees" and to sauté them in olive oil with onion and garlic. I added some Parmesan cheese which he considers the "best cheese on earth."
Mushroom Crostata Recipe
For the dough:
1 cup all-purpose flour
1/2 cup whole wheat flour
1/2 teaspoon salt
1 1/2 sticks cold unsalted butter, cubed
1 egg
1 tablespoon milk
1 lightly beaten egg, for egg wash
For the filling:
1 pound cremini or button mushrooms, coarsely chopped
2 tablespoons olive oil
1 yellow onion, thinly sliced
1 clove garlic, thinly sliced
1 teaspoon chopped rosemary, oregano, parsley or thyme (or a combination)
1/4 cup Parmesan cheese, grated
salt and pepper
Prepare the dough. Combine both flours and salt in a food processor; blend for 5 seconds. Add butter and pulse until the mixture resembles coarse sand. Whisk egg and milk in a small bowl and add to the flour and butter mixture. Pulse until moist clumps form. Gather dough into a ball; flatten into a disk. Wrap in plastic wrap and chill for 1 ½ to 2 hours. This can be prepared 2 days in advance.
Preheat oven to 400° F. Roll out dough on floured surface to 12 to 14-inch round. Transfer to a parchment lined baking sheet.
Meanwhile, wipe the mushrooms and coarsely chop. Set aside.
Heat oil in a wide skillet over medium heat. Add the onion and garlic and cook, stirring occasionally, until soft and translucent, about 4 minutes. Raise the heat, add the mushrooms and sauté until they begin to soften, about 5 minutes. Stir in the fresh herbs and season to taste with salt and pepper. Cook until the mixture in dry.
Spread 2 tablespoons cheese over the dough, leaving 2-inch border. Add the mushroom mixture and top with the remaining cheese. Fold edges of dough over filling, pleating as needed. Brush border with egg wash and bake until crust is golden brown and filling is bubbly, about 45 minutes. Serve warm or at room temperature.
Serves 6
Recipe courtesy of Maite Gomez-Rejón