Alma and Mark Banuelos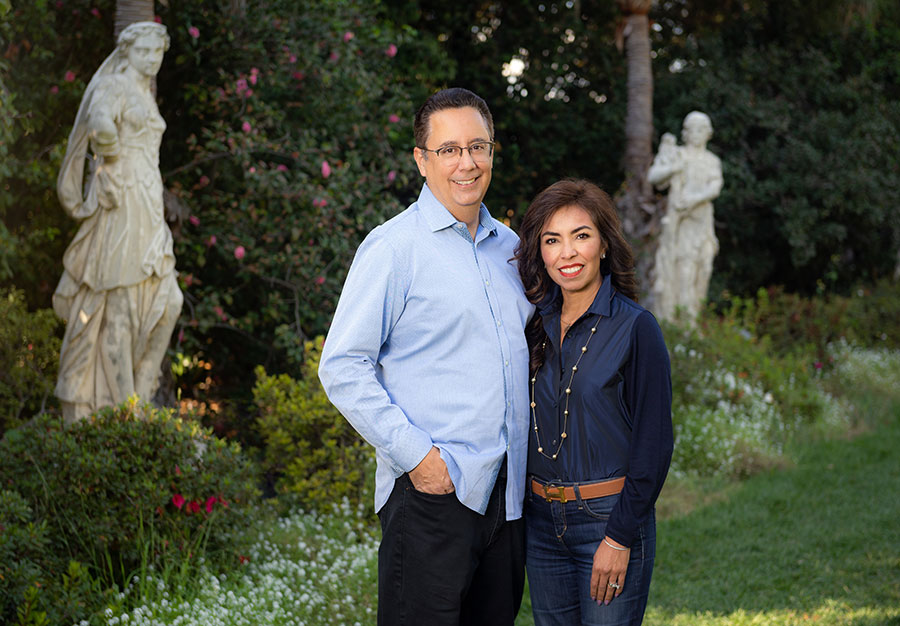 Every gift to The Huntington makes a difference, enabling individuals to connect with the humanities, nature, and one another. Here, Alma and Mark Banuelos, longtime members of the Huntington community, discuss their love of the institution's awe-inspiring collections, programs, and gardens and how The Huntington's mission aligns with their values.
Tell us a bit about your Huntington story.
Mark often came to The Huntington with his family when he was young, and he has great memories of the Huntington Art Gallery and the Botanical Gardens. Once we were married and moved relatively close, we joined as Members and often participated in events, such as summer music nights, holiday boutiques, and educational lectures. Our daughter was born in 2000, and we often took her to the Children's Garden, which had newly opened. She loved splashing around in the water features.
You have become more involved over the years, including joining the Arabella and Henry Huntington Heritage Society and the Society of Fellows. Why?
Mark and I feel that The Huntington is a local treasure and needs to be preserved and made available to as wide an audience as possible. By joining the Heritage Society and the Society of Fellows, our hope is that the gifts we make will continue to allow people of all ages and backgrounds to experience this wonderful place.
We are delighted you have included The Huntington in your estate plans, which will provide future support for the institution's educational mission. What compelled you to make this thoughtful commitment?
As Mark and I have progressed in our careers and have had some success, we both feel that we have an obligation to give back to the community through our estate. As a national trust executive for City National Bank, I see how donations through estates can have tremendous impact in the community. We chose The Huntington to support because we know the organization will use the funds wisely and for a greater purpose.
What do you tell others about The Huntington?
We often tell people about the unique experiences at The Huntington, which include fantastic music programs, fascinating lectures on history and art, and a great variety of member events. Some of the best times we have had at The Huntington are simply walking alone in the gardens early in the morning, enjoying the surroundings and the tranquility. Yes, it is definitely a wonderful place to see artwork, but there is so much more to experience.
Gifts of all sizes, including gifts from one's estate, help ensure that The Huntington's collections and programs continue to engage and captivate the next generations of scholars, students, and visitors. If you have questions about naming The Huntington as a beneficiary of your estate, please contact Cris Lutz, senior director of gift planning, at clutz@huntington.org or 626-405-2212. If you have already included The Huntington in your estate plan, we would like to thank you for your generosity by welcoming you to the Arabella and Henry Huntington Heritage Society.