An Artful Collaboration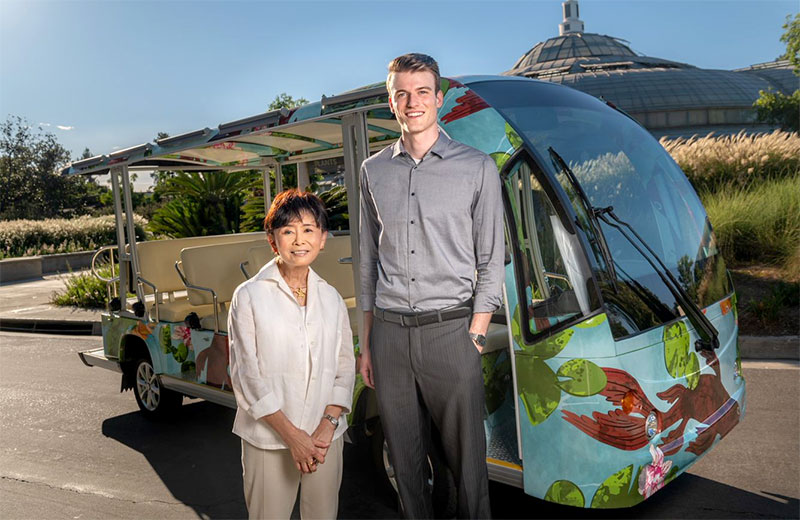 While researching carts that would be up to the task, Jerry, who has a personal and professional interest in design, realized that in addition to having a utilitarian function, these vehicles could also be a canvas for whimsical art. Together with Randy Shulman, The Huntington's vice president for advancement and external relations, an idea was hatched. The Kohls would generously fund the purchase of five electric vehicles that could transport 14 passengers each—nearly three times the number of passengers that a smaller cart could carry.
The Huntington also explored ways to make these vehicles, which would be used for major events and special tours, visually beautiful. This novel idea was discussed with Huntington Trustee Mei-Lee Ney, who immediately saw an opportunity to orchestrate a unique collaboration with Otis College of Art and Design, where she is the chair of the board of trustees. Ney suggested that students from Otis Design Lab could showcase their talents by creating illustrated patterns to adorn The Huntington's new electric shuttles.
"The Huntington benefited from the Design Lab's fresh approach, and working with a well-known client like The Huntington offered an incredible opportunity for these young designers to expand the visibility of their work," Ney says.
After touring the grounds, the students created 12 distinctive designs. Of those, five were selected for reproduction on the vehicles. Each student focused on a different element or location within the Botanical Gardens.
Ney was impressed with the diversity of expression. "The designs were so insightful and altogether different from one another," she says. "These cart designs will serve as a reminder to our visitors that our gardens and collections are ongoing sources of artistic inspiration."
A common refrain among the students was the wealth of choice for subject matter. "I remember walking through the grounds in constant awe of all these plants I didn't even know existed," Charlie Willette Utter says.
Ultimately, he was most inspired by the activity at the Lily Ponds. His winning design, "Koi Fish," reflects his experience observing the fish and visitors' responses to them.
"The fish swim up to the surface, and it almost feels like they're greeting you," he notes. While he was at the Lily Ponds, dozens of people stopped to watch the koi. "They took a moment to absorb the beautiful landscape around them. I think that's a really important interactive moment that a lot of people share."
For one of her two chosen designs, "A Moment of Peace," Isabel Kim drew inspiration from the Chinese Garden, Liu Fang Yuan 流芳園, or the Garden of Flowing Fragrance. "I wanted to show the harmony between the natural and the human-made, which ties into The Huntington's message that conservation can exist in modern society," she says.
The Kohls were delighted by the colorful outcome of the collaboration and have plans to add to the fleet of carts. "These wonderful designs will inspire visitors and visually transport them into the Botanical Gardens," Jerry Kohl says, "just as the new shuttles will transport them physically."