Celebrating the Successors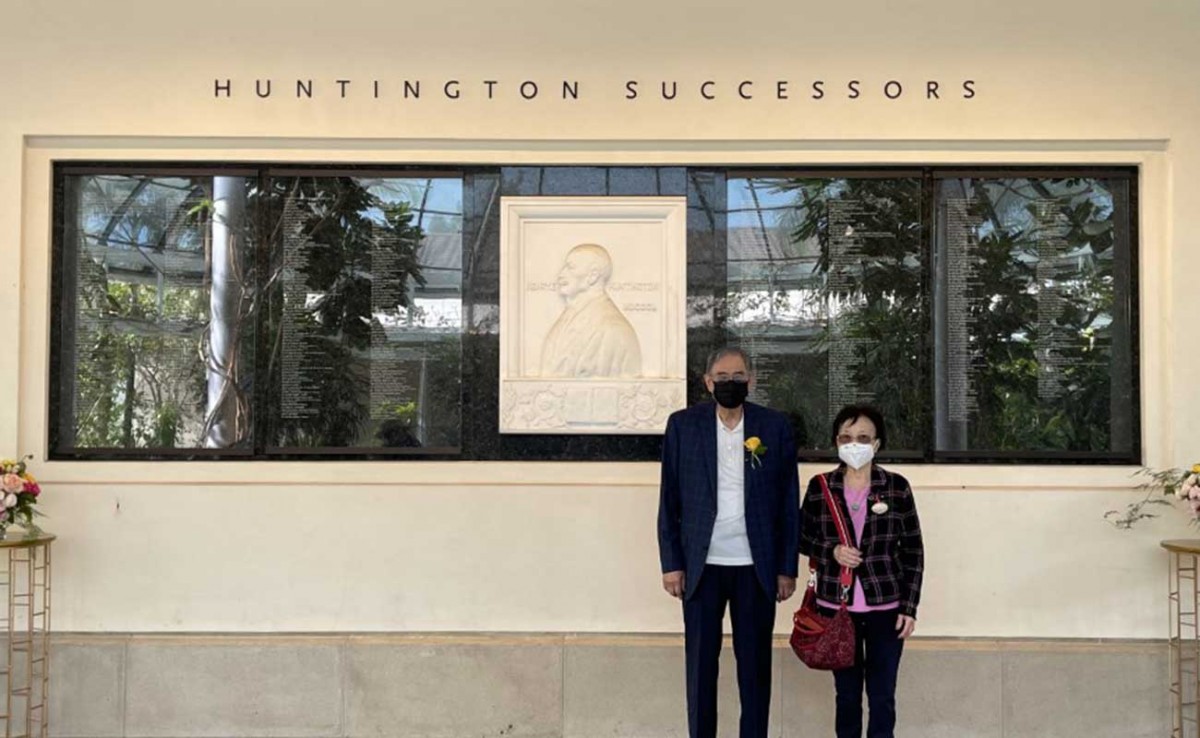 Dr. Peter Wei-Teh (left) and Mrs. Lai-Wah Mui Chen (right) at the Successors Stroll.
The Huntington Successors embody the generosity that is at the heart of this remarkable institution, providing exceptional support to The Huntington's critical mission as one of the world's premier cultural, research, and educational centers. On May 20 Successor donors had an opportunity to view the newly updated Successors Donor Wall and stroll the gardens after hours.
Donors are invited to join the Huntington Successors when their cumulative gifts total $100,000. (Recognition is also made posthumously, in the case of bequests.) Donors are recognized again at subsequent milestones of $500,000, $1 million, $5 million, and $10 million. The Successors group increased remarkably this year, with 31 new donors and 11 donors moving up to higher levels. All told, there are more than 600 Successors whose collective giving exceeds $1 billion—funds that support the institution's research and education mission and will help sustain it for generations to come.
For information about joining the Huntington Successors, contact Randy Shulman, Vice President for Advancement and External Affairs, at rshulman@huntington.org or 626-405-2293.
New Successors
Anonymous
Estate of Lynn Altman
Sandy and Dan Bane
The Berst Family
Caron and Steven Broidy
Birch L. Carlson
Henry & Naida Chin, Theodore & Myrna Wong
Carolyn and Robert Denham
Dr. W. Bruce and Lois B. Fye
Estate of John R.J. Gawley, D.D.S., M.S.
Green Set
Mr. and Mrs. Ronald L. Havner Jr.
In loving memory of our parents Daniel and Annie Jeng: The Families of Kenneth Jeng, David Jeng, Clifford Jeng, Diane Jeng Wong, and Dennis Jeng
Ms. Dorena R. Knepper
Phaedra and Mark Ledbetter
Betty Waisum Ma and John Francis Pipia
Mr. and Mrs. Kimball P. McCloud
Ms. Christine McCarthy and Mr. Michael McCormick
Mrs. Linda Bode Merrifield
Mr. Dan Needham and Ms. Debby Needham
Angel Yeh Ogden and Clement Moore Ogden
Estate of Mary Tachiko Oi
The Estates of Nancy & George Parsons
Pasadena Garden Club Terry
Perucca & Annette Serrurier
David and Kathleen Renton
Sarah and Daniel Rothenberg
Sahm Family Foundation
Tracy Beetler and Logan Smith
Akira and Yohko Yokoi & Family
Successors Ascending to Higher Levels
Anonymous
June and Merle Banta
Nancy M. Berman and Alan J. Bloch
Dr. and Mrs. James C. Caillouette
Mr. & Mrs. James K. Dunton
Mr. Scott E. Jordan
Henry Luce Foundation
Ms. Wendy Munger and Mr. Leonard L. Gumport
Estate of Dr. Ellen Hecklinger
Susan and Carl W. Robertson
The SahanDaywi Foundation