Close to the Heart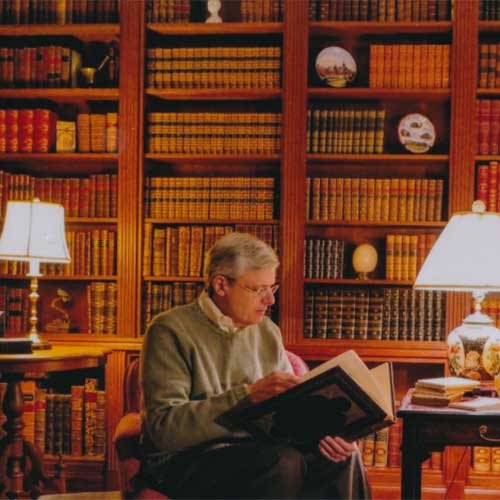 Dr. W. Bruce Fye has achieved a medical trifecta. In addition to enjoying a long and successful practice as a cardiologist and a distinguished record as a historian of medicine, over the course of his career, he built one of the world's largest private libraries focused on the history of cardiology.
A self-described "bibliomaniac," Fye began collecting books as a teenager, eventually focusing on the history of cardiology when he was a pre-med at Johns Hopkins University. He collected avidly in the decades to come, seeking out relevant volumes from sources ranging from auctions and book dealers to used bookstores he discovered while vacationing with his wife and daughters.
After 50 years of collecting, he is donating to The Huntington a cardiology library of more than 2,700 books and a rich collection of scarce secondary literature. When asked why he decided to donate his collection to The Huntington, even though the institution is 2,000 miles away from where he makes his home, Fye explains that he was inspired by friends and colleagues. "I was friends with Dr. Lawrence Longo for many years and knew he had chosen The Huntington as the home for his remarkable collection on the history of obstetrics and gynecology. I'm also friends with Dr. J. Mario Molina, who is a great supporter of the history of medicine collections and research at The Huntington."
He adds, "It has been great fun to assemble the W. Bruce Fye Library of Cardiovascular Medicine, Surgery, Science, and Technology over the past half-century. Now, it is very exciting to contemplate how this extensive collection of primary and secondary sources—books and offprints—will be used by the staff and scholars at The Huntington Library."
Notable rare works include Realdo Colombo's De re anatomica (1559), which contains one of the first descriptions of the pulmonary circulation, and Caleb Hillier Parry's Inquiry into the Symptoms and Causes of the Syncope Anginosa, Commonly Called Angina Pectoris (1799), which first identified coronary artery disease as the cause of angina.
The Huntington's history of medicine and allied sciences collection was already well-grounded in early works, starting with the 15th-century medical works collected by Henry E. Huntington. The collections have grown with major additions, including rare books and archives from the Los Angeles County Medical Association, the 67,000-volume Burndy Library, and the Lawrence D. Longo and Betty Jean Longo Collection of Reproductive Biology, a trove of thousands of rare books, pamphlets, and manuscripts on women's health and reproduction. Joel Klein, Molina Curator for the History of Medicine and Allied Sciences, explains, "Dr. Fye's cardiology collection is undoubtedly the finest and largest of its kind. It presents a tremendous opportunity to broaden the scope of our medical collections and will be of great interest to researchers throughout the humanities." The W. Bruce Fye Library of Cardiovascular Medicine, Surgery, Science, and Technology provides an unparalleled view into the development of cardiology from the early modern area to the late 20th century. Says Fye, "Practically all of current cardiology practice and technology is new since John F. Kennedy was elected president of the United States." The arrival of this magnificent library brings The Huntington's history of medicine collections up to the present in what is undoubtedly one of the most important medical specializations of the recent past.
Gifts in kind play a vital role in expanding The Huntington's collections. For more information, please contact Amanda Greenberger, associate director of major gifts, at agreenberger@huntington.org or 626-405-2263.