Kim and Tony Cookson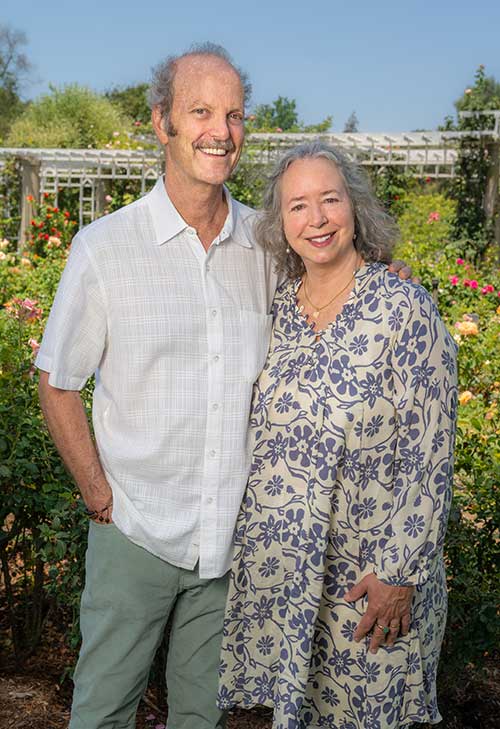 Tony and Kim Cookson have fond memories of visiting The Huntington—from stories of when their children were young and running around the grounds to treasured moments of enjoying English tea with family and friends. These memories and two decades of involvement at The Huntington inspired the Cooksons to honor Tony's mother by making a donation in her name to the Rose Garden Tea Room renovation project.
My wife, Kim, and I grew up back East. We spent summers in the country and loved the beauty and green of nature, and we missed it. When we first set eyes on the gardens at The Huntington—the green expanses and beautiful mature trees—we both felt a tremendous sense of "coming home." It was like an oasis and has continued to be a place where we can slow down and relax. We tend to forget to breathe and stop and look around us and appreciate. The Huntington offers a continuous feast for the eyes and mind.
For several years, when our kids were young, we would visit the gardens and soon realized that we needed a frequent dose of it, so we became members. We have so many wonderful memories of our visits there. We probably first came with our kids [Molly and Nick] when they were 11 and 6. Their faces would light up when they saw the grounds, and we would all feel a sense of joy and calm as we strolled about admiring the beauty and noticing which flowers or plants were in bloom. No matter the season, there is such beauty at The Huntington.
One of our favorite rituals was the race my daughter and son would have on the lower lawn next to the Australian Garden. They would line up next to the small pavilion at the far end. I would raise my arms and then let them drop, and they were off! Running as fast as they could toward me and my wife at the other end of the field—a good 75 yards away. My daughter would always win, but when our son turned 11, he beat her. After that, she said with a wry grin, "I think I'm done racing."
As we have become older, our appreciation for what The Huntington offers has grown, and we feel a sense of obligation to help enable others to enjoy this amazing place. It is a unique place that needs to be cherished and cared for. For several years, we've considered making a major gift in my mother's name, so when we were told about the chance to donate to the Rose Garden Tea Room renovation project, it seemed like a perfect thing to do because my mother loved it so much.
We used to bring my mother here in the mid-'90s. She loved the gardens, and we started going to the Rose Garden Tea Room then. Growing up in England, my mom loved tea, so visiting The Huntington reminded her of her childhood. We would also share this important and treasured ritual with Kim's parents when they visited us each spring. We are happy to be able to contribute toward this project and help The Huntington offer this experience to future visitors.
The Huntington is a magical place that will always delight and enthrall us!
For more information about supporting the Rose Garden Tea Room renovation project, please contact Marina Kohler, donor engagement director, at 626-405-3497 or mkohler@huntington.org.