A Love for Lifelong Learning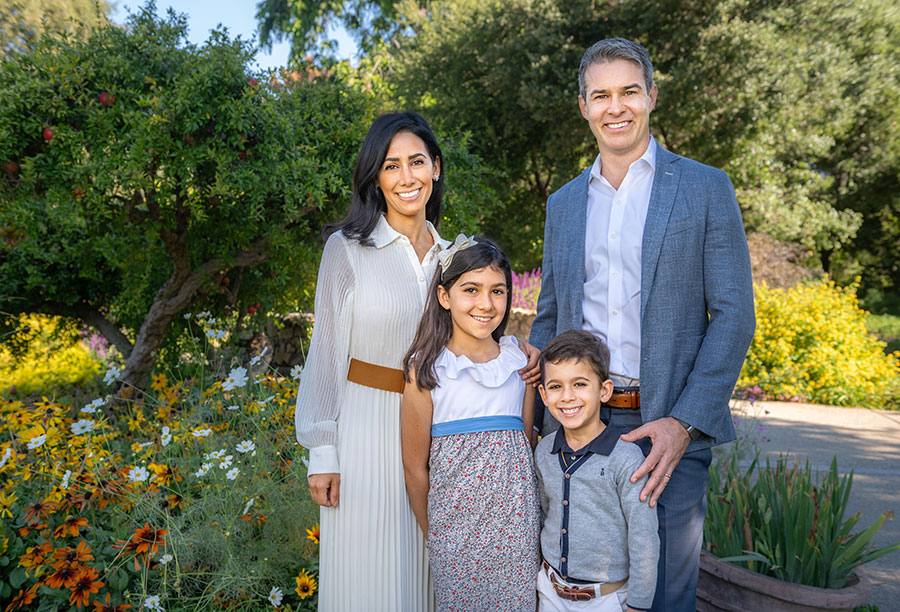 Initially, Shaudi and Sean Fulp would visit The Huntington on the weekends with their children, Mercer and Ferens. Over time, the family developed a deeper connection with the institution, which nurtured their love for lifelong learning. "The Huntington has become a big part of our lives," Shaudi says. As the family started to attend more lectures and events, Shaudi and Sean wanted to be more involved, joining the Society of Fellows and the Library Collectors' Council.
From special affinity groups to family programs, The Huntington could satisfy the Fulps' varying interests and offer something for everyone to enjoy. After years of visiting, the couple upgraded to the Society of Fellows, The Huntington's premier group of philanthropists. "We firmly believe in a multifaceted understanding of history—and books, art, and artifacts can be a big part of that journey," Shaudi says. Enjoying the experience of seeing materials firsthand and having unparalleled opportunities to learn directly from Huntington scholars and curators, the Fulps were then inspired to join the Library Collectors' Council, a group of supporters who help fund the purchase of new materials for the Library. "The Huntington is composed of such a bright, kind, and giving community. We are grateful to be a small part of it and help bring significant pieces to The Huntington for all to enjoy."
This love for learning has influenced Mercer and Ferens, who participate in the many family programs offered at The Huntington on any given weekend. It was at The Huntington that Mercer and Ferens learned how to read maps and developed a love for opera, Sean says. "I'll never forget the look on our daughter's face when she heard a piece from Mozart's Marriage of Figaro, which was being presented as part of a partnership with LA Opera," Sean remembers. "It was as though a lightning bolt ignited a passion none of us knew existed."
Although the Fulps live a bit farther than what would be considered convenient, they frequently drive from the Westside to San Marino to explore the expansive grounds. "Once you set foot on the property, the drive is well worth it," Shaudi says. "We are still discovering something new to explore—even after years of coming to this marvelous place!"
The Society of Fellows began in 1973 with 82 charter households. Today, the Society of Fellows has grown to more than 670 households from throughout Southern California and the country. Fellows enjoy a wide range of specially curated activities and behind-the-scenes tours that showcase The Huntington's collections, and they have the opportunity to meet and learn from curators, scholars, and staff. To learn more and become a part of this philanthropic community, please contact Pamela Hearn, director of the Society of Fellows, at 626-405-2264 or phearn@huntington.org.