Sarah and PJ Joshi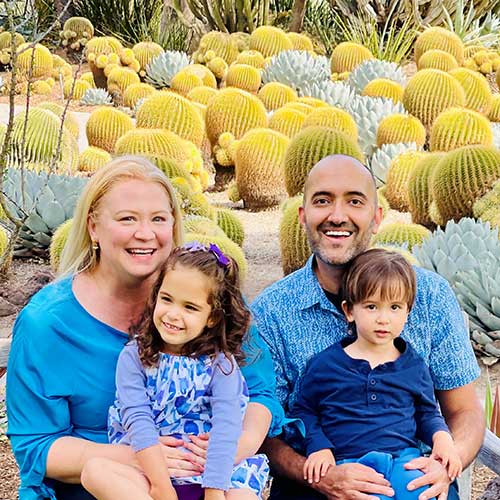 Our 50,000 Member households, whose membership fees help pay for The Huntington's operating expenses, are the heartbeat of the institution. Here's a look at one of our Member families and what they find special about The Huntington.
Sarah and PJ Joshi and their 2-year-old twins, Cora and Kiran, have been Supporting Members since 2009. The young couple moved from New York City and now live a mile away from The Huntington. "Sarah and I have had some of our most important conversations about the family we hoped to have while sitting on a bench overlooking the gardens at The Huntington," said PJ. "As our family has grown to include our twins, The Huntington has become such a safe and beautiful place for them to run in and explore," said Sarah, who visits nearly every morning with Cora and Kiran. "We know other morning walkers and all the security staff." When joining the family on weekend strolls, PJ said, "I realized that Sarah, Cora, and Kiran have made so many friends during their visits. This just adds to how special this place is for us."
To join, renew, or learn more about Membership at The Huntington, visit huntington.org/membership or call 626-405-2124.