Supporting Medieval Scholarship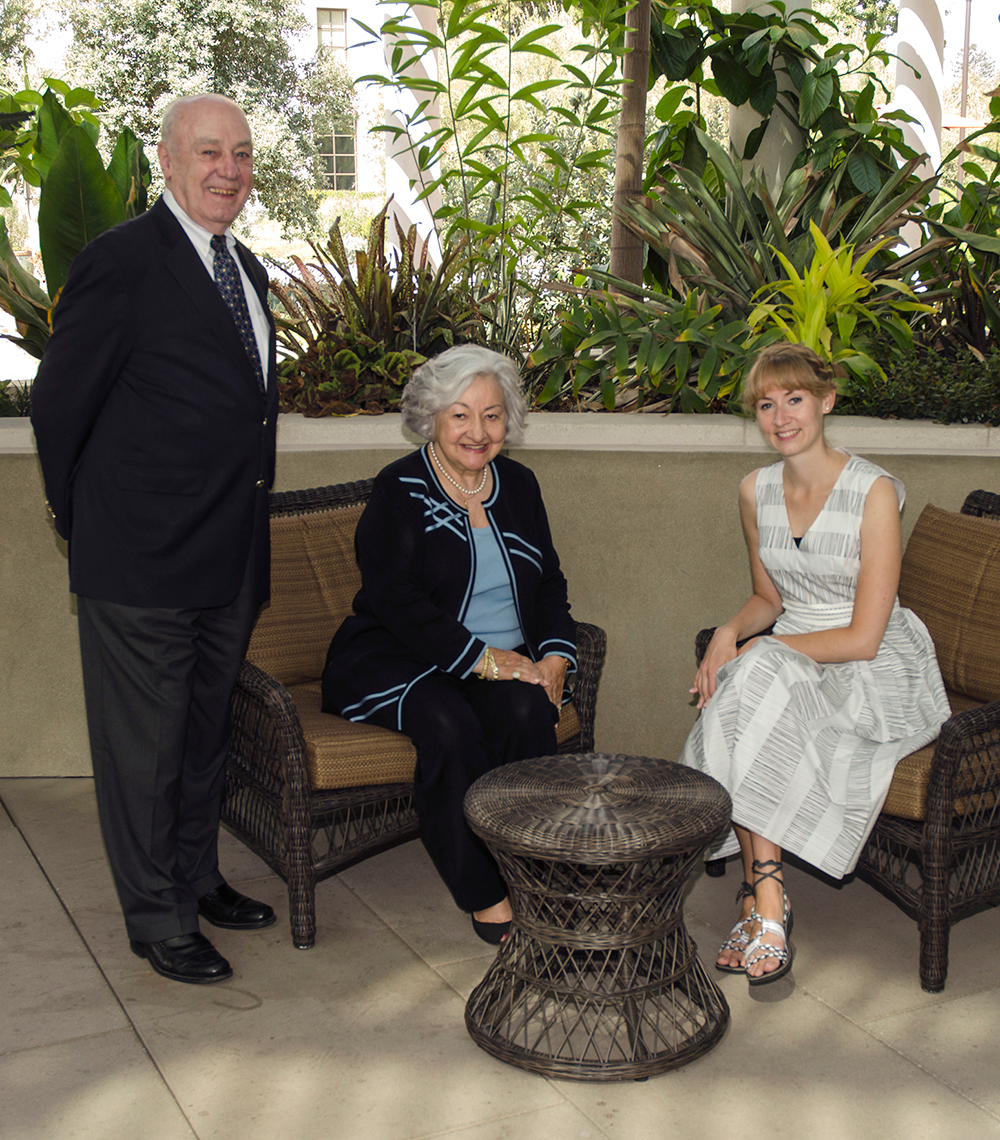 Erika and Ken Riley share a special interest in medieval history. Erika's own fascination dates back to her childhood in Germany, when she was captivated by the old books and antiques in her grandparent's home and by stories of medieval times. Her interest expanded to include medieval literature when she discovered the writings of Geoffrey Chaucer while a university student in Berlin. Thanks to her enthusiasm, Ken soon shared her passion.
It is no surprise, then, that the Rileys have a particular affinity for The Huntington's remarkable medieval holdings. Those holdings stem directly from Henry Huntington's personal collecting interests and include 450 medieval volumes, with particular strength in liturgical, legal, and literary texts produced primarily in 14th- and 15th-century England. The scope of the material is expanded exponentially by tens of thousands of medieval English deeds and manorial records contained in the Library's renowned Battle Abbey, Hastings, and Stowe collections.
The Rileys generously decided to encourage and support scholars who wanted to delve into this historical treasure trove. In 2006, they established the Erika and Kenneth Riley Fund for Medieval Manuscript Research. Nine scholars have taken advantage of the month-long Riley Fellowship since its inception. The Rileys, however, wanted to do even more. The couple recently matched their original gift, which means the fund will now annually support two Riley Fellows or a single Fellow for a longer period of time. The 2016 Riley Fellow, Cosima Gillhammer, is a Ph.D. candidate at the University of Oxford. Her doctoral project involves three late medieval manuscripts drafted by the same scribe. Gillhammer previously studied two of the manuscripts while in the U.K. Her fellowship allowed her to spend a month carefully studying the third and final manuscript, which is among The Huntington's holdings.
Steve Hindle, W.M. Keck Foundation Director of Research, is delighted. "By design, the Riley Fellowship is available to graduate students as well as tenured faculty. The opportunities for scholarly training and career development are profound." A case in point is Thomas McSweeney, who was a Ph.D. candidate at Cornell University working on a dissertation on 13th-century Anglo-French legal culture when he received the Riley Fellowship in 2009-10. Looking back from his current position as assistant professor in the department of law at the College of William and Mary, McSweeney believes that his time as a Riley Fellow was formative for both his dissertation project and his subsequent career. "During the hours I spent in The Huntington's rare books reading room, I learned how to make full use of an archive. And, of course, the marvelous collection of medieval English legal manuscripts has provided me with a treasury of materials to continue my scholarly research."
The Rileys are modest about the scope and impact of their gifts; Steve Hindle politely but firmly disagrees. "The purpose of The Huntington's research program is to encourage humanities scholarship of the very highest quality. That is exactly what the Riley Fellowship does so well."