Terri and Jerry Kohl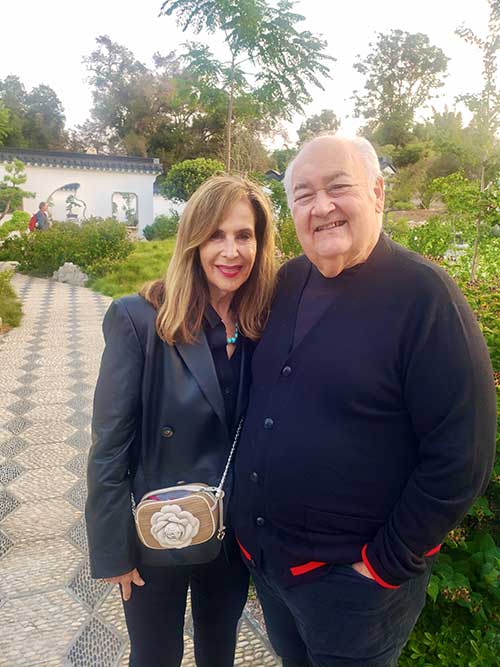 Enjoying afternoon tea is a beloved and iconic Huntington experience. When the pandemic forced the closure of the Rose Garden Tea Room, along with all indoor spaces at The Huntington, it was an opportunity to embark on a long-overdue renovation and restoration for the storied venue. Local philanthropists and Huntington neighbors Terri and Jerry Kohl have provided a generous gift of $2 million for the Rose Garden Tea Room renovation project—a tremendous help to move the project forward.
"Terri and Jerry work tirelessly to make the world a better place," said Randy Shulman, vice president for Advancement and External Relations. "Their devotion to the charitable organizations they support is inspiring. Their heartfelt joy for helping others is so deeply felt by those who benefit, and The Huntington is fortunate to be part of their cherished family of beneficiaries."
The Kohls are best known as the dynamic couple who founded the family-owned jewelry and accessories boutique line Brighton Collectibles. In 1969, the high school sweethearts opened their first store in Alhambra. In 1991, they launched Brighton Collectibles, named after the English city Brighton, with a collection of well-tailored, quality-crafted belts, which were inspired by finely made English belts. The company has since evolved into an extensive women's accessories line. Now there are more than 180 Brighton stores nationwide, 16 of which are in the Los Angeles area, and its products are sold in other boutiques all over the country.
Giving back and doing good things for people is at the heart of who Terri and Jerry are. Alongside their business success, they have also become immersed in philanthropy, giving generously to many local institutions. They donated to Huntington Hospital to support the expansion of its new Heart and Vascular Center; gave a transformative gift to the LA Opera Orchestra and pledged a challenge grant in support of the company's post-COVID-19 recovery; have long supported MUSE/IQUE, where Jerry serves on the board of directors; and have been benevolent art patrons supporting Pasadena City College Foundation, where a recent grant went toward the purchase of band uniforms.
Like many donors, Terri and Jerry's involvement with The Huntington began when they joined the Society of Fellows. For more than two decades, the Kohls have deepened their involvement by supporting a wide range of The Huntington's efforts. The couple made a major gift to help build the Steven S. Koblik Education and Visitor Center and sponsored The Huntington's yearlong Centennial Celebration with two other couples, Avery and Andrew Barth and Lisa and Tim Sloan. And now the Kohls have made a generous $2 million donation to renovate the Rose Garden Tea Room, adding to a lead gift made by longtime Huntington Board of Governors member Steve Rogers. This brings the fundraising total to over $7 million.
The renovation project will upgrade the indoor dining space, modernize the kitchen, develop new restrooms and ancillary areas, and create a pavilion on its eastern side, opening onto the Shakespeare Garden for exterior dining service. On the west side of the building, the room that faces the Herb Garden will also be renovated and made available for private rentals, in addition to being used for the Tea Room's general service. The Huntington expects to complete the project in 2022.
As with the other Huntington projects that they have funded, Terri and Jerry were enthusiastic about the Rose Garden Tea Room renovation because of their love of bringing people together. "The idea that we could take part in a project that would offer countless visitors an experience to enjoy elegant fare, served in an incomparable setting amidst thousands of roses, really spoke to us," said Jerry.
For more information on the Rose Garden Tea Room renovation project, please contact Randy Shulman, vice president for Advancement and External Relations, at 626-405-2293 or rshulman@huntington.org.