Todd Rugee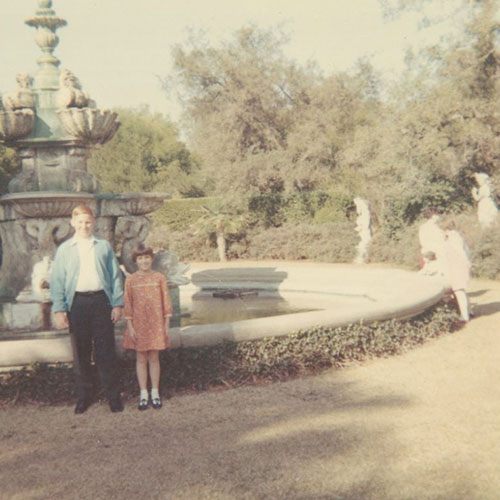 "My grandmother had an 'Auntie Mame' personality [from the titular 1958 movie]," said Todd Rugee, a Member of The Huntington. "And she was curious about things around Los Angeles. When I was a child, she lived in Arcadia, and she used to bring me and my sister to The Huntington." Their visits were typically several hours, starting in the mansion with the Grand Manner portraits, then moving on to the Library and its treasures, and then through the gardens, ending at the little kiosk that served as the gift store at that time.
"Grammy" introduced Rugee and his sister to The Huntington, and she personalized it as she shared her appreciation of the arts. Rugee credits this early exposure to the arts with providing direction in his adult life, particularly his career as a chandelier designer.
"Those childhood visits are definitely why I became a Member," Rugee said. "The Huntington is important as an institution, with its commitment to public knowledge, but also important as an oasis. The Huntington also fostered my love of gardens and gardening. I'm sure many of us Members have succulent gardens at home inspired by our visits to The Huntington."
When asked about what new parts of The Huntington his late grandmother would have enjoyed, Rugee named the American art galleries and the Chinese Garden. He also thinks she would have been happy that there are more restaurants and an expanded gift store.
Rugee is impressed with The Huntington's efforts to embrace diversity, from welcoming the Chinese community and building the Chinese Garden to celebrating the LGBTQ+ community's contributions. This is just one of the reasons he supports The Huntington, first as a Member and now through the Society of Fellows. But the first, and perhaps most important reason is his grammy and the marvelous memories of their time together at The Huntington.
Do you bring your grandchildren to The Huntington? Or maybe you bring your grandparents and share The Huntington with them? For a chance to be featured in a future article, send your story to advancement@huntington.org.