Weaving Connections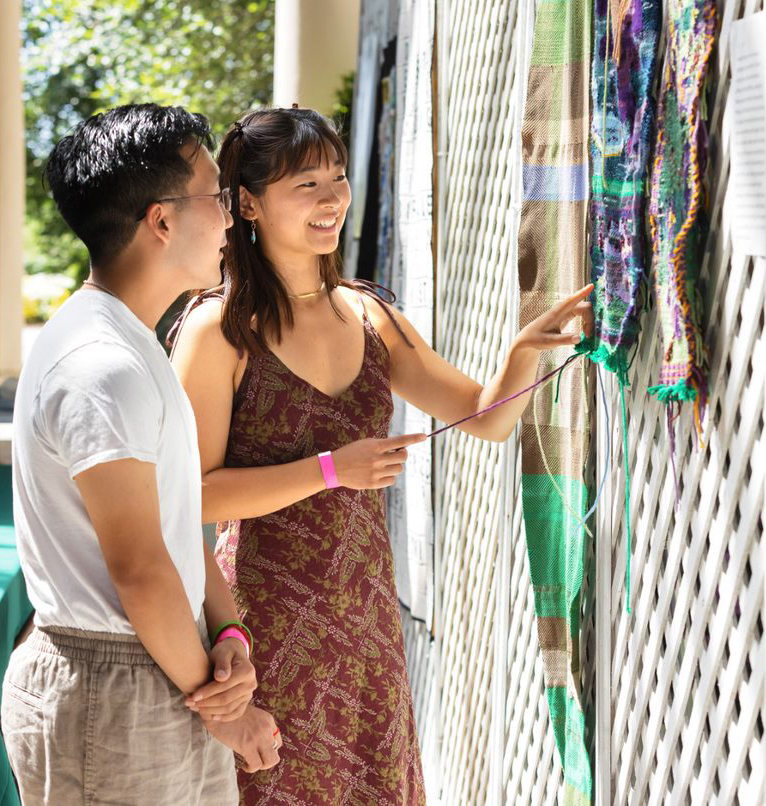 When Austin Kim, a Pomona College student studying linguistics, agreed to participate in The Huntington's Fiber Arts Month, he was looking forward to meeting other fiber artists.
"It's kind of rare for people to get into fiber arts as their main practice," he explains, "so I was really excited to have a conversation with those in the community."
Thanks to generous funding from The Rose Hills Foundation, which also supports free Memberships for college students, The Huntington's Education and Botanical divisions were able to expand the May 2022 Fiber Arts programming to spotlight younger artists.
In partnership with the Benton Museum of Art at Pomona College, The Huntington invited four college students to participate in a panel discussion about how they use textile and fabric art to grapple with contemporary social issues. The students use different forms of textiles—quilts, tapestries, and fiber sculptures—to convey messages about sustainability, culture, and community dialogue.
Kim was particularly enthusiastic about displaying his quilt Anacrostics of Empire, which conveys both the literal and figurative geopolitical entanglements of the Korean War. "I'm not an art major, so I don't have a lot of opportunities to present and talk about my art in a formal setting," he says. "It's really rewarding to have this experience."
Kali Tindell-Griffin, who received her bachelor's degree in environmental analysis and art, says she felt lucky to be part of the event. "It's one thing to have your work shown in a student gallery space," she notes, "but it's really fun and exciting to have interest from people who aren't in the college community."
Exploring such topics as memory and resilience, she uses quiltmaking as a vehicle to push the boundary between the functional and the decorative.
Mei Ge, who has visited The Huntington with her family in the past, says she was astounded and grateful for the chance to show her work, which focuses primarily on tapestry and woven textiles.
"I couldn't believe The Huntington reached out to me!" she exclaims. "But it has been great to have people show up and see their interest in talking with us."
Both before and after the panel, Huntington visitors engaged with the student artists, eager to take a closer look at the artwork on display.
"This has been such a different environment for me to present and show my work," says Fio Guy, who uses wool and various dyeing and felting techniques to create pieces that reference the body and the natural world. "People have been asking what my pieces are about, and it has been really nice to have those conversations and invite them to share their interpretations."