Mapel Orientation Gallery
Travel back in time and meet founder Henry E. Huntington, see a Red Car replica, grab a themed tour guide, create your own masterpiece, and even take a selfie with the Blue Boy!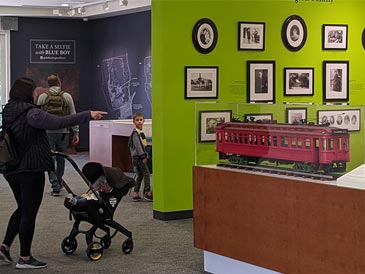 In 1901, Henry E. Huntington founded the Pacific Electric Railway Company. Nicknamed the Red Cars, it was a privately owned mass transit system in Southern California and the largest electric railway system in the world in the 1920s.
Grab a Takeaway Tour that highlights a specific theme such as "Tranquility," "Just for Kids," and the popular "I Have an Hour" tour. Then take an easy stroll through the grounds with stops along the way.
Share Your Recommendations
Share your impressions and recommendations. We love your photos and ideas—and drawings!—about what to see and where to go.
Take a selfie with our life-size replica of the Blue Boy and tag us with #AtTheH on Instagram @thehuntingtonlibrary.
Sit down with colored pencils and a coloring page and design your own masterpiece based on such works as The Blue Boy. Post on social media and use the tags #ColorTheH and #ColorOurCollections.
The Huntington: A History in 10 Minutes
Use the map to locate galleries, gardens, and points of interest, or head to the Mapel Orientation Gallery across from 1919 Cafe to get oriented.
Discover all The Huntington has to offer for kids and families.
Enjoy an oasis of culture and art, breathtaking gardens, world-class exhibitions and much more!