In her life and work, Octavia E. Butler strove to embody what could be.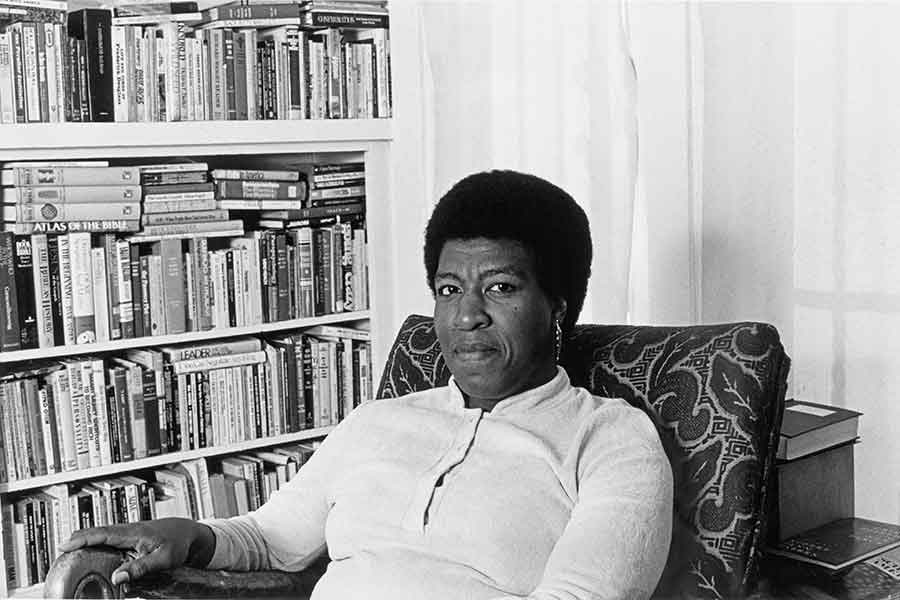 Patti Perret, photograph of Octavia E. Butler seated by her bookcase, 1984. © Patti Perret
Author and journalist Lynell George, a 2017–18 Alan Jutzi Fellow at The Huntington, has been working with the Octavia E. Butler archives for four years. The result is a very personal book, A Handful of Earth, A Handful of Sky: The World of Octavia E. Butler (Angel City Press, 2020), in which George describes how she came to know and identify with Butler, who grew up near where George lives in Pasadena. The excerpts below come from the book's introduction and afterword.
On Aug. 26, 2020, The Huntington hosted "Inspired by Octavia E. Butler," one of its Centennial Celebration events, as part of the ongoing President's Series activities centered around Butler's papers. The online event featured George in conversation with William Deverell, professor of history at the University of Southern California and director of the Huntington-USC Institute on California and the West, and Karla Nielsen, The Huntington's curator of literary collections. You can watch a video recording of the event here.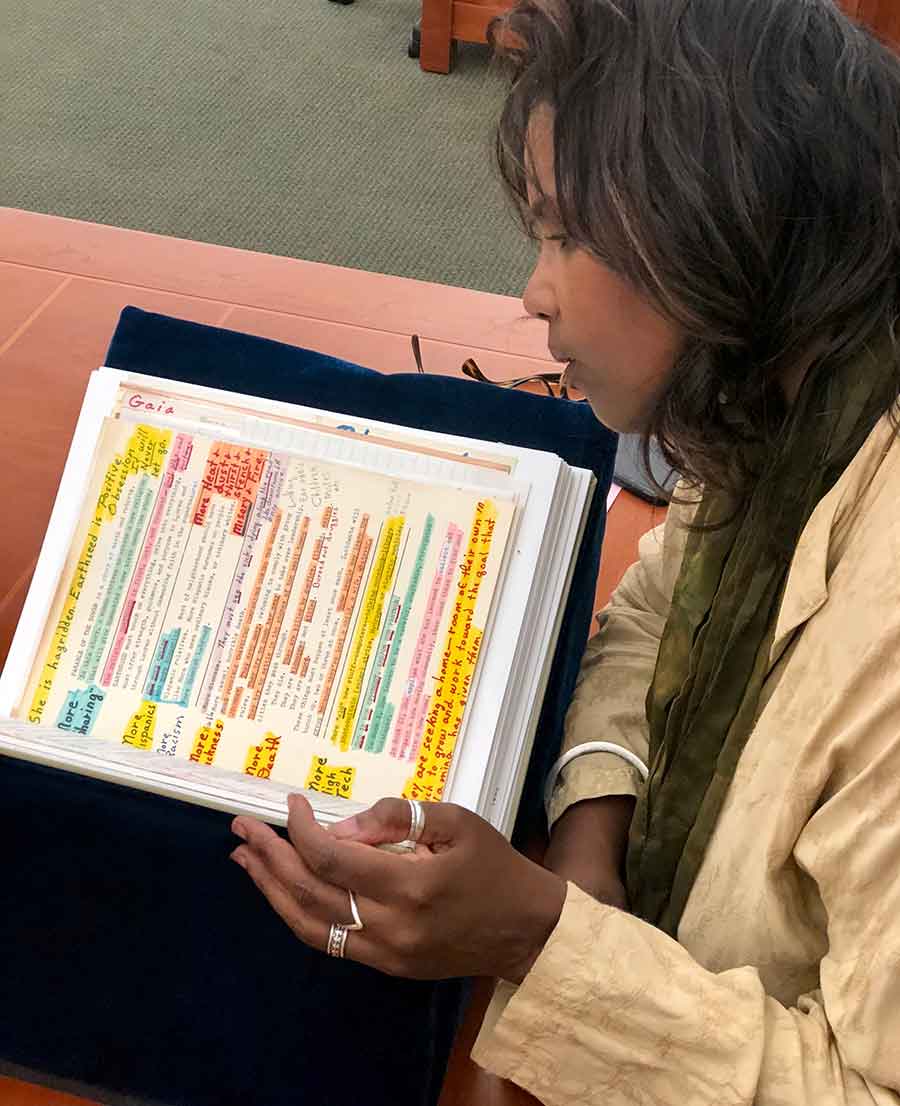 Lynell George examines Butler's 1989 notes about her novel
Parable of the Sower
, which was published in 1993, in The Huntington's Ahmanson Reading Room. The Huntington Library, Art Museum, and Botanical Gardens.
When I last encountered Octavia E. Butler, it was 2004 and she was slated to deliver the keynote at the Black to the Future Festival in Seattle, Washington. Time has flattened or obscured some of the details of days spent reporting on panels, lectures, and post-event gatherings. I don't remember the precise order of events of that opening evening, but I do recall some of Butler's heartfelt words about finding and making community in this brief but special moment when we were assembled together. I sat, scribbling notes in my reporter's notebook, making shapes of letters in the darkness of the auditorium. Her voice didn't seem to need amplification—it was warm and deep and burnished with authority, as if she was not just leading things off, but leading a country.
Long before I started work in the Octavia E. Butler archive at the Huntington Library in 2016, I had intersected with her several times throughout the years. As a college student, I'd drive out to talks or signings, then later, as a journalist, to cover events in which she participated.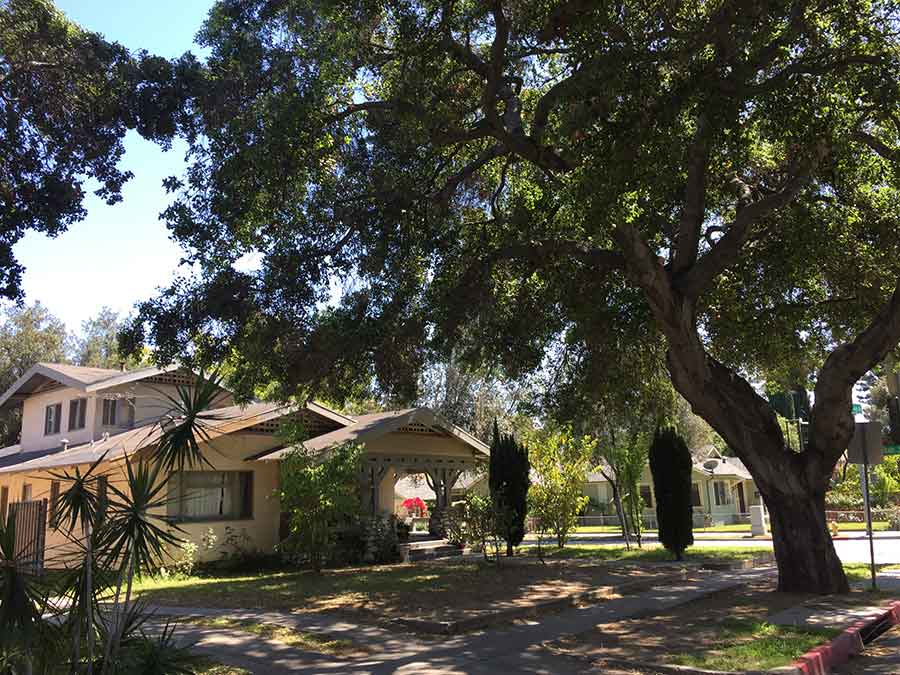 One of the many houses Butler lived in during her formative years in North Pasadena. Photo courtesy of Lynell George.
That bright summer evening in Seattle is still vivid in my catalog of reporting memories. A roomful of not just Black fans of science and fiction and speculative fiction, but writers, filmmakers, musicians, and graphic artists—a new generation of creators who would look at the world through a prism shaped by her imagination and industry. We were now a community connected by her and now circling around her. We were the community she had for so long craved.
More than a dozen years later, I'm seated in the chilly Ahmanson Reading Room at the Huntington Library researching Butler for a project—the posthumous interview I had been commissioned to construct. Spinning through the finding aid, I was astonished by the possibilities, the many doors of her life she'd left for me—for all of us—to walk through. When she was saving and securing the quotidian scraps, the "this and that," I'm sure she wasn't thinking so much about legacy as she was about leaving tangible evidence of her toil here, a sense of how it's done and what it takes—time, effort, sweat. I didn't know where to start—journals, research materials, correspondence? So I swung back to something familiar, a moment we shared.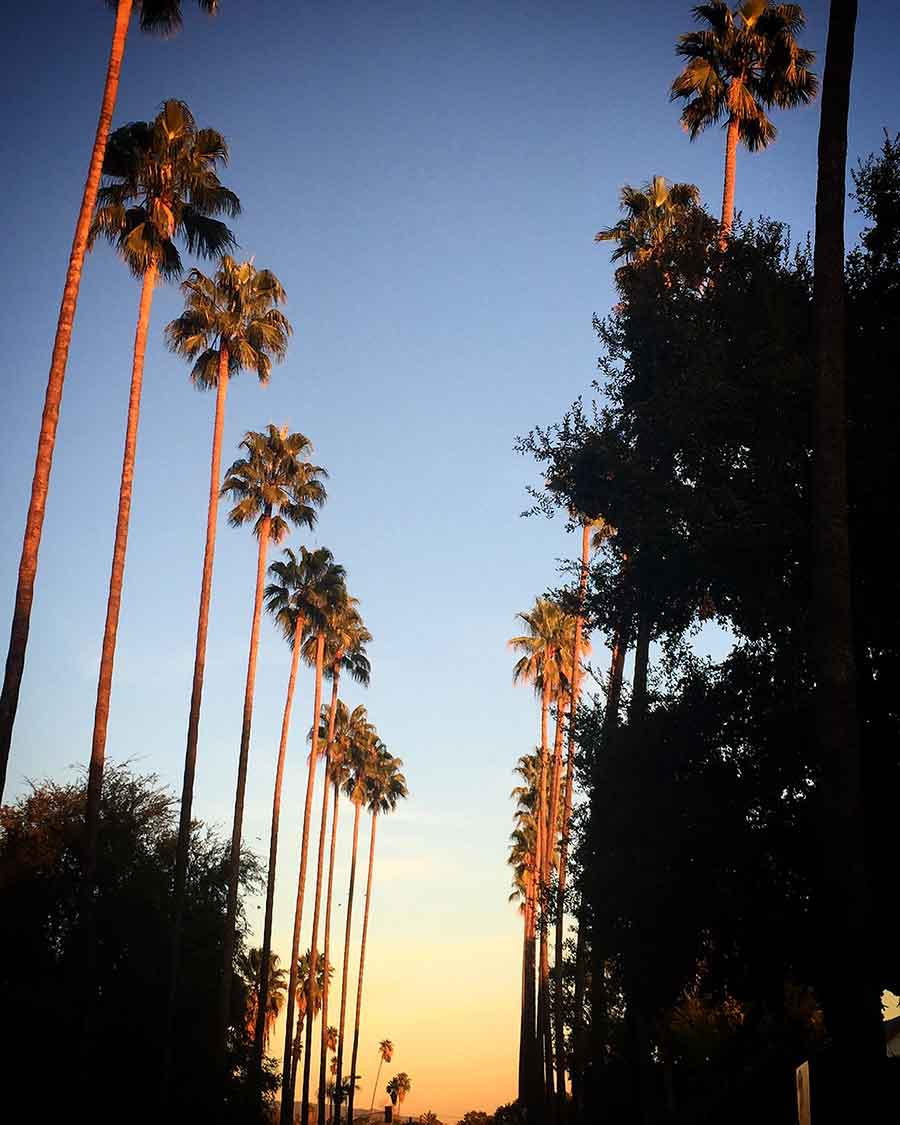 Palm trees line Lake Avenue, one of the thoroughfares in Pasadena that Butler wrote about in her journals. Photo courtesy of Lynell George.
I pulled the speech from that long-ago Seattle weekend. It now rests in a white, oversized envelope, the pages typed and printed out on a laser printer, but Butler's hand is present all over: there, in the margins, red notations and yellow highlights underscore words she will stress, where she will pause, and of course, the last-minute reworkings in ballpoint she made in the moment. So strange it was to be sitting there, years gone, freshly reliving a heartbreaking missed opportunity.
Time, in speculative fiction, bends. Not so much in life. We easily take time for granted, thinking there will be a tomorrow as sure as there was a yesterday. But in the moment, in the reading room, I am simultaneously vividly occupying today and yesterday—today is the projected tomorrow, a future moment I couldn't have predicted. It hits me, though, how emphatic her "We will talk" promise floated up between us. Yet this—this transmission over space and time—was something else, nothing I could have ever dreamed of. Not in her space—at home—but in her head.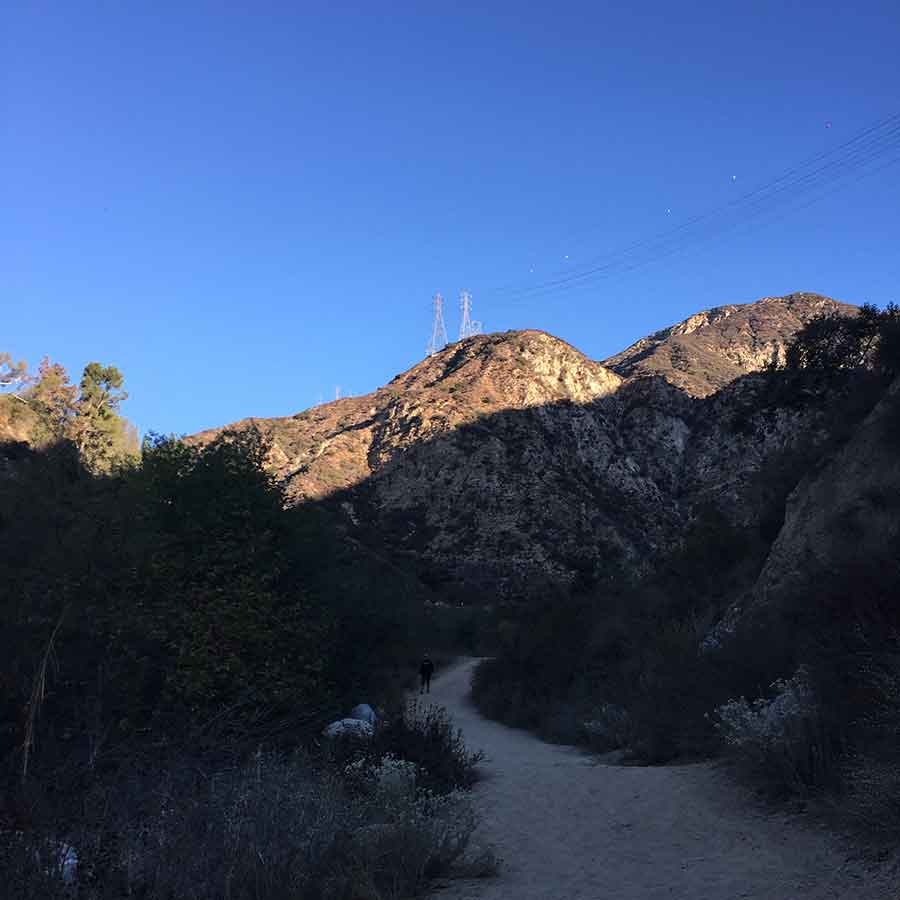 A trail in Pasadena's Eaton Canyon leads to the San Gabriel Mountains, which Butler affectionately called her "San Gabes." She lived in Pasadena much of her life and wrote in her journals about the importance of her long walks in and around nature. Photo courtesy of Lynell George.
I was reminded, as I handled the pages she had carried up with her to the dais that evening, that she'd begun her speech with encouragement. She stood before us that night and emphasized how important it was for young and older Black writers to tell their stories—not just the fiction on the page, I began to understand, but the details of our lives, to place ourselves in environments we often were scrubbed out of. How few of us—Black folks, writers, and readers—appeared to be out there when she started out. But she intuited, I'm sure, that there were many seated in the auditorium, who just like her, had been trying, longer than they might admit out loud, to piece together a writer's life—haunting libraries, reading by flashlight, drafting and redrafting stories in complete secrecy.
***
As an African American woman writer, a question that I am often asked to entertain, now that Butler is back in sharp focus in the public's eye, is: "Was she an influence on your own work?" No. I am not a writer because of her. I was already on a path. I was pulled to poetry and essays, long-form nonfiction rooted in my hometown—Los Angeles. She was, however, absolutely on my radar. Her life in Southern California and her unique profile as a writer grappling with global issues through the lens of speculative and science fiction was part of an ongoing and far-ranging conversation about sense of place, the environment, and the necessity of pushing away boundaries and borders: embodying what could be.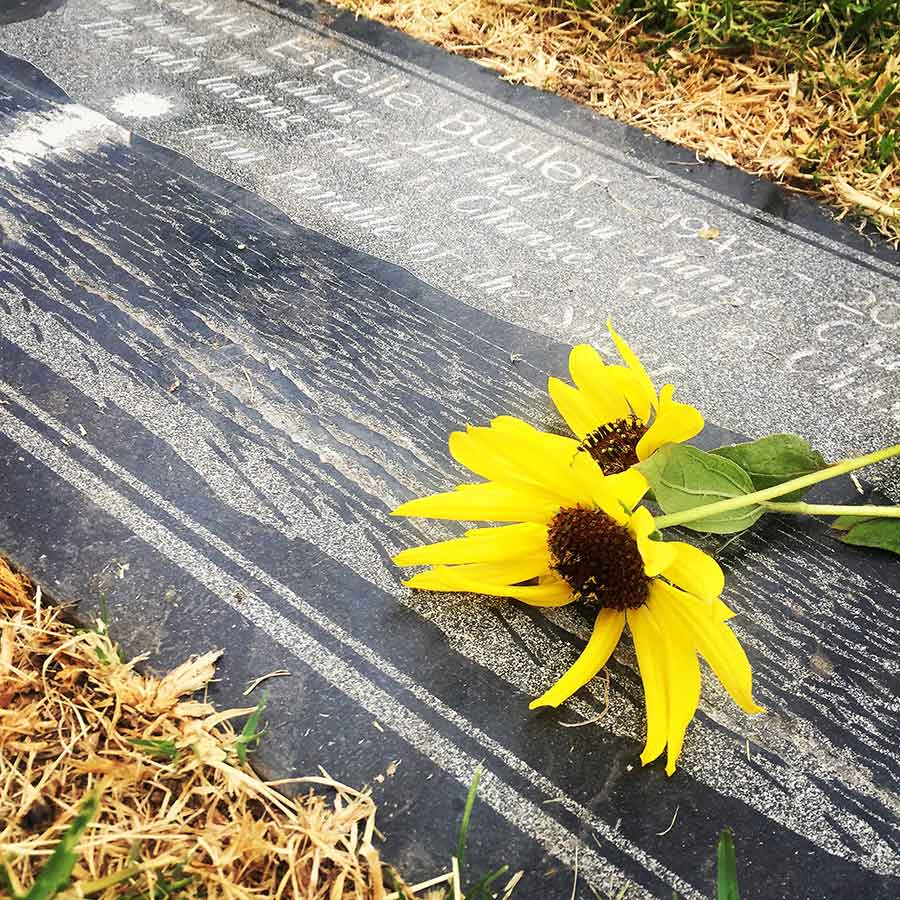 Butler's gravestone in Altadena's Mountain View Cemetery. The inscription reads: "Octavia Estelle Butler, 1947–2006. '
All that you touch, you change. All that you change, Changes you. The only lasting truth is Change. God is Change,'
from
Parable of the Sower
." Photo courtesy of Lynell George.
More than anything, it is a profoundly perspective-shifting experience working inside another writer's head, reliving her dreams and defeats. Worrying about the weight of it all and how it settled on her heart made an indelible mark on me. While I knew she would survive an early misstep or setback or even heartbreak, that didn't make the experience less harrowing as I read it on now-yellowed pages. I had the gift of future vision. I could whisper back at her younger self, "Something far better was waiting around just down the stretch, keep going, it's just around the corner."
Survival
Moving through her papers—the stacks of drafts, the misfires—I began to see the very recognizable and unromanticized contours of a writer's life. If not a mirror, it was something that looked achingly familiar. Reading over her shoulder, I gleaned, intensely, what it's like to be shut in with your big tangled thoughts. Taking in the tenor of some of the messages to self, the worry, the struggle, I came to understand that I was looking through intimate notes maybe not ever meant for anyone else's eyes. Certainly not in their inception. With her gift to The Huntington, her vast personal archive, these could-have-been-lost or tossed items—the to-do lists, unsent letters, and all manner of ephemera—she ensured that these daily challenges would be part of her story. While often we think that struggle and tension is part of attaining goals, Butler's life and her numerous sacrifices exemplify these challenges in the most visceral and granular ways.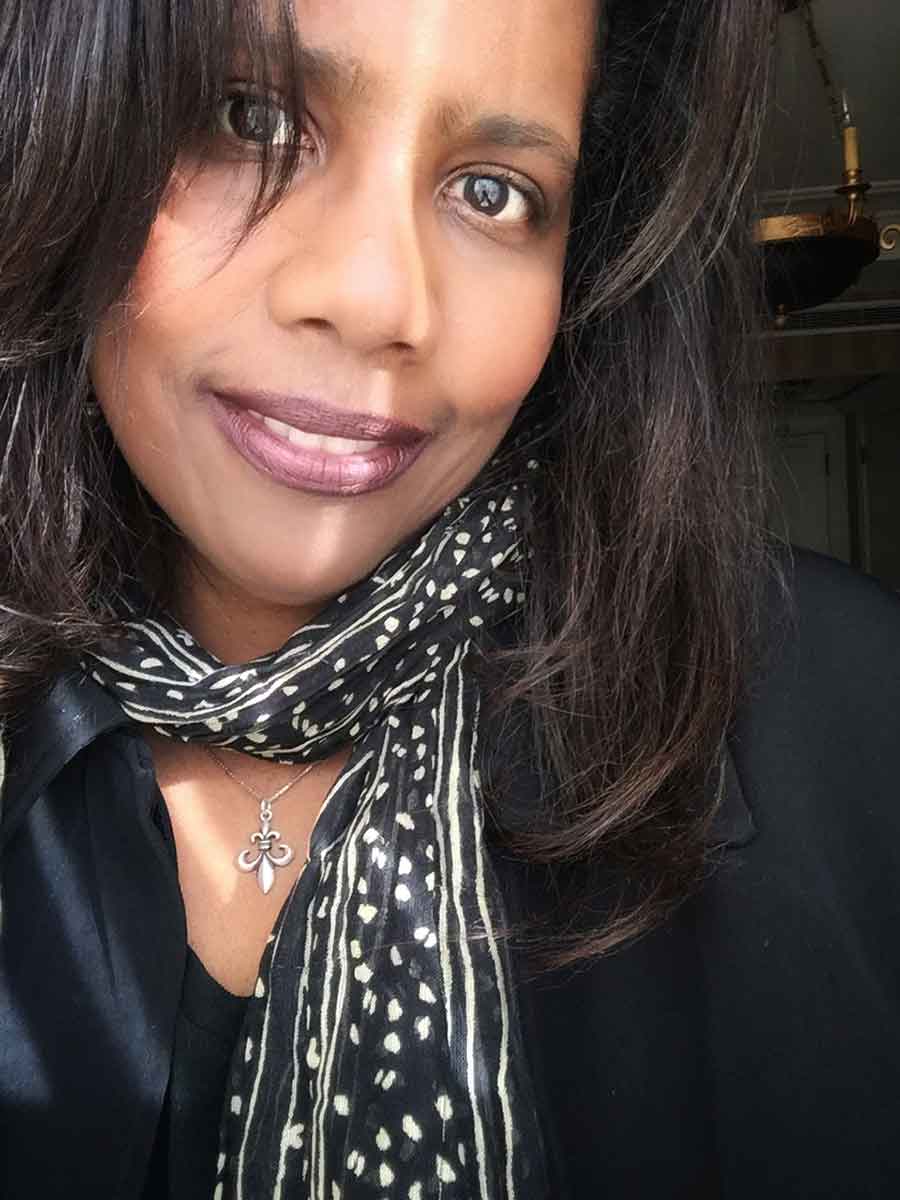 Lynell George. Photo courtesy of Lynell George.
The copious evidence of her labor reveals the wager of a single-minded pursuit, it signals sacrifice of great proportion. She was gambling with her entire life.
Writing, for her, was never a part-time endeavor, even when she was forced to press it into corners of her study time or her day-job schedule. She had gravitated toward science fiction as a genre because it lifted the ceiling and dissolved the walls; it presented the sort of freedom and brazenness she needed for creating new possibilities. She knew that science fiction didn't have to be spaceships or superbugs; the most compelling science fiction for her offered readers alternative versions of not just the universe, but also themselves.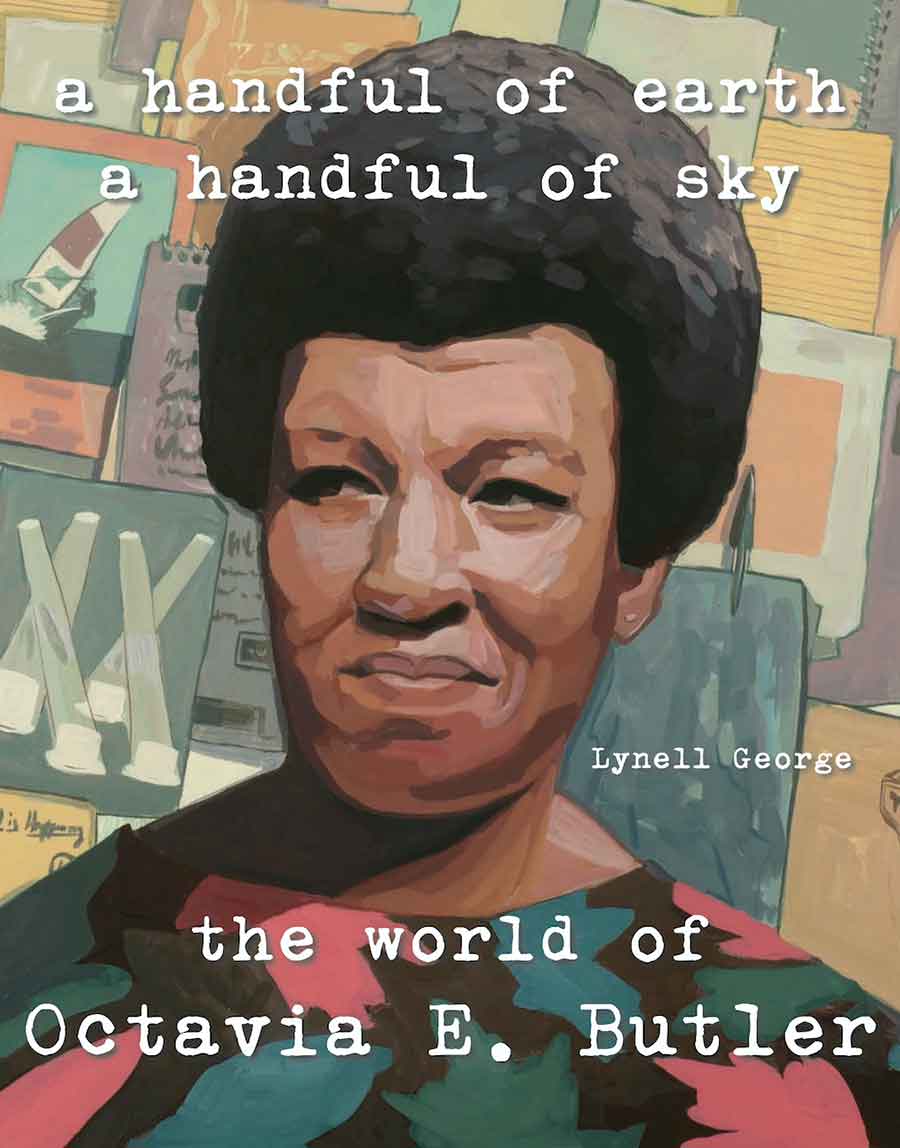 Lynell George,
A Handful of Earth, A Handful of Sky
(Angel City Press, 2020). Book cover image: Jon Stich, for Angel City Press. The book is available for order from the Huntington Store.
"What does science fiction mean to you?" was a question she often entertained in interviews, panels, and conferences. She answered it in many ways over the years, often seriously, though even more often her reply was sparky and with tongue in cheek. Science fiction allowed her to reach for something beyond what she could visualize. Reading through a draft of a speech Octavia was puzzling out, I was struck by a particular answer. Science fiction is
. . . a handful of earth, and a handful of sky
and everything around and between.
It was a recipe for grounding herself—and the reader—in places and moments that were familiar, then preparing them for a leap. But it was also a recipe for looking, for absorbing—storing away the details that are needed to create a world—which is in every way what writing is. She grounded what may appear to be airy-fairy or impossible—and made it immediate and real. And she used the same approach, it became very clear, to dream and shape her own life.
Lynell George is an award-winning Los Angeles-based journalist and essayist.