Posted on Thu., Aug. 3, 2023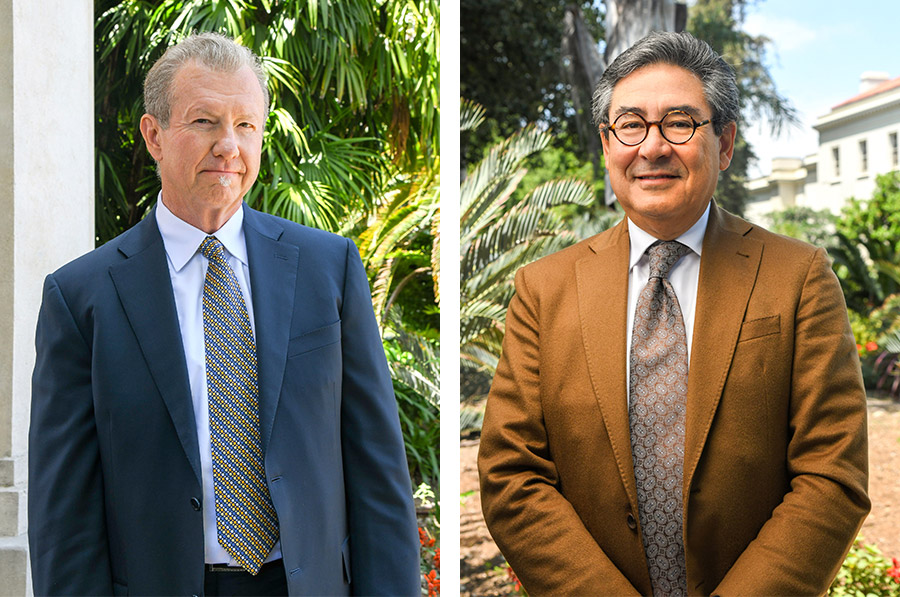 SAN MARINO, Calif.—The Huntington Library, Art Museum, and Botanical Gardens' seven-member Board of Trustees has elected Scott Jordan and Allen E. Shay as new members. Their terms were effective July 1, 2023. Jordan and Shay replace outgoing Trustees Andrew Barth and Wendy Munger. The Board of Trustees is responsible for The Huntington's financial sustainability and overarching direction, assisted by a 65-member Board of Governors.
Scott Jordan is CEO of Accuride International, a family business that designs and manufactures linear movement products used in everything from drawers and home appliances to automobiles and computer servers. The firm was started by his father as a tool and die shop, and today has a large presence in North America, Europe, Japan, and China. Jordan, a Los Angeles native, maintains a collection of rare books and manuscripts relating to the history of natural history. He holds an economics degree from UCLA. Jordan first became involved with The Huntington in 2002 when he lent materials for an exhibition on renowned Swedish botanist Carl Linnaeus, the "father of taxonomy." In 2009, he joined the Board of Governors and served as the chair of the Finance Committee for seven years.
Allen E. Shay, also from Los Angeles, is the former CEO of Pacific Architects and Engineers, a provider of services that support military readiness, peacekeeping missions, nation-building activities, personnel recruitment and training, and disaster relief services. The company was founded in 1955 by Shay's late father. Shay was appointed CEO in 1995; Lockheed Martin acquired the firm in 2006. Shay, a graduate of Sarah Lawrence College, has been an active member of the Young Presidents Organization since 2004. In 2012, he founded the Shekels Charitable Foundation for which he is a trustee. He joined the Huntington Board of Governors in 2015 and served as chair of the Education and Volunteers Committee from 2019 to 2023.
"Scott and Allen bring a wealth of understanding to the Board of Trustees," said Gregory Pieschala, chair of the Board. "Both are seasoned in organizational strategy and nonprofit leadership. Given their lengthy involvement with The Huntington, they understand its aspirations and appreciate its complexity and nuances. We are delighted that they have agreed to join the Board and deeply appreciate their service."
The other members of the Board of Trustees are Christine Bender, Simon K.C. Li, J. Mario Molina, and Mei-Lee Ney.
# # #
[EDITOR'S NOTE: High-resolution digital images available on request for publicity use. Request Images]
About The Huntington
The Huntington Library, Art Museum, and Botanical Gardens is a cultural and educational institution of global significance. Building on Henry E. and Arabella Huntington's renowned collections, The Huntington supports research and promotes education in the arts, humanities, and botanical science through the growth and preservation of its collections; the development of a community of scholars, school programs, and partnerships; and the display and interpretation of its extraordinary resources for diverse audiences. The Huntington is located at 1151 Oxford Road, San Marino, California, 12 miles from downtown Los Angeles. Visitor information: huntington.org.
Contacts:
Susan Turner-Lowe, 626-405-2147, sturner@huntington.org
Thea M. Page, 626-405-2260, tpage@huntington.org