Posted on Feb. 10, 2022
Produced in partnership with LA Opera, the production is based on Lisa See's book about her Chinese American family and was composed by Nathan Wang, 2022–23 Cheng Family Foundation Visiting Artist
Eight outdoor performances May 5–15, 2022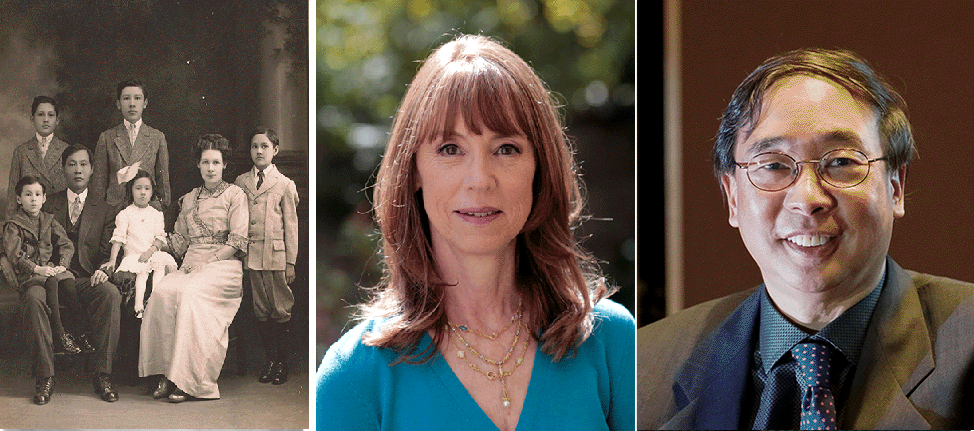 From left: Portrait of the See family, including Fong See (third from left) and Letticie "Ticie" Pruett (second from right) and their five children, 1914. The Huntington Library, Art Museum, and Botanical Gardens; Lisa See (photo by Patricia Williams); and Nathan Wang (photo by Derek Wang).
SAN MARINO, Calif.—The Huntington Library, Art Museum, and Botanical Gardens and LA Opera Connects will present an outdoor, site-specific staging of On Gold Mountain, an opera based on author Lisa See's bestselling book about her Chinese American family's immigrant experience in California. The opera features a colorful musical score by Nathan Wang, The Huntington's newly inaugurated 2022–23 Cheng Family Foundation Visiting Artist in the Chinese Garden. Eight performances will be held Thursday, May 5, through Sunday, May 15. Tickets go on sale Feb. 15 at huntington.org.
On Gold Mountain, which premiered in 2000 at the Aratani Theatre in Los Angeles, tells the story of See's great-grandfather, Fong See, who emigrated from China to California in the 19th century. Arriving in the United States alone at age 14 in search of his father, Fong See faced discrimination and challenges, but with hard work, determination, and ambition, he eventually became a successful businessman. Despite laws against interracial marriage at the time, he married a white American woman, Lettice "Ticie" Pruett, and they had five children. Fong See's journey takes the audience from China to Los Angeles' Chinatown, where he became a prominent community member and opened an antique shop that is still owned by the family today.
Archives from the See family are held at The Huntington in the Lisa See Collection and the Gilbert, Florence, and Leslee See Leong Collection. Photographs and documents from these archives will be incorporated into the new production, which will be brought to life in The Huntington's renowned Chinese Garden, Liu Fang Yuan 流芳園, or the Garden of Flowing Fragrance. On Gold Mountain will be the first theatrical production staged in The Huntington's new Terrace of Shared Delights 衆樂臺, which opened in late 2020 as part of the final phase of the garden's construction.
Blending Western and traditional Chinese music, Wang's musical score will be performed by an orchestra composed of members of the LA Opera Orchestra and student musicians from the greater Los Angeles community. Casting for the production is underway. On Gold Mountain will be directed by Jennifer Chang with a libretto by See.
Tickets
Tickets for On Gold Mountain will be available Feb. 15. For details, visit huntington.org/on-gold-mountain. Huntington Members: $135; non-Members: $150
Nathan Wang, Cheng Family Foundation Visiting Artist in the Chinese Garden
Nathan Wang, winner of multiple Emmys and seven Drama-Logue awards, is one of the most prolific and versatile Chinese American composers in Hollywood and Asia. After graduating from Pomona College in Claremont, California, he received a Rotarian Ambassador Fellowship to attend Oxford University for graduate studies. Wang has scored numerous films, documentaries, and television series on both sides of the Pacific, and he has written musicals that have been performed in Los Angeles, New York (off-Broadway), and Beijing.
Wang is The Huntington's sixth Cheng Family Foundation Visiting Artist. The residency was endowed by the Cheng Family Foundation in 2014 to promote understanding of Chinese culture through music, performance, poetry, and art. In addition to the revival of On Gold Mountain, Wang will create an original work of musical theater that will explore contemporary immigration stories. The residency will also include several public programs and school outreach. For more information on related programs, please visit huntington.org/center-east-asian-garden-studies.
Related Event
Conversation: Nathan Wang and Lisa See on On Gold Mountain
Thursday, April 21, 2022, at 7:30 p.m.
Rothenberg Hall
This first program of Nathan Wang's residency at The Huntington will introduce his remarkable career and the development of the opera On Gold Mountain, in collaboration with renowned author Lisa See and LA Opera. The evening will feature highlights from the upcoming performance of On Gold Mountain in The Huntington's Chinese Garden.
About LA Opera
Los Angeles is a city of enormous diversity and creativity, and LA Opera is dedicated to reflecting that vibrancy by redefining what opera can be. Through imaginative new productions, world premieres, and inventive performances that preserve foundational works while making them feel fresh and compelling, LA Opera has become one of America's most exciting and ambitious opera companies. In addition to its mainstage performances at the Dorothy Chandler Pavilion, the company explores unusual repertoire each season through the LA Opera Off Grand initiative, featuring performances in a variety of venues throughout Los Angeles. Learn more at LAOpera.org.
About The Huntington
The Huntington Library, Art Museum, and Botanical Gardens is a cultural and educational institution of global significance. Building on Henry E. and Arabella Huntington's renowned collections, The Huntington supports research and promotes education in the arts, humanities, and botanical science through the growth and preservation of its collections; the development of a community of scholars, school programs, and partnerships; and the display and interpretation of its extraordinary resources for diverse audiences. The Huntington is located at 1151 Oxford Road, San Marino, California, 12 miles from downtown Los Angeles. Visitor information: huntington.org.
# # #
Contacts
Thea M. Page, 626-405-2260, tpage@huntington.org
Keisha Raines, 626-405-2246, kraines@huntington.org