Tom Carruth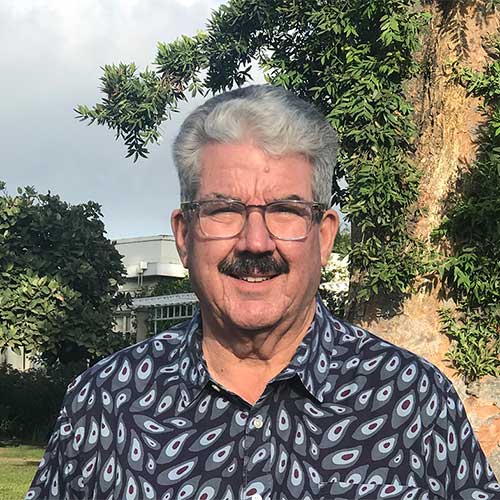 E.L. & Ruth B. Shannon Curator, Rose Collection
Department: department
626-405-3507
Tom Carruth received a bachelor's in horticulture (1974) and a master's in plant breeding (1976) from Texas A&M University. Since 1976, he has worked in the rose industry in California. From 1987 until early 2012, he was in charge of the rose hybridizing effort as director of research, licensing, and marketing at Weeks Roses.
The broad goal of Tom's rose breeding was to make the rose a contender with all plants, rather than a fussy queen of the garden. His hybrid introductions stress disease resistance, fragrance, floriferousness, novelty, and attractive habit. 'Julia Child' serves as a prime example, achieving a rare worldwide introduction. The velvety deep purple 'Ebb Tide' was the first of a real color breakthrough. Tom is the inventor of over 150 cultivars. He has accumulated 11 All-America Rose Selections (AARS) awards in just 14 years. In 2011, he was the recipient of the Luther Burbank Award for extraordinary achievement in the field of plant breeding from the American Horticultural Society.
In 2012, Tom retired from Weeks Roses to take a new role as the E.L. & Ruth B. Shannon Curator of the Rose Collection at The Huntington Library, Art Museum, and Botanical Gardens. He is responsible for The Huntington's 3-acre Rose Garden, which showcases more than 1,300 cultivars and some 2,500 individual shrubs. Tom is overseeing the renovation of the Rose Garden, with a goal to refocus the rose collection to equal the beauty of the other spectacular gardens at The Huntington.