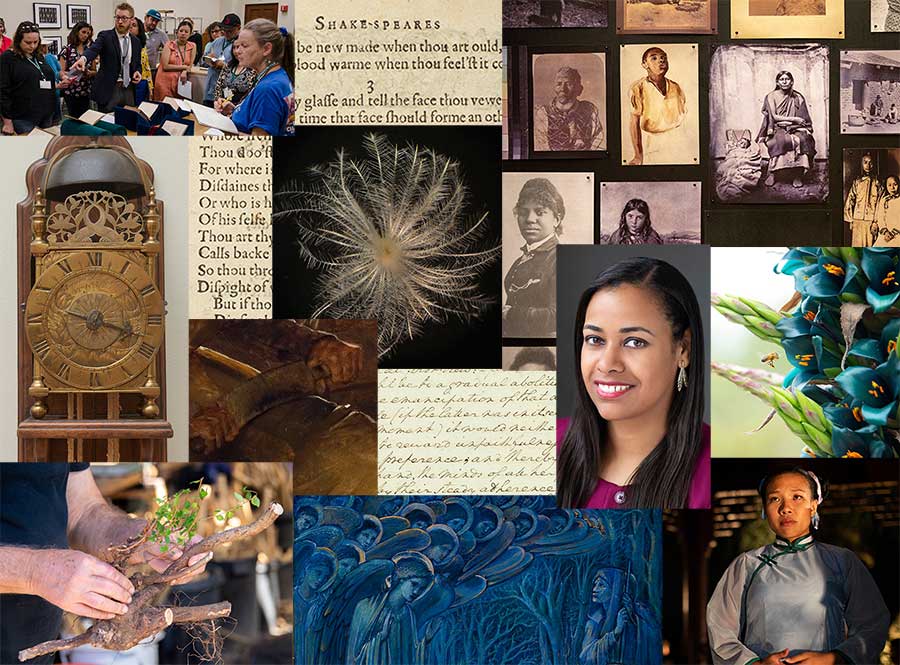 Collage of Verso highlights from 2018.
As the year draws to a close, we invite you to revisit a dozen of our favorite stories from this year's Verso offerings.
Back in January, John Trager, curator of the desert collections, wrote a popular post about the feather cactus, Mammillaria plumosa. As its name implies, this plant is on the opposite end of the prickly spectrum from the spiny cactus varieties that most people know. Read more.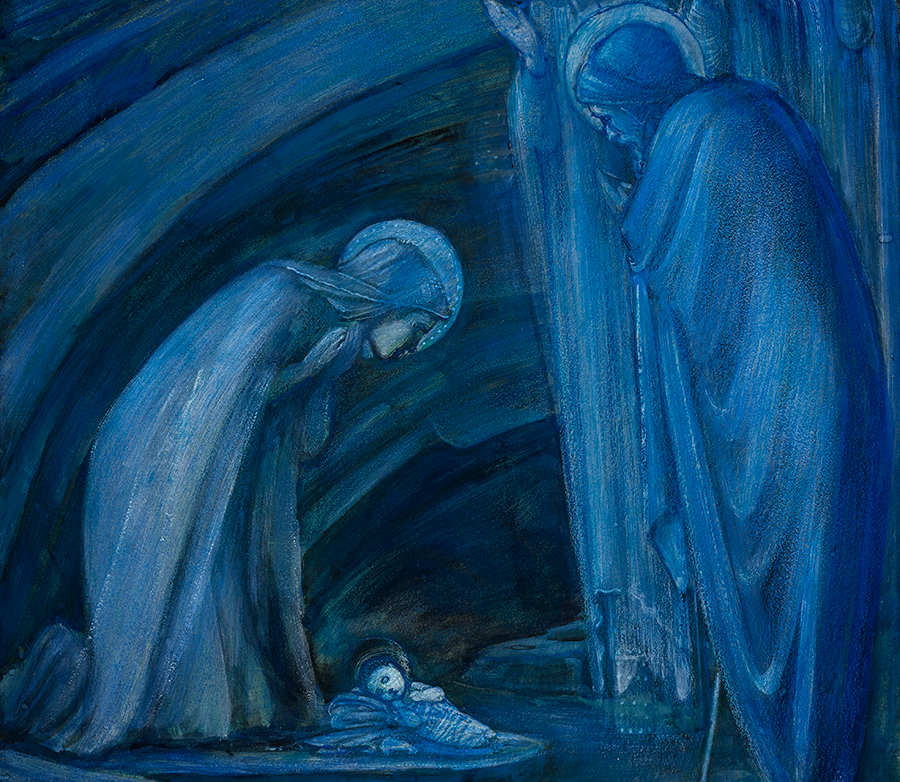 Detail of the lower portion of
The Nativity
, by Edward Coley Burne-Jones (1833–1898), in which Mary, Joseph, and a small group of angels gaze at the infant Jesus in wonderment. The Huntington Library, Art Collections, and Botanical Gardens.
Catherine Hess, chief curator of European Art, provided intriguing details in February about The Nativity, a painting by the Pre-Raphaelite artist Edward Coley Burne-Jones (1833–1898). The finished work served as a preparatory design for a stained-glass window in the cathedral of the artist's hometown. Read more.
In March, Olga Tsapina, the Norris Foundation Curator of American Historical Manuscripts, shared a 1796 letter by George Washington concerning his effort to recover Ona Maria Judge, a runaway slave who was never caught. Read more.
For National Poetry Month in April, Catherine Bates, research professor at the University of Warwick and a 2016–17 Mellon Fellow at The Huntington, explored the queerness of Shakespeare's sonnets. Read more.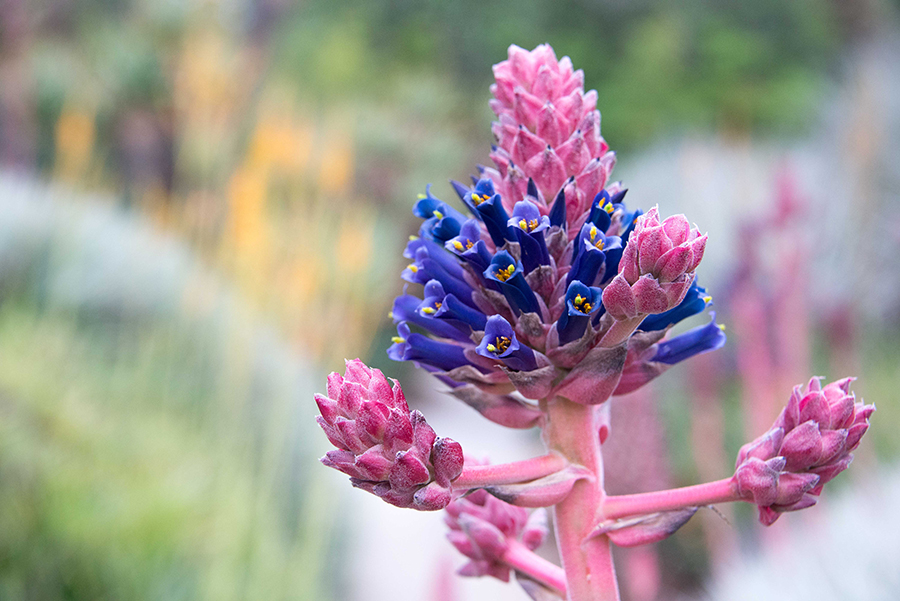 Puya venusta.
Photo by Deborah Miller.
Manuela Gomez Rhine shared her enthusiasm for puyas that bloomed in the Desert Garden in May, and Deborah Miller's photos captured their striking colors. Read more.
In June, Steve Hindle, the W. M. Keck Foundation Director of Research, discussed the 2018–19 cohort of fellows at The Huntington and featured the research of Barbara Thom Postdoctoral Fellow Danielle Terrazas Williams and Molina Fellow in the History of Medicine & Allied Sciences Seth LeJacq. Read more.
Amanda Hernandez, schools partnership manager, introduced readers to the first Huntington Voices teachers' institute, which brought 30 selected teachers on site during their summer break to learn from Education staff and others about how to use The Huntington's collections to strengthen their students' voices through writing, spoken language, performance, and visual and media arts. Read more.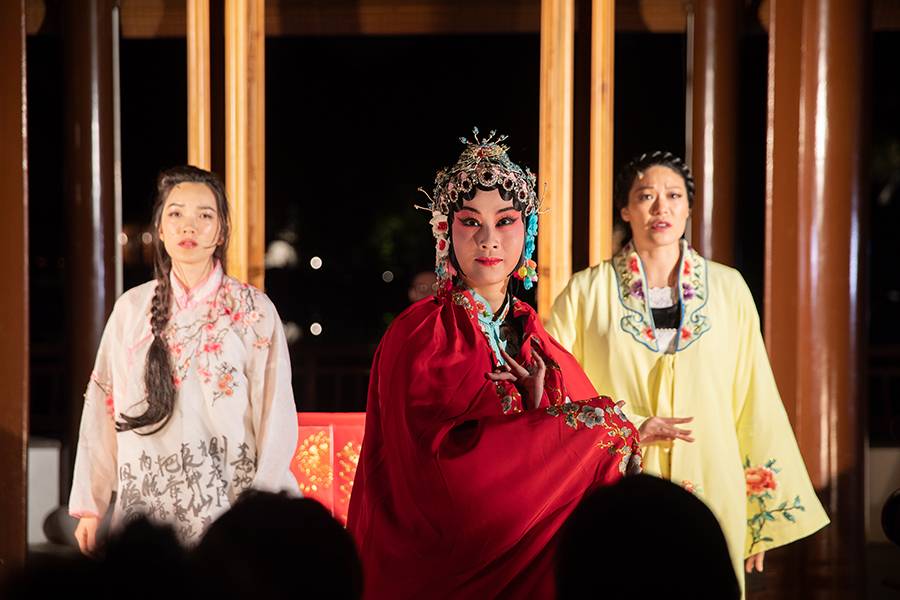 Jessika Van as the Maiden, Chenxue Luo as the Opera Singer, and Christine Lin as Fragrance. Photo by Rafael Hernandez. Courtesy of CalArts Center for New Performance.
In August, Lily Allen, curatorial assistant of American Art, analyzed J. G. Brown's painting Scraping a Deerskin, an urbanite artist's curious self-portrait in which he depicts himself as a country deer hunter shaving a hide in a farm shed. Read more.
Lisa Blackburn wrote in September about a $1.6 million bequest from Long Beach art collector Victor Gail (1929–2014) that greatly enhanced The Huntington's American decorative arts collection while underwriting its care and interpretation. Gail and his life partner, Thomas Oxford, who predeceased him in 2008, spent five decades amassing one of the finest collections of early American decorative arts in Southern California. Read more.
In October, Lynne Heffley, former arts reporter for the Los Angeles Times, talked with playwright Stan Lai about his play Nightwalk in the Chinese Garden, The Huntington's first-ever, site-specific, evening theatrical production. Read more.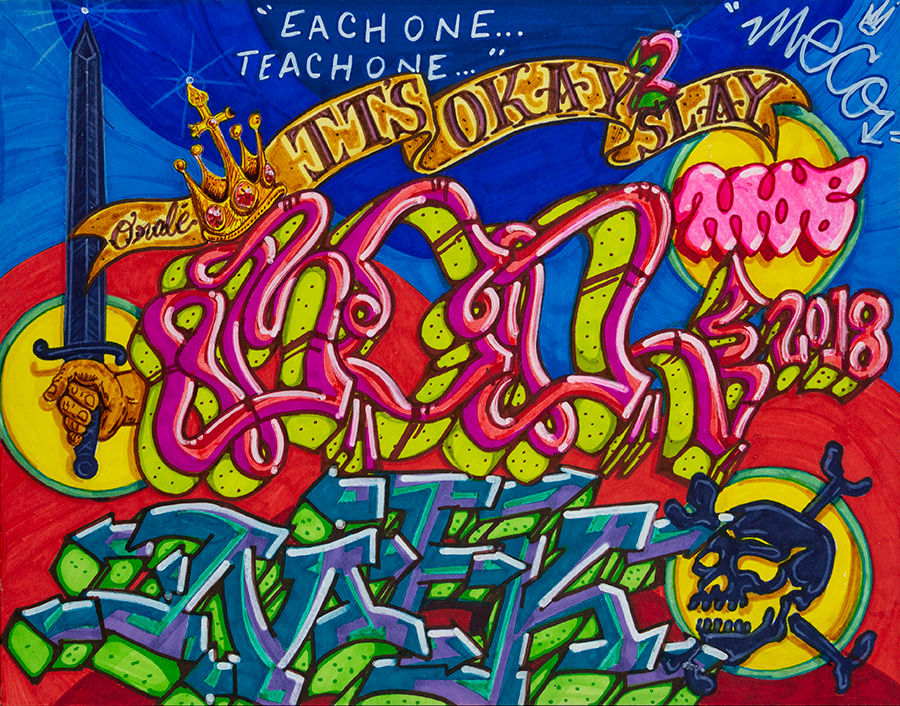 Mario Ybarra Jr.,
It's Okay 2 Slay
, 2018. Marker and acrylic paint on paper, 11 x 14 in. Courtesy of the artist.
Arts journalist Carribean Fragoza took an in-depth look at the exhibition "Rituals of Labor and Engagement: Carolina Caycedo and Mario Ybarra Jr.," the response of two noted Los Angeles artists to The Huntington's collections around the theme of Identity. The exhibition is on view through Feb. 25, 2019. Read more.
And this month, Pulitzer Prize–winning journalist Usha Lee McFarling shared with us how the removal of a myrtle hedge from the Rose Garden turned into a boon for Ted Matson, curator of the bonsai collections. Read more.
We hope you have enjoyed Verso this year, and we look forward to sharing a slew of new stories with you in the year ahead.
Kevin Durkin is editor of Verso and managing editor in the Office of Communications and Marketing at The Huntington.