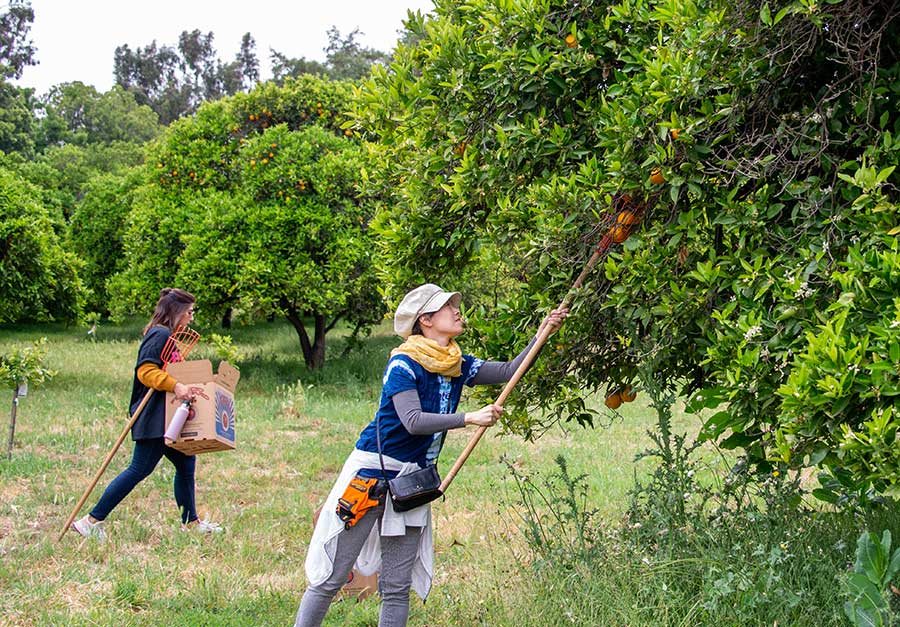 Volunteers in The Huntington's orange orchard use pole pickers to reach fruit growing in the treetops. Photo by Deborah Miller.
Have you ever wondered what happens to the ripe, luscious oranges you see growing in The Huntington's orchards? They help feed people in need.
In 2012, The Huntington's gardeners started a partnership with Food Forward, a local nonprofit agency that harvests fresh fruits and vegetables and then distributes them to hundreds of hunger relief agencies across Southern California.
Food Forward volunteers work in a variety of places: They glean fruit from backyard fruit trees and public gardens and also rescue unsold food from local farmers markets and the Los Angeles Wholesale Produce market. Harvests that take place in The Huntington's groves are among the most popular. "It's great because there's a lot of fruit to pick," says Dory Bennett, Food Forward's San Gabriel Valley backyard harvest coordinator. "We have volunteers who, year after year, specifically want to come to this harvest."
In a Huntington grove, there is no shortage of oranges to gather. Photo by Usha Lee McFarling.
So far this year, a total of 260 people, some as young as five, have volunteered to pick fruit at The Huntington; they have gathered more than 14,000 pounds of oranges. Since 2012, the group has harvested more than 170,000 pounds of fruit—including oranges, lemons and persimmons—for local hunger relief agencies.
During their annual fundraiser in April 2019, Food Forward leaders presented The Huntington with their "Fruitanthropy" award in recognition of the years-long partnership and large amount of fruit that has been harvested from the garden. "It's really been a fruitful partnership (pun intended!)," says Laura Jellum, communications director for Food Forward.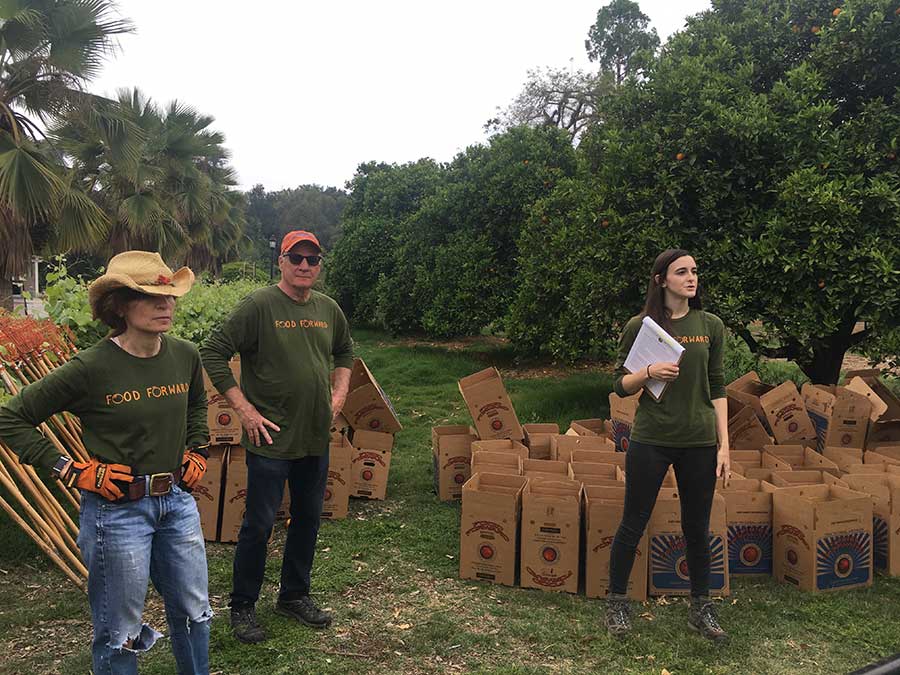 Dory Bennett (far right), Food Forward's San Gabriel Valley backyard harvest coordinator, prepares a group of volunteers for a harvest in The Huntington's orange orchard. Photo by Usha Lee McFarling.
The award was collected by Daniel Goyette, the master arborist who manages the nearly 500 orange trees that comprise The Huntington's orchard. Goyette said he was amazed to learn how much fruit had been harvested over the years. "I'm surprised because I've never measured it," he says. The partnership is a win-win, he adds. Food Forward's harvesting not only provides needed food to the community but also helps the orchard. "It's good for trees to be picked so that they can support the weight of new oranges and give their energy to them," he says.
During a recent Saturday morning harvest, 58 volunteers of all ages gathered in the orchard to harvest oranges by hand or with basket pickers attached to long poles. The volunteers stripped the fruit of leaves and stems to reduce the chance of spreading disease-causing pests.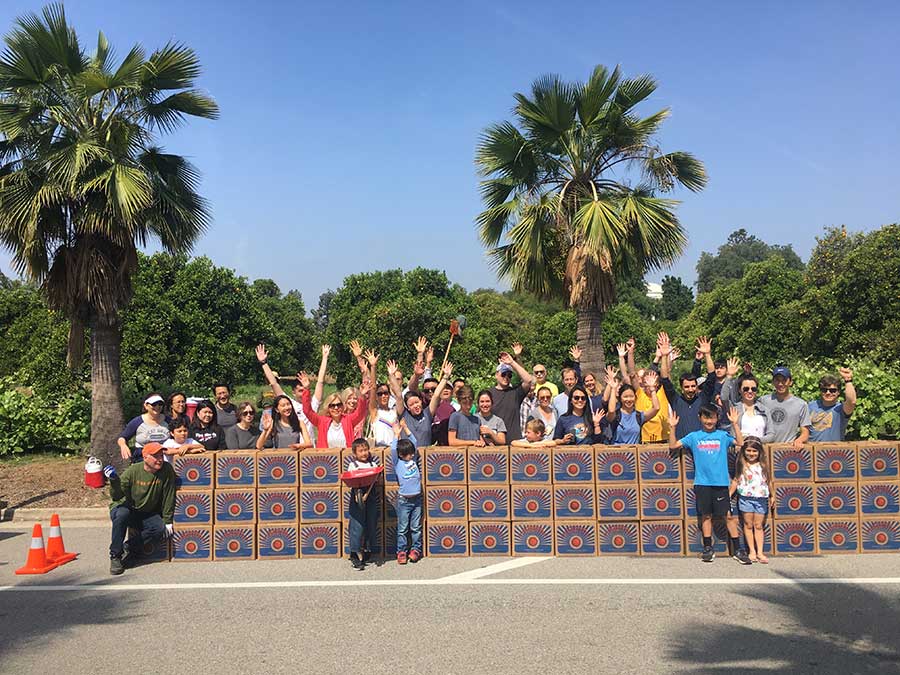 On a recent Saturday, dozens of volunteers harvested 3,400 pounds of oranges at The Huntington for hunger relief agencies. Photo by Usha Lee McFarling.
In less than two hours, the group had filled 85 boxes with some 3,400 pounds of oranges. Volunteers helped load much of the fruit directly into trucks and vans from local hunger-relief agencies that had come to The Huntington to pick up food directly for distribution. The agencies include those that help children, the homeless, and even college students who are undernourished.
One of the volunteers leading the recent Huntington harvest was Kelly Akins, a Food Forward "most valuable picker." "I came to one harvest, and I was hooked," Akins says. "It's really fun, it's easy to do, and it's easy to make a difference."
Usha Lee McFarling is senior writer and editor in the Office of Communications and Marketing at The Huntington.