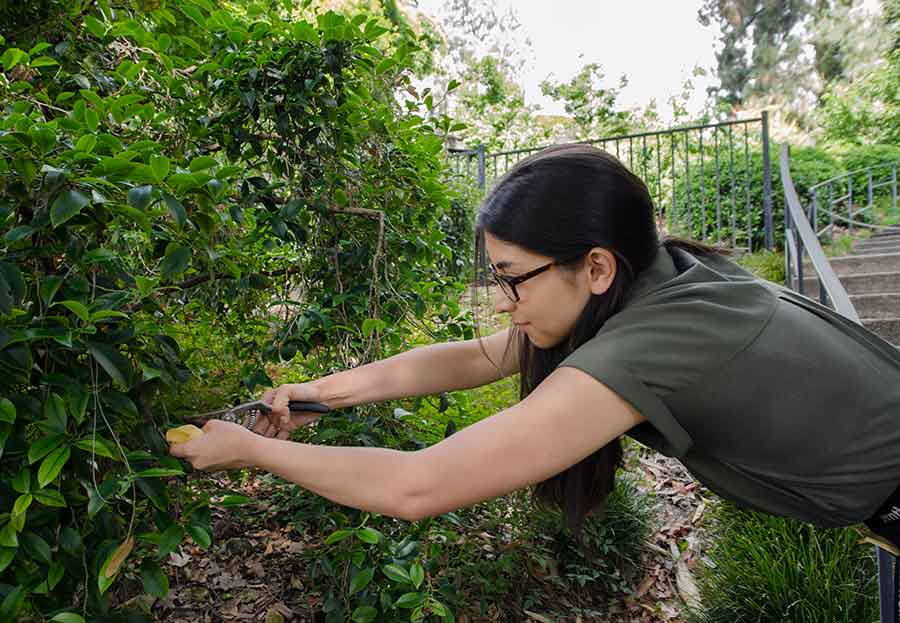 Dana Austria, a botanical intern and a junior at the University of Southern California, takes a sample of
Cleyera japonica
, a flowering evergreen shrub that grows in The Huntington's Japanese Garden. Photo by Lisa Blackburn.
The Huntington has joined an ambitious effort to collect and preserve the genomes of all species on Earth so that the material can be made available to researchers. The Global Genome Initiative, or GGI, was launched by the Smithsonian Institution in 2011 and has grown to include a global network of institutions collaborating to collect and preserve the genetic information needed to create a vast database of the planet's biodiversity.
It is an immense task. According to the Smithsonian, more than 80 percent of the planet's estimated 11 million species remain undocumented, and less than one percent of the planet's known genomes have been sequenced.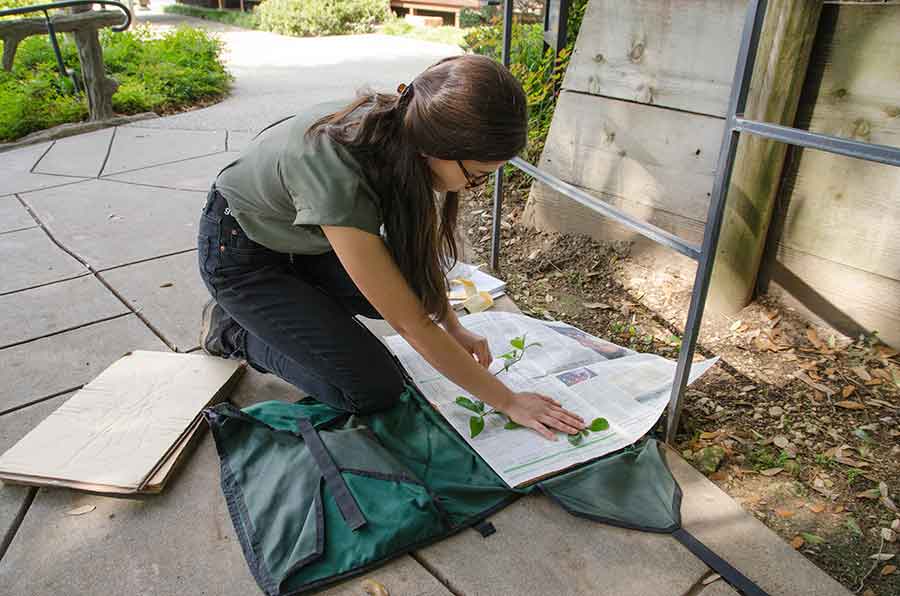 Dana Austria presses samples of
Cleyera japonica
between sheets of newspaper in preparation for drying. Photo by Lisa Blackburn.
The Huntington has joined an arm of the project called GGI-Gardens that aims to collect tissue and extract genetic material from at least one species from all of the world's plant families and half of all plant genera. So far, the program has collected samples from 209 families and 1,024 genera. To aid the project, Huntington research botanist Brian Dorsey is working to collect any material The Huntington can provide, which includes roughly 1,000 additional genera. "We could double the number of genera collected," Dorsey said. "We can contribute a pretty significant number because our collection is so amazing."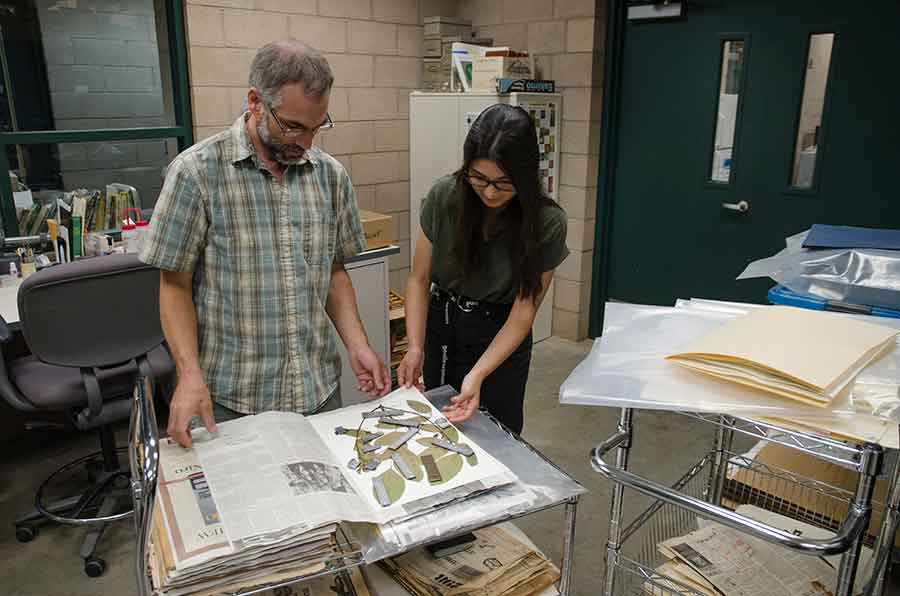 Brian Dorsey, The Huntington's chief botanical researcher, and botanical intern Dana Austria examine plant materials that are being dried and collected for the Global Genome Initiative. Photo by Lisa Blackburn.
To help him collect so much material, Dorsey enlisted a full-time intern to work on the project. Dana Austria is a junior studying biology and environmental science at the USC Dornsife College of Letters, Arts and Sciences. She is very interested in botany, but because USC offers few botany classes, she chose to take an internship at The Huntington. "It's a great way to learn about botany," said Austria, who is planning to pursue graduate studies and then a career in plant and conservation biology. "Organizing field work is not something you learn in class."
Austria spent part of her 10-week internship on the grounds, finding some of the plants that needed to be collected and then "vouchering" them, or drying and pressing the leaves and flowers for long-term storage in The Huntington's herbarium. She also put samples of leaves in silica gel to store them for DNA extraction.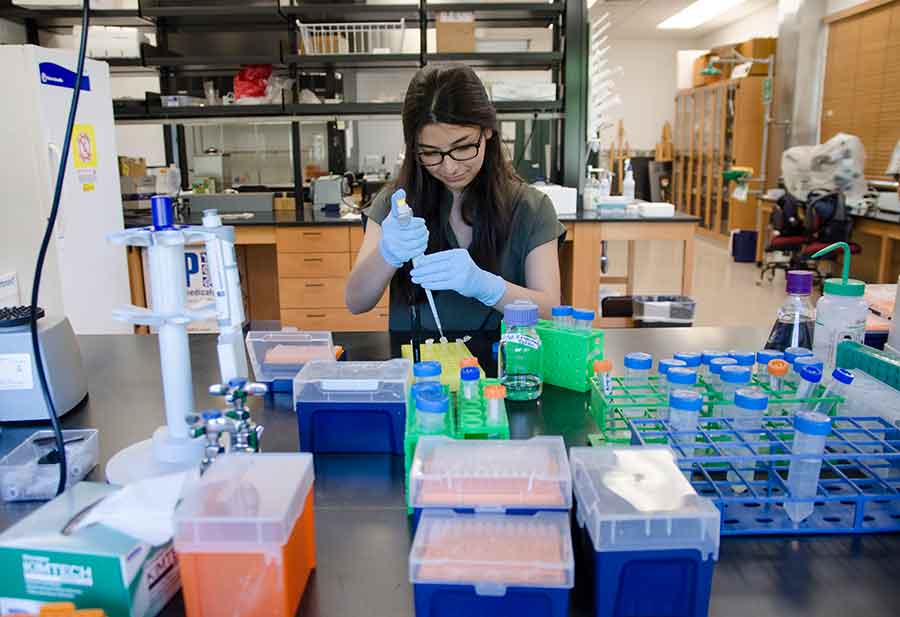 Dana Austria works in The Huntington's molecular systematics research lab to extract DNA from plant samples. Photo by Lisa Blackburn.
In addition, she spent a lot of her time in The Huntington's molecular systematics research lab, learning how to extract DNA. The process had to be tweaked to work for different species. "It's fun, kind of like following a recipe," Austria said. "But it's also a challenge because you have to change the recipe for different species. Some plants make a lot of secondary compounds that can interfere with the process."
"It's a lot of pipetting," noted Dorsey.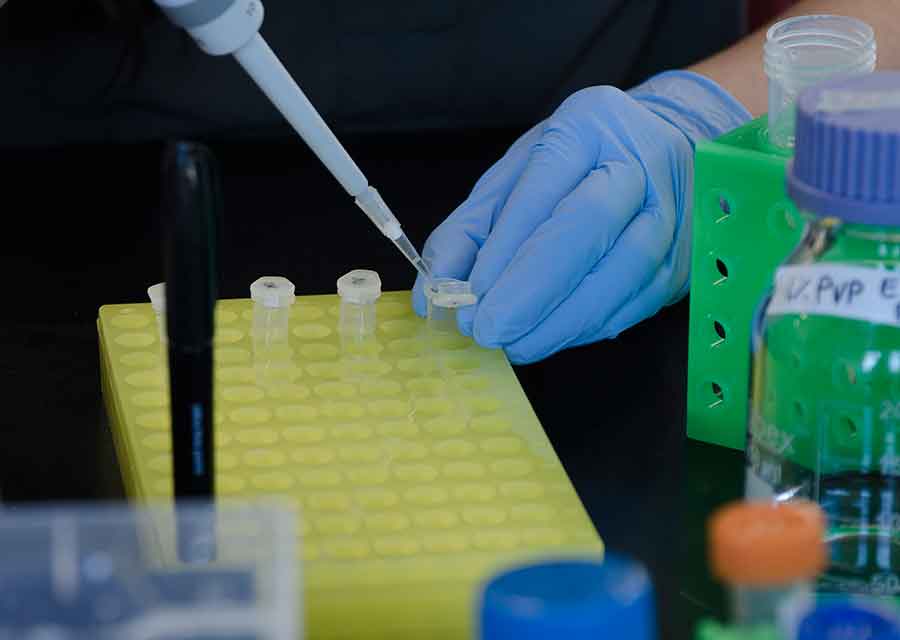 Dana Austria wields a pipette in the lab. Photo by Lisa Blackburn.
During her internship, Austria collected 125 leaf samples and helped systematize the procedure of DNA extraction so that additional plants and their DNA can be collected more quickly. "Dana helped us figure out how to do this at The Huntington," said Dorsey, who will continue to oversee collecting for the GGI project. The Huntington may also serve as a repository for plant genetic material in the future, he said.
"It's important to collect plants before they are gone," he said. "There's an extinction event going on across the globe, so it's important to make this effort now."
Usha Lee McFarling is senior writer and editor in the Office of Communications and Marketing at The Huntington.