Ramiro Ramirez Pinedo, who has worked at The Huntington for 50 years, stands in his favorite place on the grounds, the Japanese Garden. Photo by Jamie Pham.
While The Huntington is celebrating its Centennial this year, it is also celebrating a very special staff member, one who has worked at the institution for a half century.
Ramiro Ramirez Pinedo, 80, started working at The Huntington in 1969. A gardener originally from Jalisco, Mexico, Pinedo got his start as a jack-of-all-trades—hoeing, weeding, and cutting lawns. "As I gained more experience, they gave me more opportunities," Pinedo said. He moved on to driving tractors, working in the garage, and fixing machinery. "I've done everything, even plumbing. I've worked in pretty much every garden."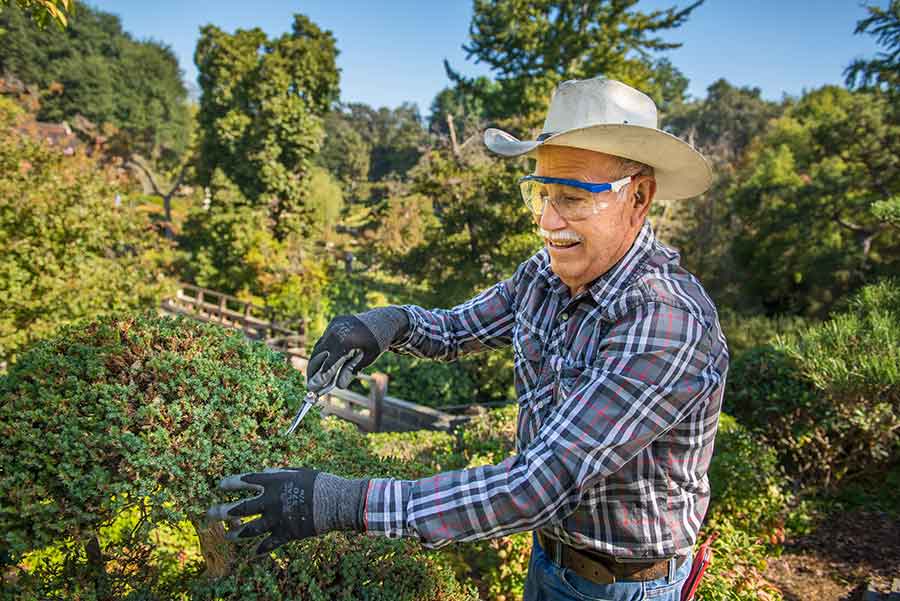 Over the years, Pinedo has honed his skill at pruning to shape the pines and junipers in the Japanese Garden. Photo by Jamie Pham.
Over time, Pinedo gravitated toward his true passion: pruning. "When you prune, it gives plants growth, life, and vigorous flowers," he said. Pinedo started his craft in the camellia collection and now focuses largely on pruning pines and junipers in the Japanese and Chinese gardens. He has learned his techniques, he said, from some of the best, including the late bonsai master Ben Oki.
In his decades at The Huntington, Pinedo has seen a lot of change. He remembers the days before leaf blowers, when fallen leaves were raked by hand. In his early days on the job, he said, the gardening staff was smaller and the gardens were more natural and less manicured. "We didn't tend to them with the detail we do now. It really has changed."
To maintain the manicured look of the Japanese garden, many plants require Pinedo's exacting touch. Photo by Jamie Pham.
Pinedo and his wife, Aurora Pinedo, have been married for 53 years. They both, he said, often worked two jobs or double shifts to raise and support their family of three sons and two daughters, all of whom have graduated from college and have successful careers.
Pinedo's long tenure at The Huntington was recently celebrated with a party featuring a cake emblazoned with an image of the Japanese Garden, which is a Pinedo favorite. "He came as a young man when he was 30 and stayed 50 years and became one of our greatest gardeners, and this is not the end!" said Jim Folsom, the Marge and Sherm Telleen/Marion and Earle Jorgensen Director of the Botanical Gardens.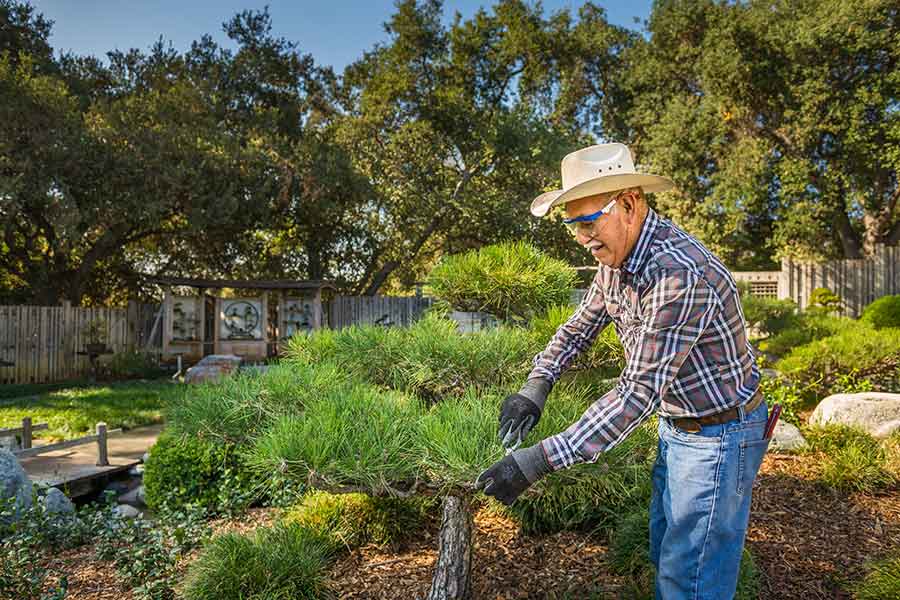 Pinedo learned pruning techniques from Ben Oki, the late bonsai master. Photo by Jamie Pham.
Robert Carter, director of human resources for The Huntington, noted that Pinedo joined The Huntington during the year of Woodstock and the moon landing, and he was hired before a number of current Huntington employees were born.
While he is well past retirement age, Pinedo has no immediate plans to stop gardening. "Since I was a child, I've loved gardening," he said. "Even now, I still love working in a garden."
Usha Lee McFarling is senior writer and editor in the Office of Communications and Marketing at The Huntington.