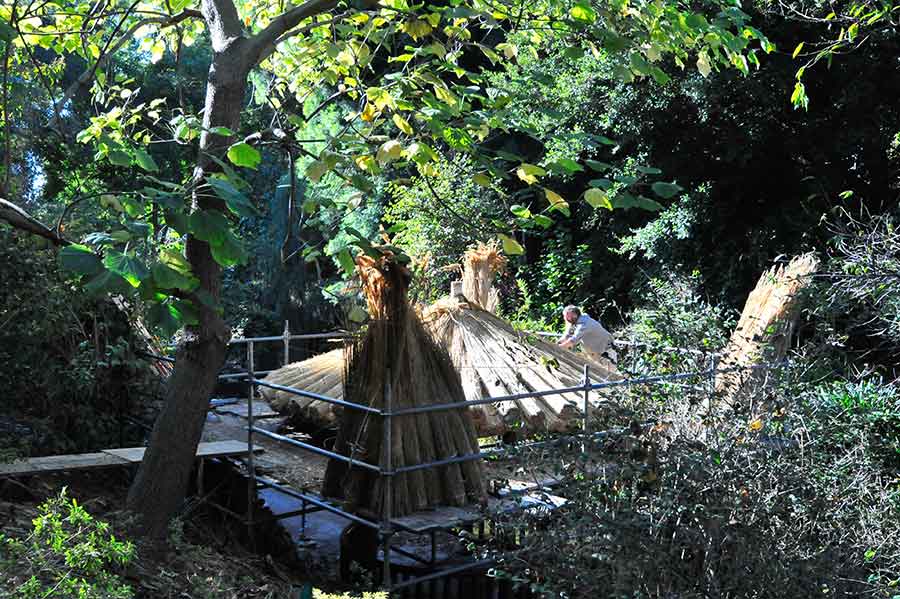 Thatcher William Cahill carefully places reeds on the roof of the Pavilion for Washing Away Thoughts (Di Lü Ting 滌慮亭). in The Huntington's Chinese Garden, Liu Fang Yuan流芳園. Photo by Andrew Mitchell.
The Pavilion for Washing Away Thoughts (Di Lü Ting 滌慮亭) lies tucked along the stream between the Japanese and Chinese gardens. Easy to miss because it is off the main pathway and under a large, leafy tree, the tiny, jewel-like structure is nevertheless a favorite among visitors, and according to security staff, it is said to be one of the most popular places for marriage proposals on The Huntington grounds.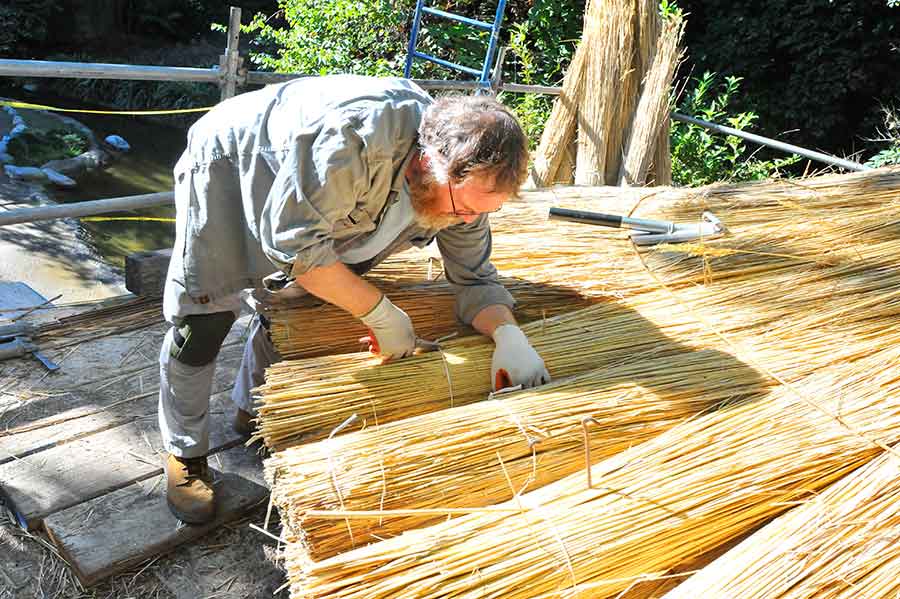 Cahill positions and then spreads reeds once they have been placed on the pavilion's rooftop. Photo by Andrew Mitchell.
The pavilion was capped with a thatched roof by Chinese artisans during the construction of the Chinese Garden more than a decade ago; the concept with this structure was to show what very early Chinese garden pavilions looked like during the Ming Dynasty, distinct from the far more sophisticated-looking pavilions with ornate tile roofs that swoop and curve at impossible angles. But because of the burrowing of animals and the moldering of leaves in the intervening years, the roof had become "a little scruffy," according to Andrew Mitchell, the gardens curator for material objects at The Huntington. With the expanded Chinese Garden set to open in the spring, "We wanted the pavilion to look fresh and renewed," he said.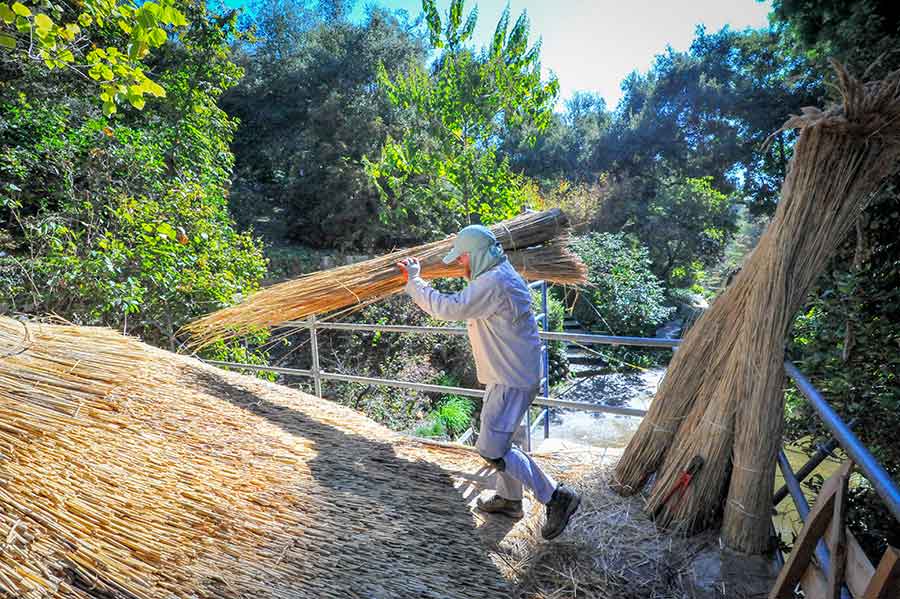 Cahill carries water reeds he harvested in New Jersey onto the pavilion roof. Photo by Andrew Mitchell.
But finding an expert roof thatcher in the United States is not easy. Mitchell turned to one of only a few in the nation: William P. Cahill, an Irishman who now lives in Ohio and specializes in creating and repairing bespoke thatch roofs for both private and public clients.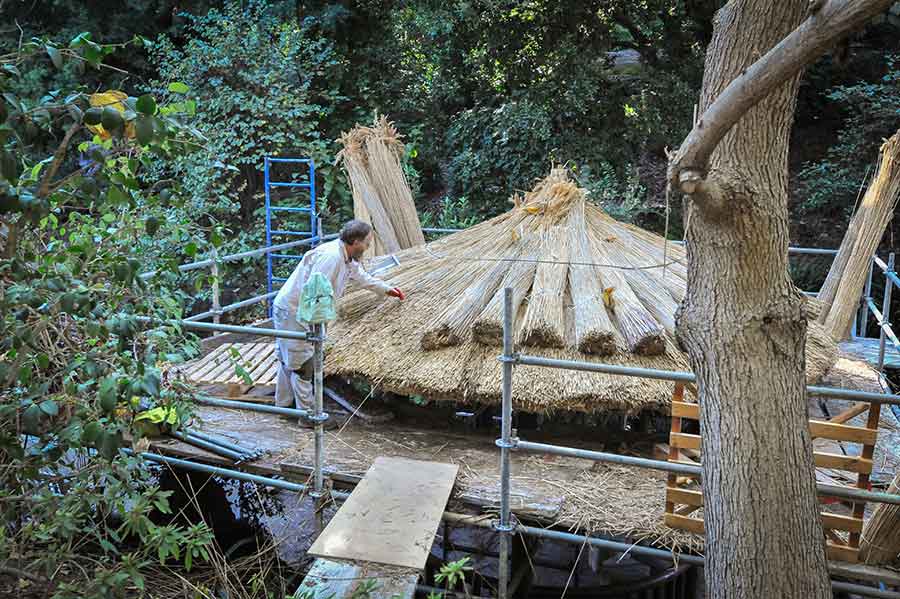 The art of thatching requires carefully placing reeds in layers so the roof becomes insulating and water resistant. Photo by Andrew Mitchell.
Cahill learned his craft in Ireland, where thatched roofs—and thatchers, for that matter—are more common. Originally from Galway, Cahill apprenticed for five years, working on a variety of projects—from repairing the 4.5-foot-thick thatched roof on a 600-year-old Irish house to thatching a cottage attached to Thoor Ballylee, the castle once owned by the Irish poet William Butler Yeats (1865–1939) in Gort, County Galway.
Cahill then moved to the United States and was chosen to work on a project thatching the roof of the Jamestown Church in historic Jamestown, Virginia. Demand for his work has grown over the years. While he and his family make their home in southeastern Ohio, Cahill is on the road nearly 300 days a year, working on private estates, as well as at zoos, historic sites, luxury resorts, and botanical gardens.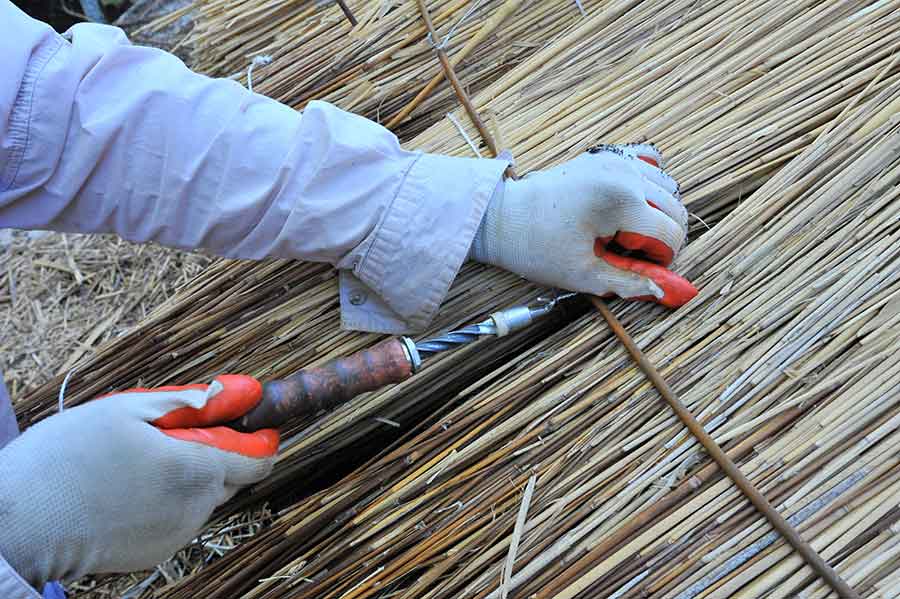 To secure the reeds in place, Cahill uses metal wire that is not visible in the finished roof. Photo by Andrew Mitchell.
This winter, Cahill spent several weeks in residence at The Huntington, removing the thatched roof of The Pavilion for Washing Away Thoughts and replacing it. Thatching is an ancient technique that involves the use of native plant materials—ranging from prairie grasses to cattails to palm fronds. "It's the first form of roofing in the world, and people use whatever is local," Cahill said. For this project, Cahill used water reeds, or phragmites, that are native to the eastern United States.
In the winter months, Cahill harvests these reeds himself in northern New Jersey, ties them in tight bundles, and leaves them to dry in "stokes" for later use. (Cahill had also provided the reeds for the pavilion's original roof, Mitchell said. For this project, bundles of dried reeds were delivered to The Huntington by truck.)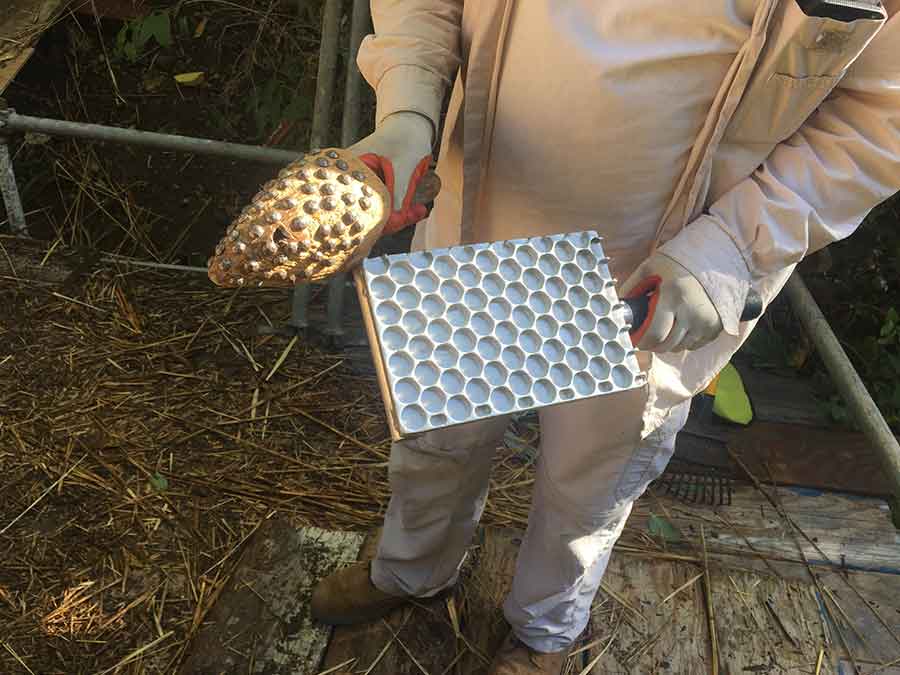 Cahill displays his leggetts, critical tools that help him drive the ends of reeds into position for a smooth edge. Photo by Andrew Mitchell.
Cahill uses specialized tools, some of which he has made himself, to compact and tighten the thatch. These include a leggett—a wooden tool with large grooves—and a Dutch mallet, with upholstery nails driven into its wooden face. Knee pads are essential as well.
Thatching is physically demanding work. Creating a roof can take hundreds of hours as the thatcher sets bundles of reeds in place and secures each layer with steel rods, wire, and screws. After placing the reeds, Cahill feathers each layer to create a uniform plane. To prevent damage to the roof, Cahill must work on a ladder that rests on the roof's top and distributes his weight over a wide area.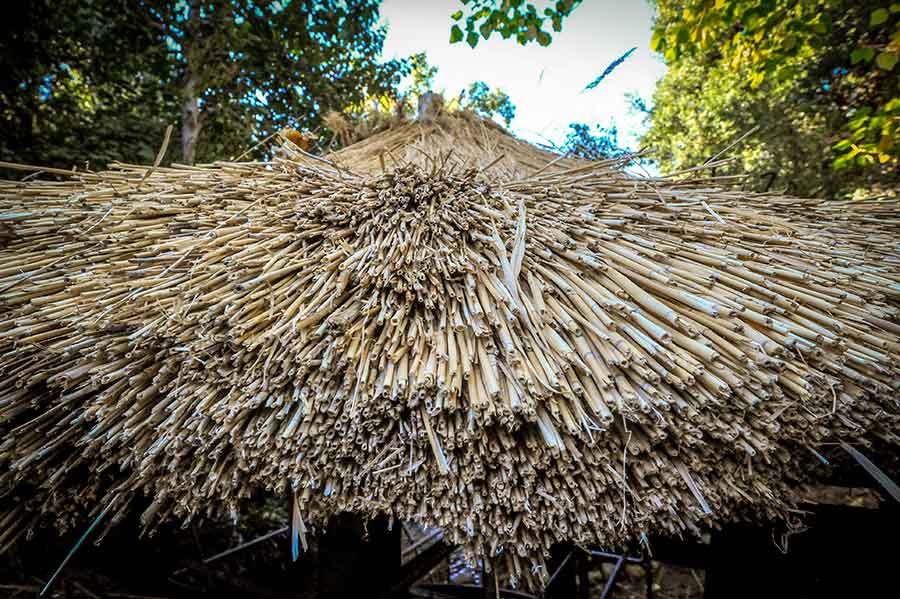 The ends of reeds protruding before they are smoothed. Photo by Andrew Mitchell.
A natural storyteller, Cahill is always happy to stop and explain his work to visitors, staff, or anyone who happens by as he is working. One delight of his job, he said, is chatting with people he meets, especially when he can do so over a cup of tea. Cahill said he found the staff at The Huntington "a pleasure to work with and so hospitable."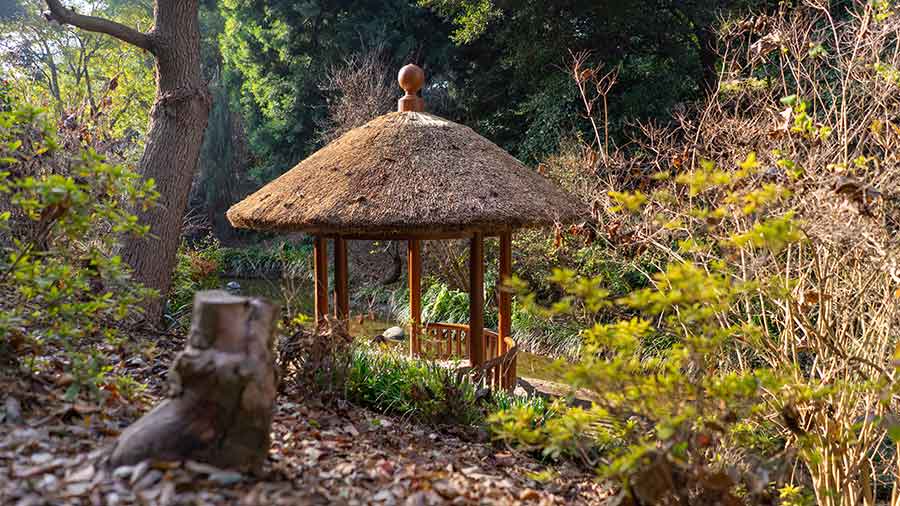 The Pavilion for Washing Away Thoughts with its new roof, ready for another decade. Photo by Aric Allen.
Once finished, only a small portion of each layer of thatch is exposed. This helps the roof shed water and protects the underlying layers. A natural silicone in the reeds, Cahill said, gives the roofs longevity. Some thatch roofs can last for as long as 20 years. And when the pavilion needs its next roof, Mitchell knows he can rely on Cahill. "William is a tremendously rare individual, a true craftsman," said Mitchell. "And he's definitely keeping this craft alive."
Usha Lee McFarling is senior writer and editor in the Office of Communications and Marketing at The Huntington.