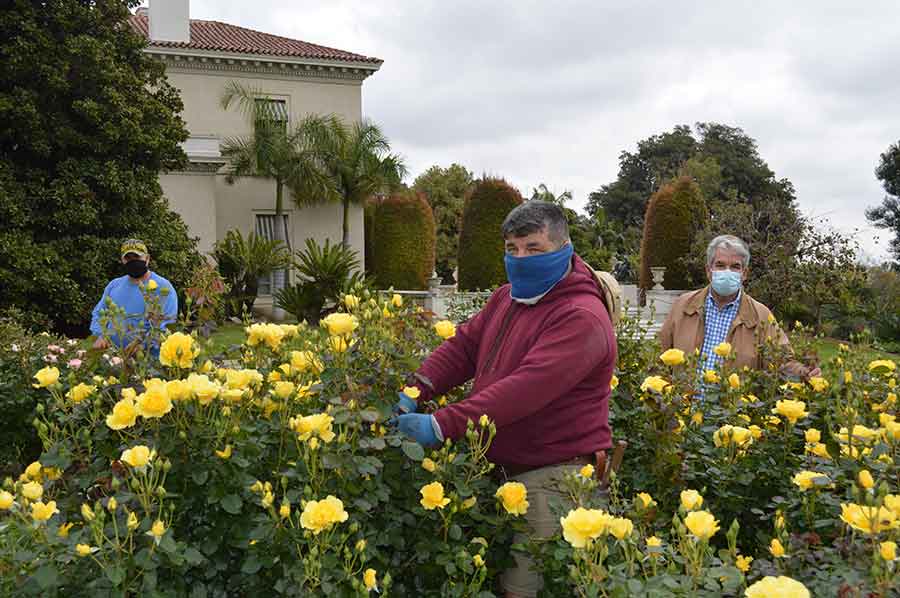 Rose Garden curator Tom Carruth (far right) and gardeners John Villarreal (center) and Noel Aviña (left) maintain physical distancing and wear face masks for added safety while tending the garden during the mandated closure as a result of the COVID-19 pandemic. With some 1,200 varieties of roses coming into full bloom (including the bright yellow floribunda, 'Sparkle & Shine'), Carruth and his colleagues miss being able to share the beauty of the garden with others. A reopening date has not yet been determined. Photo by Kelly Fernandez.
Almost every garden has some common requirements: healthy soil, sunlight, irrigation, regular maintenance. But there are those who will tell you that a rose garden needs something more: people. No rose gardener wants to spend springtime alone, unable to experience the glories of that first spectacular bloom with friends, family, or even enthusiastic strangers. This spring, however, with The Huntington closed because of the COVID-19 health crisis, the three men who care for the Rose Garden have suddenly found themselves very, very lonely—spending their days in a paradise they're unable to share.
"I really miss sharing the beauty of the garden with our visitors and volunteers," says Tom Carruth, the E. L. and Ruth B. Shannon Curator of the Rose Collections at The Huntington. Carruth and his two gardeners, John Villarreal and Noel Aviña, have been working alone in the three-acre Rose Garden since the closure of the grounds went into effect in mid-March. Maintaining social distancing even while on the job has compounded their sense of isolation.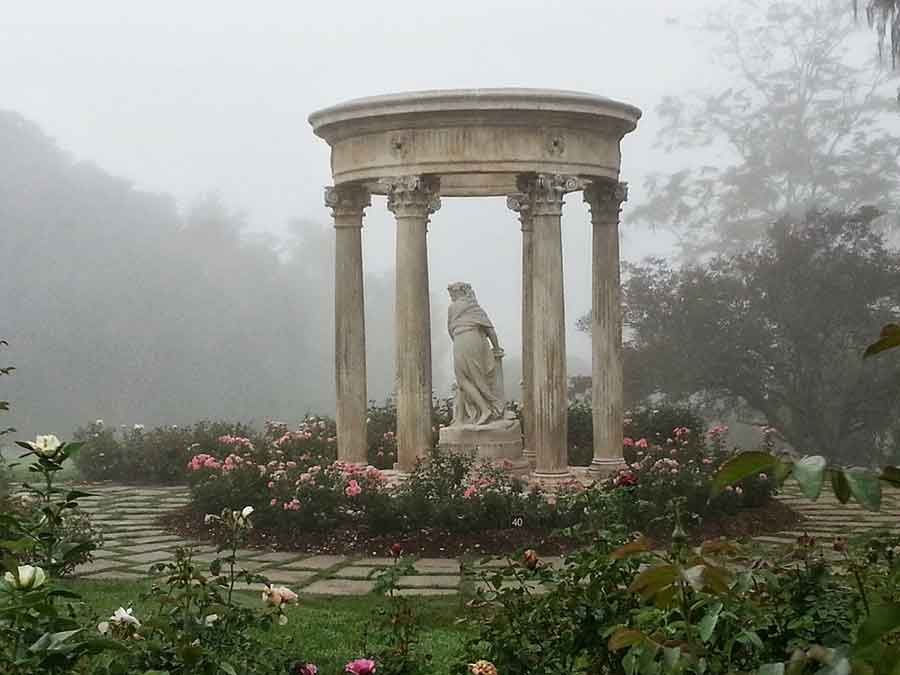 A misty morning in the Rose Garden in mid-April, about a month into the closure of the grounds. "It feels very lonely and quiet . . . Kind of melancholy," says John Villarreal. The 18th-century "Temple of Love," one of the focal points of the garden, is encircled by 'Passionate Kisses' roses. Photo by John Villarreal.
Carruth and his colleagues are usually assisted by a dedicated group of 44 volunteers who help tend the Rose Garden year-round, grooming the 2,700 or so rose shrubs and pruning spent blooms. Fondly known as the Grateful Deadheaders, these volunteers are an integral part of what makes the garden so remarkable. Much to their regret—and Carruth's—they have all been sidelined during the closure, since only a core group of essential staff are allowed on the grounds. The deadheaders had barely finished the six-week marathon of winter rose pruning when concerns about the novel coronavirus began to escalate. "The social interaction with the volunteers and docents and the strong friendships we've all formed is something I really miss," says Carruth. "They've all worked so hard. I know they're feeling very blue that they can't be here to see the fruits of their labors."
Villarreal is feeling somewhat blue himself. "I'm people-oriented, and I love working with our volunteers. They do a lot of the detail work of 'polishing' the Rose Garden. It feels really lonely and quiet without them. Kind of melancholy." For Villarreal, a typical workday might involve pulling weeds, spreading mulch, or wielding a 200-gallon commercial sprayer of foliage fertilizer. But he has added a new task to his daily routine in recent weeks: snapping photos for social media. He maintains a Facebook page for volunteers so that they can keep an eye on the garden's progress remotely. Carruth regularly posts photos on his own Twitter and Instagram accounts, as well, highlighting outstanding blooms among the approximately 1,200 different rose varieties planted in the garden—quite a few of which he developed himself during his career as an award-winning hybridizer. A number of these photographs have also been shared with thousands of The Huntington's Facebook, Twitter, and Instagram followers—a diverse audience of the garden's fans, many of them sheltering at home themselves, all longing to get a glimpse of the roses.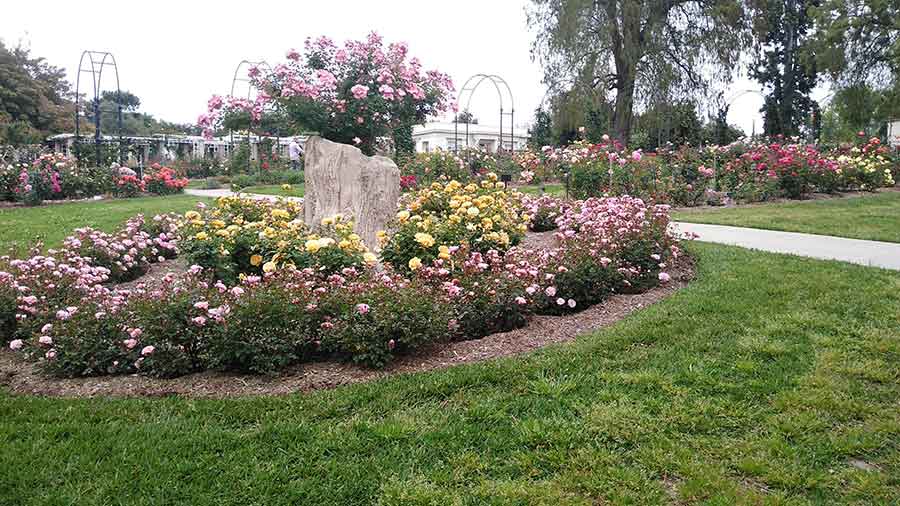 Plenty of winter rain followed by spring sunshine brought out a burst of color and fragrance. In the southwest corner of the garden, a
faux bois
planter cascades with pink 'Flower Girl' roses inside a double circle of 'Julia Child' and 'Apricot Drift' blooms. Photo by John Villarreal.
Diana Britt, who has volunteered in the Rose Garden for eight years, admits that it has been hard to sit on the sidelines, watching the garden's progress on social media as spring works its magic. "It's just not the same as seeing the massing of color in person, listening to the happy bees buzzing around, and smelling the flowers." Part of what she misses, Britt says, is sharing the excitement of visitors. "When you put so much effort—and blood!—into pruning during the first six to eight weeks of the year, it's wonderful to see the payoff in a stunning bloom display, not to mention seeing our visitors' amazement. Many people stop by the docent table to see what blooms we've cut for display and to rave about how glorious the garden is, which really makes all the hard work and bloodletting completely worthwhile. Sharing that experience with visitors, answering questions, and helping people figure out how roses might fit into their own gardens is the reason I became a docent after several years of deadheading."
Noticeably absent from the garden, too, are the voices of children—a silence that saddens Carruth. He always enjoys witnessing the excitement and wonder of young visitors as they explore the landscape's sensory delights. "My mission has always been to get as many kids into the garden as we possibly can," says Carruth, who considers education to be a key part of his job. "They're the next generation of gardeners, and this is a great place to inspire them. When they come up to the docent table and we get them talking about the roses—what their favorite colors are, which fragrances they like best—that's when we get them hooked."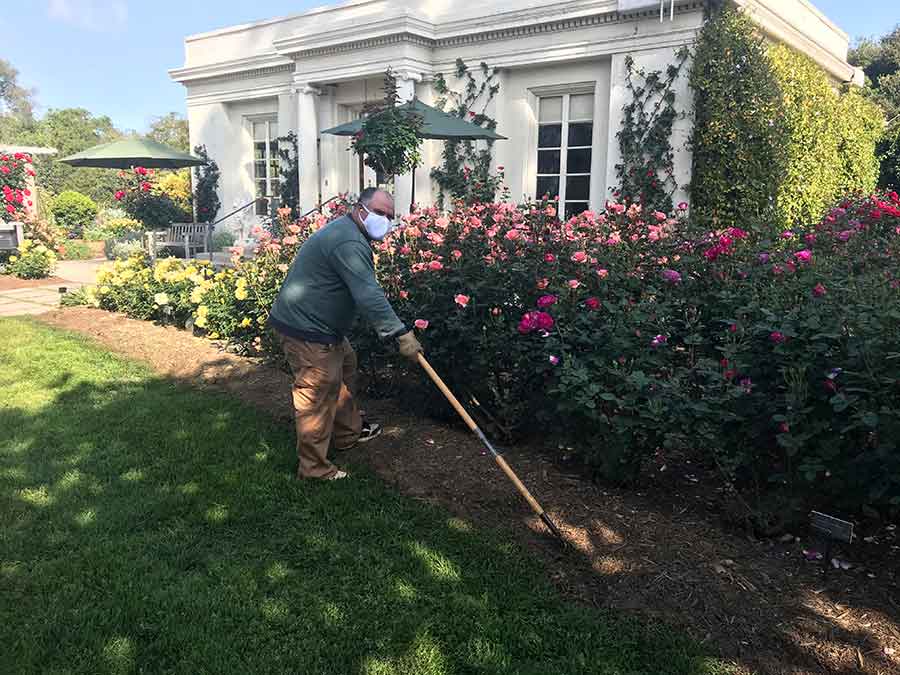 Outside the Rose Garden Tea Room, which is also temporarily closed, gardener Noel Aviña tends a colorful bed of blooms: yellow 'Sun Flare' roses, the peachy-pink 'Jump for Joy', and magenta 'Outta the Blue'. Working in the garden, Aviña says, "helps to keep my mind away from the current crisis." Photo by Tom Carruth.
It's those personal connections that make all the difference, Carruth believes, for visitors of all ages as well as for volunteers and staff. "The joy of gardening is getting people to notice the beauty, to get them to look close enough to appreciate the details," he explains. And those details include scent: Carruth particularly regrets that visitors will have to wait to see—and smell—the large planting of his wonderfully fragrant Centennial rose, 'Huntington's 100th', in its first mature year. "The shrubs are covered with masses of buds; it's going to be putting on a heck of a show." As the Rose Garden approaches the peak of its spring bloom, that joy of engaging with visitors will need to be deferred, at least for now.
(A date for reopening has not yet been determined. Huntington officials continue to follow L.A. County's stay-at-home order for both businesses and residents.)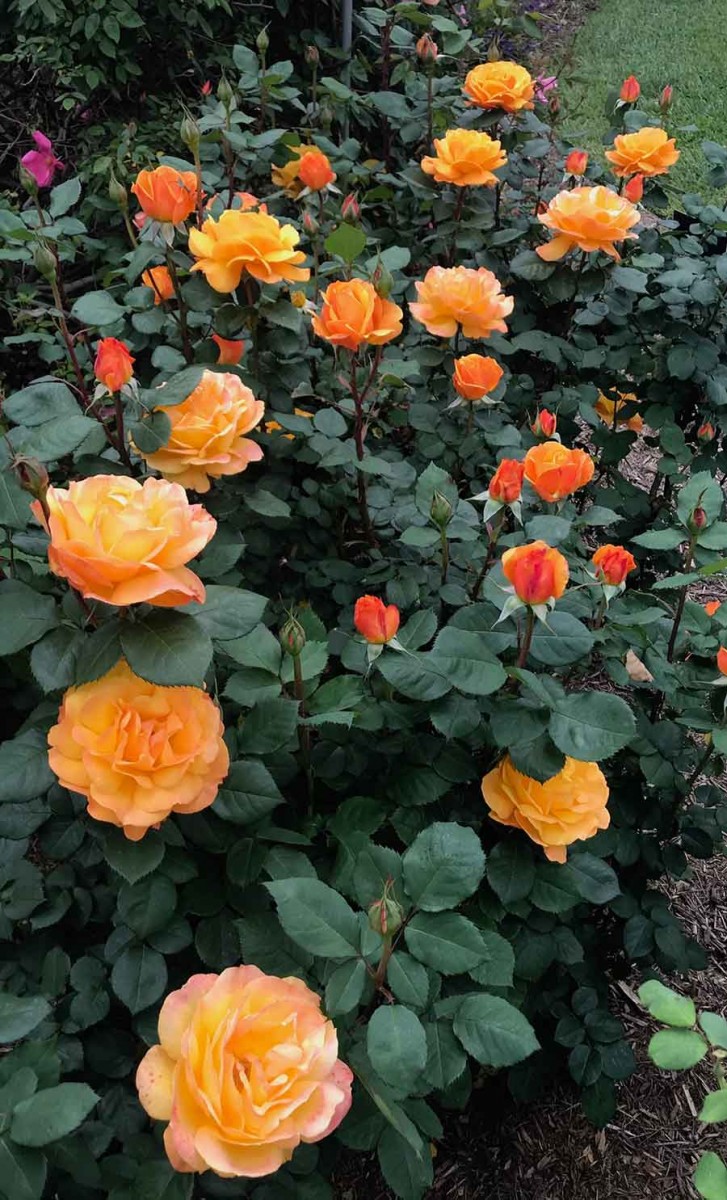 A number of rose cultivars in the garden, including the spectacular hybrid tea 'Good as Gold', were developed by Tom Carruth during his career as an award-winning hybridizer. Carruth has been sharing photos of the roses, including this one, on Twitter and Instagram, giving flower fans a virtual glimpse into the garden during the closure. Photo by Tom Carruth.
But even while the garden is closed to the public, the work of caring for it continues. Tasks such as mowing the lawns, edging beds, weeding, hedge trimming, and irrigation maintenance need to be kept up. "We're prioritizing what we need to do," says Carruth, acknowledging the challenge of being short staffed. "The Rose Garden is usually very manicured, and it may get a bit shaggy. We know we're going to get behind on deadheading, but that's OK." The volunteer deadheaders will be assured of plenty of work when they return.
In the meantime, Carruth and his coworkers have received some help from a very welcome quarter: A number of staff members from other areas of the institution whose regular duties have been interrupted by the closure have volunteered to be temporarily reassigned to gardening duties, in the Rose Garden and elsewhere.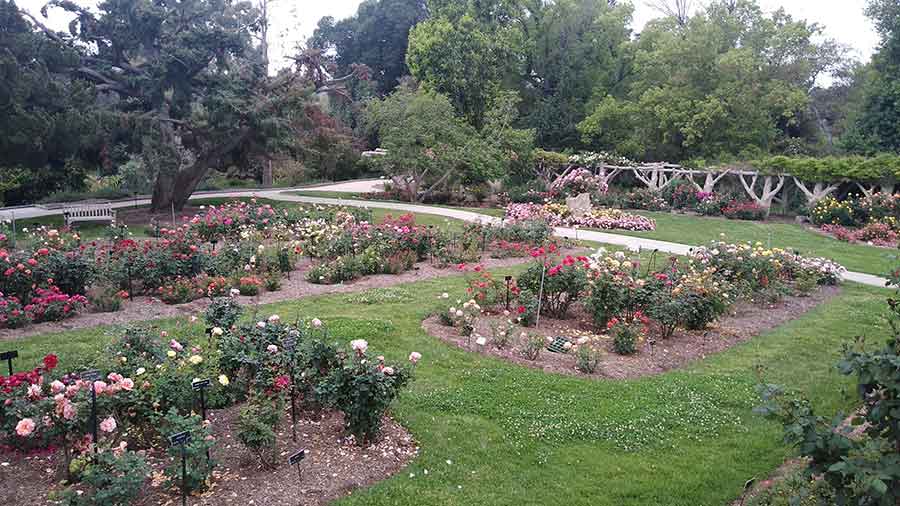 Pathways and lawns that would normally be teeming with visitors of all ages are empty and quiet. As a result, the sounds of nature are more prominent. "The birdsong seems louder," says Carruth. Photo by John Villarreal.
Carruth, Villarreal, and Aviña admit that there are a few advantages to having the garden to themselves. Without a surge of visitors streaming in at 10 a.m. each day, they can take more time over maintenance tasks, work longer into the morning, and cover more areas that need attention. A special project to plant daffodils under the Montezuma cypress trees has just been completed, as well.
Expressing a sentiment that his colleagues no doubt share, Aviña reflected on the garden's power to soothe the spirit during times of anxiety and uncertainly. "I feel while I am here that I am working in a paradise, and it helps to keep my mind away from the current crisis that is all around us."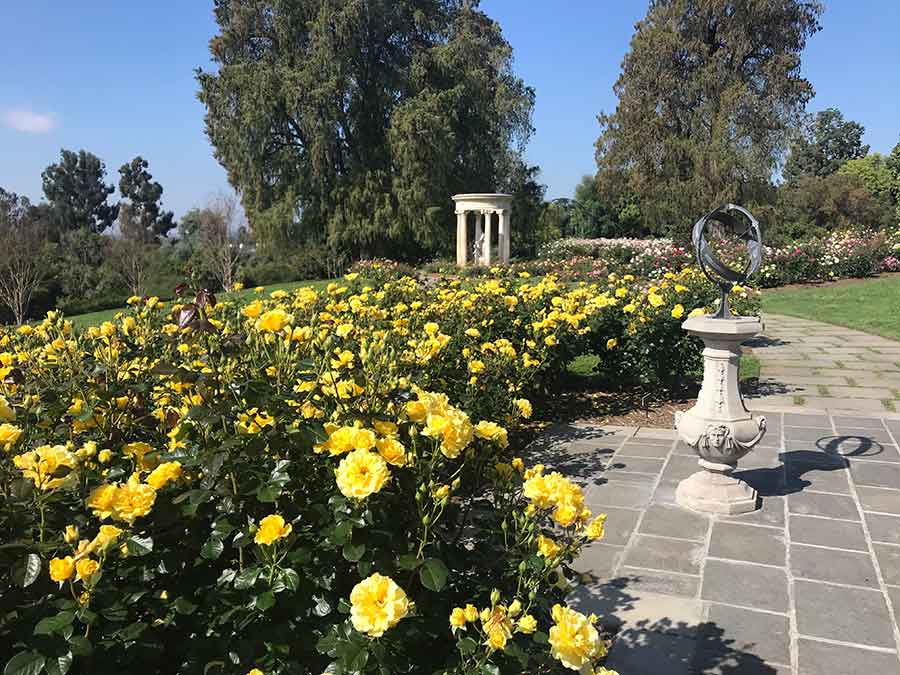 Under blue skies, the 'Sparkle & Shine' roses live up to their name, framing a timeless, picture-postcard view of the landscape while the garden—and its caretakers—wait for restrictions to be lifted and for rose lovers to return. Photo by Tom Carruth.
They even have a bit more time to savor nature itself. "Without people in the garden, the birdsong seems louder," Carruth notes. "The birds have a more prominent presence. Mother Nature just goes on, no matter what's happening to us."
There's more time, in fact, to stop and smell the roses.
Lisa Blackburn is senior editor and special projects manager in the Office of Communications and Marketing at The Huntington.