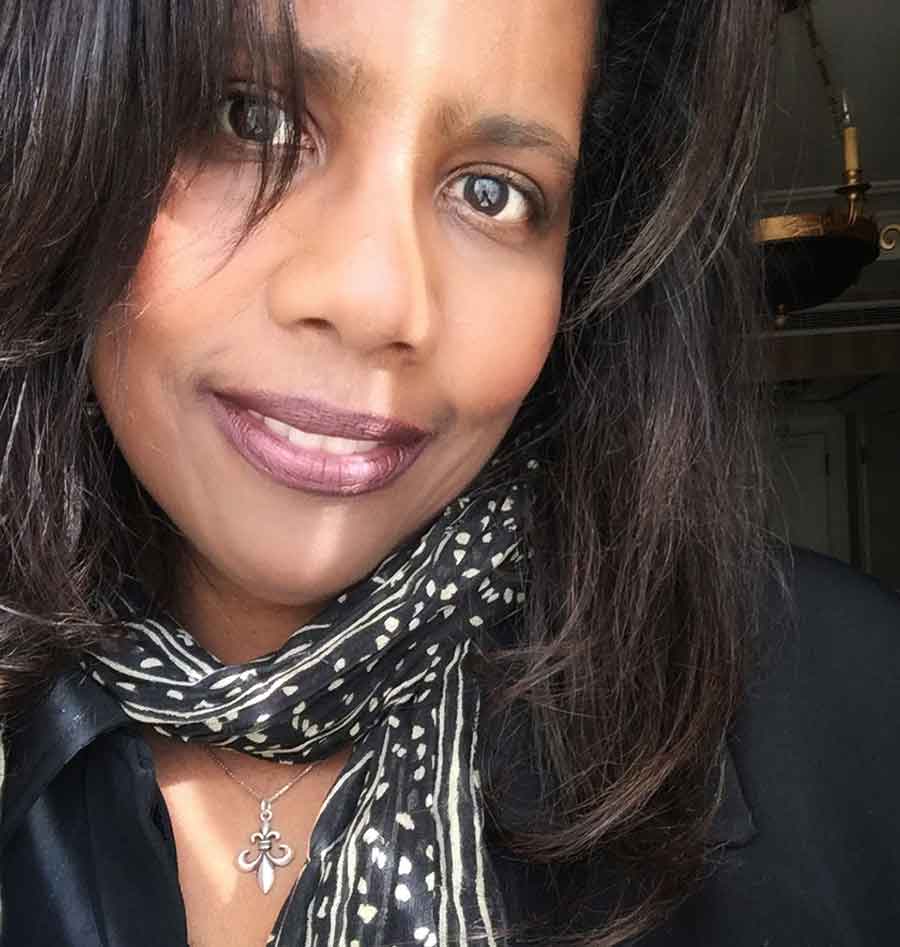 Lynell George, author of
A Handful of Earth, A Handful of Sky: The World of Octavia E. Butler
(Angel City Press, 2020). Photo courtesy of Lynell George.
Home to gorgeous gardens, spectacular art, and stunning rare books and manuscripts, The Huntington also offers an impressive slate of programs on topics and themes related to its collections. Below are video recordings of four recent online events.
President's Series: Inspired by Octavia E. Butler—A Handful of Earth, A Handful of Sky: Lynell George in conversation with William Deverell and Karla Nielsen (Aug. 26, 2020)
Writer Lynell George discusses her forthcoming book, A Handful of Earth, A Handful of Sky: The World of Octavia E. Butler, and her experience in The Huntington archives, in conversation with William Deverell, director of the Huntington-USC Institute for California and the West and professor of history at USC, and Karla Nielsen, curator of literary collections at The Huntington. George is a Los Angeles-based journalist and essayist. She is the author of three books of nonfiction including After/Image: Los Angeles Outside the Frame. She began working in the Octavia E. Butler archive at The Huntington soon after it opened for research. Through the objects and documents in the archive, she came to know and identify with the renowned Black author who grew up not far from where George lives in Pasadena (watch here). Lynell George's A Handful of Earth, A Handful of Sky: The World of Octavia E. Butler is available for pre-order.

Detail from a scroll depicting U.S. Commodore Matthew C. Perry's first expedition to Japan, ink (brush and wash) in red, blue, black, and brown, on paper recently backed. Japan, after 1853. The Huntington Library, Art Museum, and Botanical Gardens.
Curatorial Dialogues: Black Ship Scrolls and Mary Queen of Scots' Prayer Book (Sept. 1, 2020)
Two remarkable—and remarkably different—manuscripts from the Library's collections are the focus of this presentation and conversation with Li Wei Yang, curator of Pacific Rim Collections, and Vanessa Wilkie, William A. Moffett Curator of Medieval Manuscripts and British History. Yang explores the dramatic encounters referenced in a recently acquired set of Japanese manuscript scrolls documenting Commodore Matthew C. Perry's maritime incursion into Japan in 1853 and 1854. Wilkie shares the story, opportunities, and dilemmas of caring for the 15th-century illuminated manuscript many scholars believe Mary Queen of Scots carried to her execution. Claudia Funke, Avery Chief Curator of the Library, moderates the post-presentation discussion and takes questions from the audience (watch here).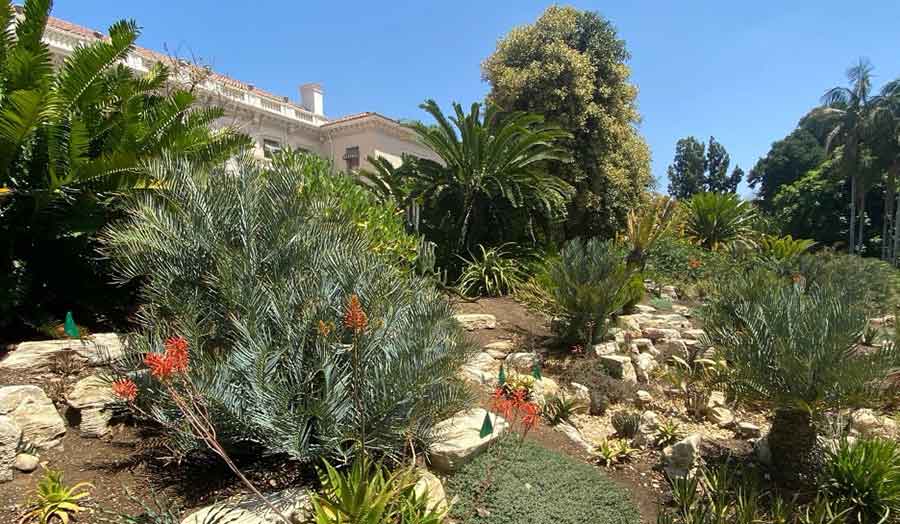 Behind the Huntington Art Museum,
Aloe cameronii
(red aloe) bloom in front of a large cycad,
Encephalartos trispinosis
. Loran Whitelock Cycad Collection. Photo by Gary Roberson.
37th Annual Succulent Plants Symposium (Sept. 11, 2020)
Botanical Gardens staff provides updates about the Desert Garden Collections, discusses recent construction in the garden, and takes a look at ongoing efforts to document and archive the collections. Speakers and topics: Gary Roberson, "Cycads and Succulents as Companions"; Sean Lahmeyer, "A Synopsis of Vouchering The Huntington's Desert Collections"; Seth Baker, "Making an Entrance: Desert Garden Headwaters"; and John N. Trager, "2020 in Hindsight: Desert Collections Developments" (watch here).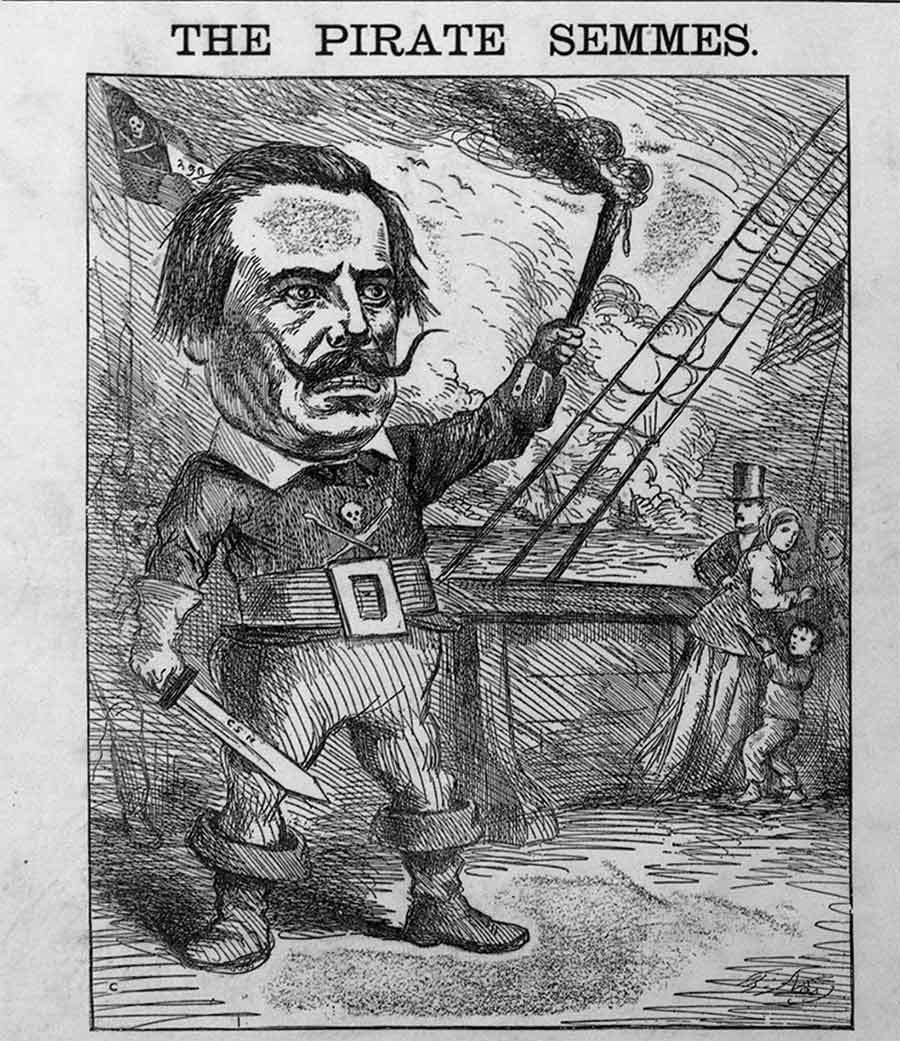 Thomas Nast (1840–1902), detail from
Leaders of the Democratic Party
, 1868, one print: wood-engraving with letterpress on wove paper, 89.7 x 54 cm (sheet). Library of Congress Rare Book and Special Collections Division, Washington, D.C. During an election year, Nast portrayed this prominent figure in the Democratic party, Confederate admiral Raphael Semmes (1809–1877), as a pirate, wielding a knife in one hand and holding aloft a flaming torch in the other. Semmes was the scourge of Union shipping during the Civil War. Under his command, the Alabama, a British-built ship, captured 62 merchant vessels, most of which were burned. Image courtesy of the Library of Congress.
Confederate Infamy (Sept. 23, 2020)
Robert Bonner, professor of history at Dartmouth College, probes the deep history of the images, words, and ships that cast odium on the slaveholders' rebellion of the 1860s. This lecture is a Rogers Distinguished Fellow's Lecture in Nineteenth-Century American History (watch here).
Kevin Durkin is the editor of Verso and the managing editor in the Office of Communications and Marketing at The Huntington.