Loren Miller, "Mass Protest Saves the Scottsboro Boys," March 16, 1933. First two pages of a three-page draft article written by Miller for the Daily Worker newspaper in response to William Patterson's letter of Feb. 14, 1933. The Huntington Library, Art Museum, and Botanical Gardens.
"What Now: Collecting for the Library in the 21st Century" is a two-part exhibition that illuminates The Huntington's ongoing role in documenting the human experience in support of research and education. Part of The Huntington's 2019–20 Centennial Celebration, the exhibition's first installment opened in Fall 2019; the second part, which was to open in Spring 2020, opens Aug. 7 and runs until Nov. 1, 2021. The words "what now" have never been more relevant, and the eclectic assemblage of some 50 items acquired in the 21st century resonates with issues and themes of the past year, including racial justice, immigration, the urban landscape, and wellness.

Several of the objects on display in the upcoming exhibition, "What Now: Collecting for the Library in the 21st Century, Part 2," provide windows into The Huntington's array of collections that support important research interests: California legal history, Japanese American experiences, agriculture, Los Angeles history, the built environment, and photography—to name just a few. They bear witness to the racial injustice of the 1930s, the cultivation of flowers by Japanese immigrants in Hollywood during the 1920s, the vibrancy of a Boyle Heights neighborhood street in the late 1990s, and the healing power of nature celebrated in a study for a Ventura hospital mural in 1974.
"All these objects have taken on special meaning in the current moment," said Claudia Funke, the Avery Chief Curator and Associate Director of Library Collections, who, along with Assistant Curator of Architecture and Photography Erin Chase, co-curated the exhibition.
One of the most notable items, in this regard, is a 1933 article written by Loren Miller, a Los Angeles-based attorney focused on fighting discrimination, in which he protests the convictions of the Scottsboro Nine—nine Black youths, ranging in age from 13 to 19, who in 1931 were falsely accused of raping two white women on a freight train in Scottsboro, Alabama. The case received national coverage, resulted in two landmark U.S. Supreme Court decisions, and helped launch the civil rights movement. Miller, at the behest of the editor of the Daily Worker newspaper, used forceful prose to highlight the systemic racism faced by Black people in the courts. He wrote:
"The 'justice' that comes out of these courts is recorded all too vividly in the dry records of those thousands of Negroes dragging out their lives on chain gangs, rotting away in jails and murdered in prisons—for the basic offense of being poor and black in an America dominated by the rich and white."
The crossed-out words and corrections attest to Miller's intensity and passion as he composed and edited the piece. "In our world today," said Funke, "we might say, 'What's the value of a carbon copy of an article that has been published?' But the case's urgency is really conveyed by how the article looked as Miller hammered it out on his typewriter."

Flower Field in Los Angeles-Hollywood, California, United States, Operated by the Kuromi Family of Shimane Prefecture
, March 1, 1928, Paris Photographic Studio. Panoramic photo of the Kuromi family in a flower field off of Los Feliz Boulevard. A.H. (Andrew Harue) and Kiyo Kuromi moved to the United States in the early 1900s. The Kuromis eventually settled in Hollywood, where they joined another family member growing flowers on Los Feliz Blvd. The couple had three children: Aiko (1919–2011), Isamu (1922–1996), and Hitoshi (1925–1970). Arthur Ito papers. Gift of James A. Ito and Paul N. Cornan, Nov. 2016. The Huntington Library, Art Museum, and Botanical Gardens.
A story regarding the history of immigration is glimpsed in Flower Field in Los Angeles-Hollywood, California, a 1928 black-and-white photograph that shows 9-year-old Aiko Alice Kuromi standing in a wide-open field with her family. The Kuromi family, originally from Japan, cultivated flowers in Hollywood during the 1920s. As Alice stood among the blossoms, she could not have imagined that, during World War II, she would be interned at the Gila River camp in Arizona; or that her family would lose everything they owned; or that, within decades, the flower fields providing their agricultural livelihood would disappear beneath the built environment of Hollywood.
"The photograph is striking because it shows the history of Japanese immigration and a typical Japanese family before internment," said Li Wei Yang, curator of The Huntington's Pacific Rim collection.
The collection of Arthur Ito's papers, to which the photograph belongs, also includes hundreds of handwritten letters between Arthur and his wife, Alice, documenting his experience as a U.S. military translator and her experience in an internment camp. Such primary source documents—photos, correspondence, and diaries in the collection—give scholars rare opportunities to explore Japanese immigration and contributions to the region during the early 20th century before the unjust incarceration of many Japanese and Japanese Americans during World War II.
John Humble's 1998 color-saturated photograph of an 87-cent store—titled 2029 1st Street, Boyle Heights—captures a vibrant moment in a Los Angeles neighborhood known for its resistance to gentrification.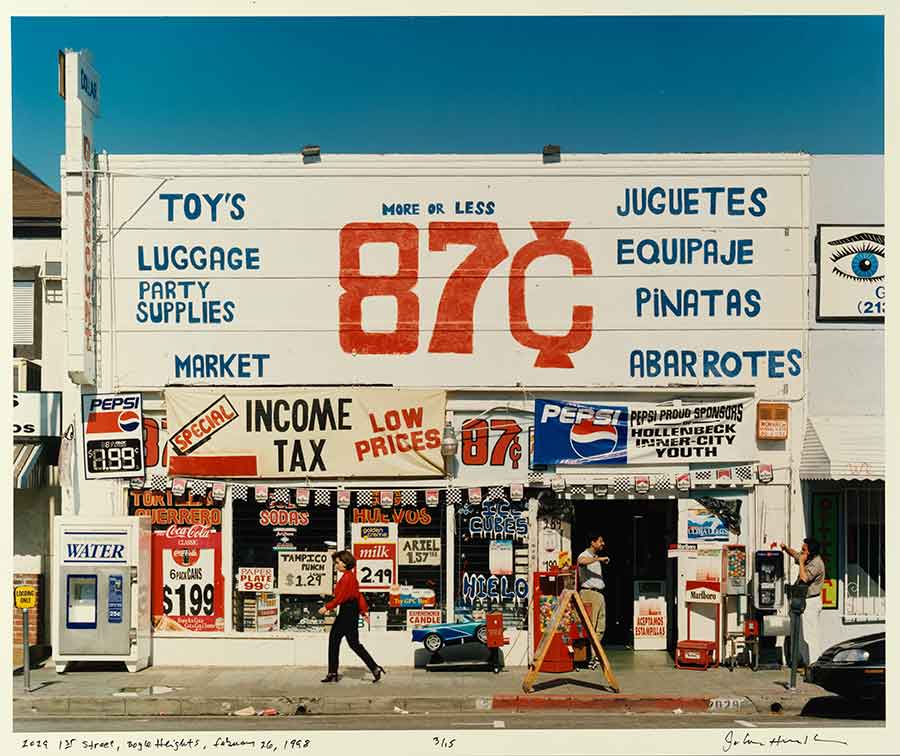 John Humble,
2029 1st Street, Boyle Heights
, Feb. 26, 1998, chromogenic print. Ruth Rowland Hall Memorial Book Endowment, 2016. © John Humble, 2019. The Huntington Library, Art Museum, and Botanical Gardens.
To capture the perspective he wanted, Humble drove around the city in his Volkswagen van with a large format camera mounted on a platform atop its roof. Many of his photographs are taken from slightly above the street view, as is 2029 1st Street, Boyle Heights.
"The urban landscape fascinated Humble," said Chase. "He was drawn to settings antithetical to the ones we often see in photographs that show a more carefree and glamorous side of Los Angeles. He found beauty where others did not. His works are significant additions to The Huntington's outstanding photographic record of Southern California."
In a time of pandemic, Susan Hertel's 1974 study (for Millard Sheets Designs) of a mural at Ventura's Community Memorial Hospital, The Child's Discovery of Nature, provides a welcome vision of hope and joy. The fantastical scene of woodland animals amid nature's bounty features children picking fruit—apt symbols of health and vitality.
The Millard Sheets studio created and disseminated mosaic murals widely for Home Savings Banks across the country, but it also produced installations for other public spaces, such as restaurants, churches, hotels, schools, and hospitals. The Child's Discovery of Nature, originally designed to cheer patients and visitors at a hospital, is a particular favorite of Funke and Chase.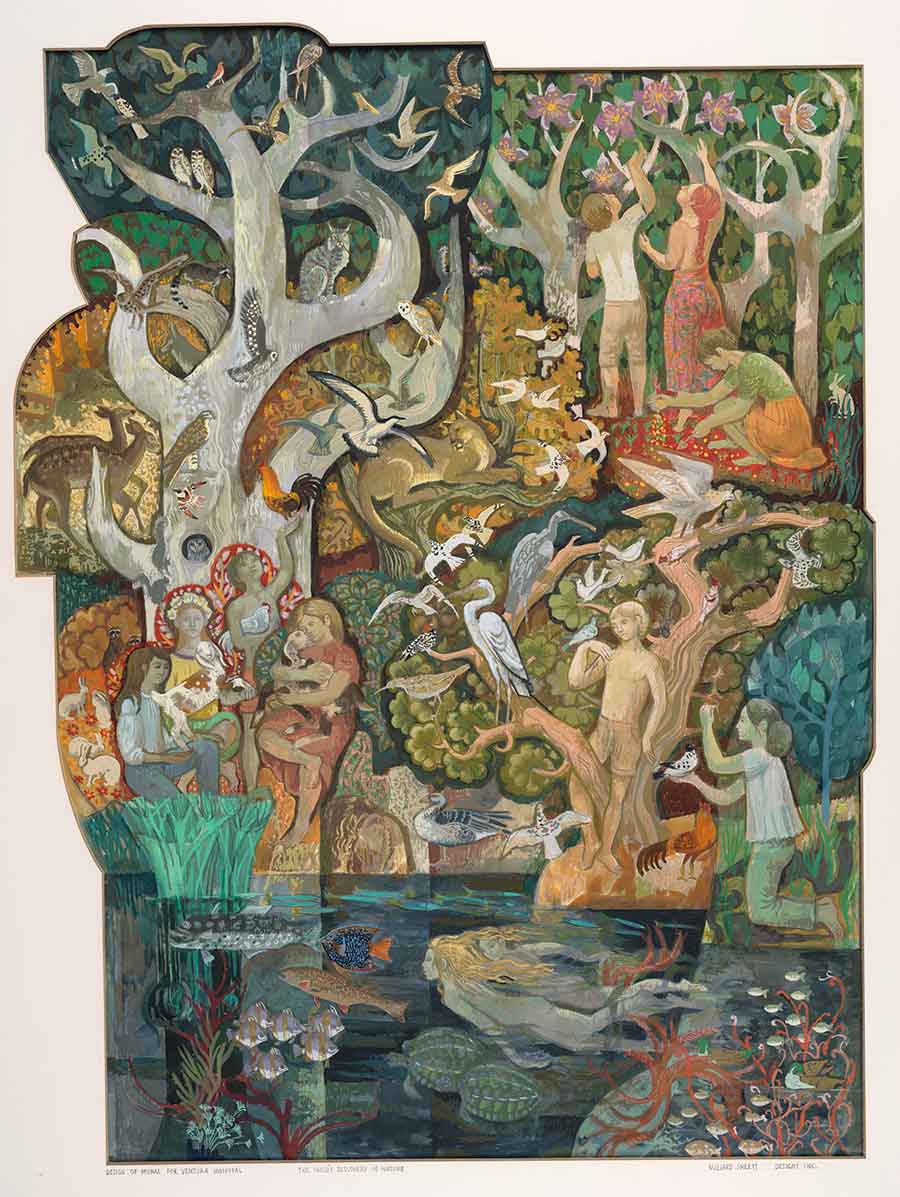 Susan Hertel (1930–1993) for Millard Sheets Designs, Inc.,
The Child's Discovery of Nature
, study for mural at Community Memorial Hospital, Ventura, California, 1974, gouache on board. Dennis O'Connor Collection. Purchase, Library Collectors' Council, 2011. © Millard Sheets Estate, 2019.
"The Huntington has traditionally been a place where people can experience the healing power of nature firsthand," said Funke. "It has served as a refuge and a place of contemplation for many people during difficult times."
Chase agreed: "Given what we've all experienced with regard to the pandemic over the past year, we wanted to reinforce the potential healing power of nature, which can be found not just in our gardens but oftentimes in our exhibitions as well."
The second part of "What Now" features a remarkable range of items that include an 1865 Mathew Brady photograph of Abraham Lincoln's pall bearers, Susan B. Anthony's account book detailing expenses during the 1859 New York State woman's rights campaign, a 1774 letter about a ship that never made it to the Boston Tea Party, and sheet music for songs recorded by the Supremes. The items were culled from the 2 million objects acquired by The Huntington since 2000 and highlight the institution's recent collecting aims and strengths.
"The materials were all selected before the pandemic lockdown, but they certainly resonate with events and issues that have come to the fore since March 2020," said Funke.
The objects in the exhibition not only reveal the past but also help scholars construct new histories and narratives. Huntington curators diligently pursue acquisitions that they know will enable scholars to extend critical historical records, said Funke, filling gaps that previously have been ignored or forgotten.
"We collect for scholars so that they can write history," said Funke. "Many of these objects are not high profile but are valued for how they fit with what people are now researching."
Manuela Gomez Rhine is a freelance journalist based in Pasadena, California.