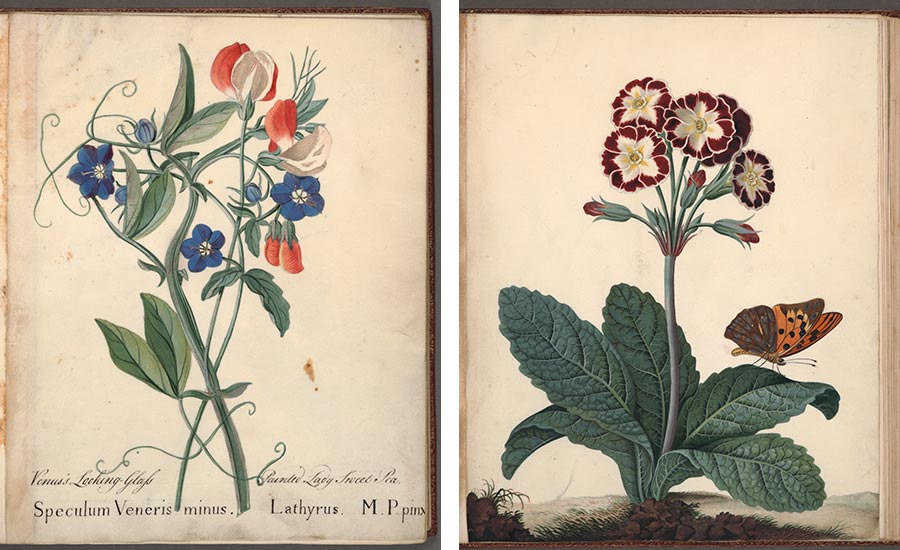 From botanical albums created by a mother and daughter, Countess Mary Macclesfield and Lady Elizabeth Parker Fane, containing 73 watercolor drawings on parchment depicting plant specimens, some drawn with butterflies and other insects. Manuscripts produced in England between 1756 and 1767. The Huntington Library, Art Museum, and Botanical Gardens.
Five remarkable collections that tell vivid stories from the perspectives of a broad range of historical figures landed at The Huntington recently, courtesy of the Library Collectors' Council, a group of Huntington supporters who help fund the purchase of new materials to add to the institution's holdings. The recent acquisitions include illustrations by a mother and daughter who painted botanical specimens in England; materials from members of two U.S. military families, a merchant in Nagasaki on the eve of the city's opening to the West, and a German executioner who doubled as a healer; and photographs of New England's first family of social reformers, which included Harriet Beecher Stowe, author of Uncle Tom's Cabin.
"For the past 25 years, the generous and discerning members of the Library Collectors' Council have come together annually to pool their resources and deliberate on a tempting slate of potential acquisitions," said Sandra Ludig Brooke, Avery Director of the Library at The Huntington. "They have collectively raised more than $6 million in the past quarter-century and purchased some 150 books, manuscripts, photographs, and other splendid materials—adding them to the Library's renowned collections."
The Council's annual meeting was held last month. Highlights of the newly purchased materials include: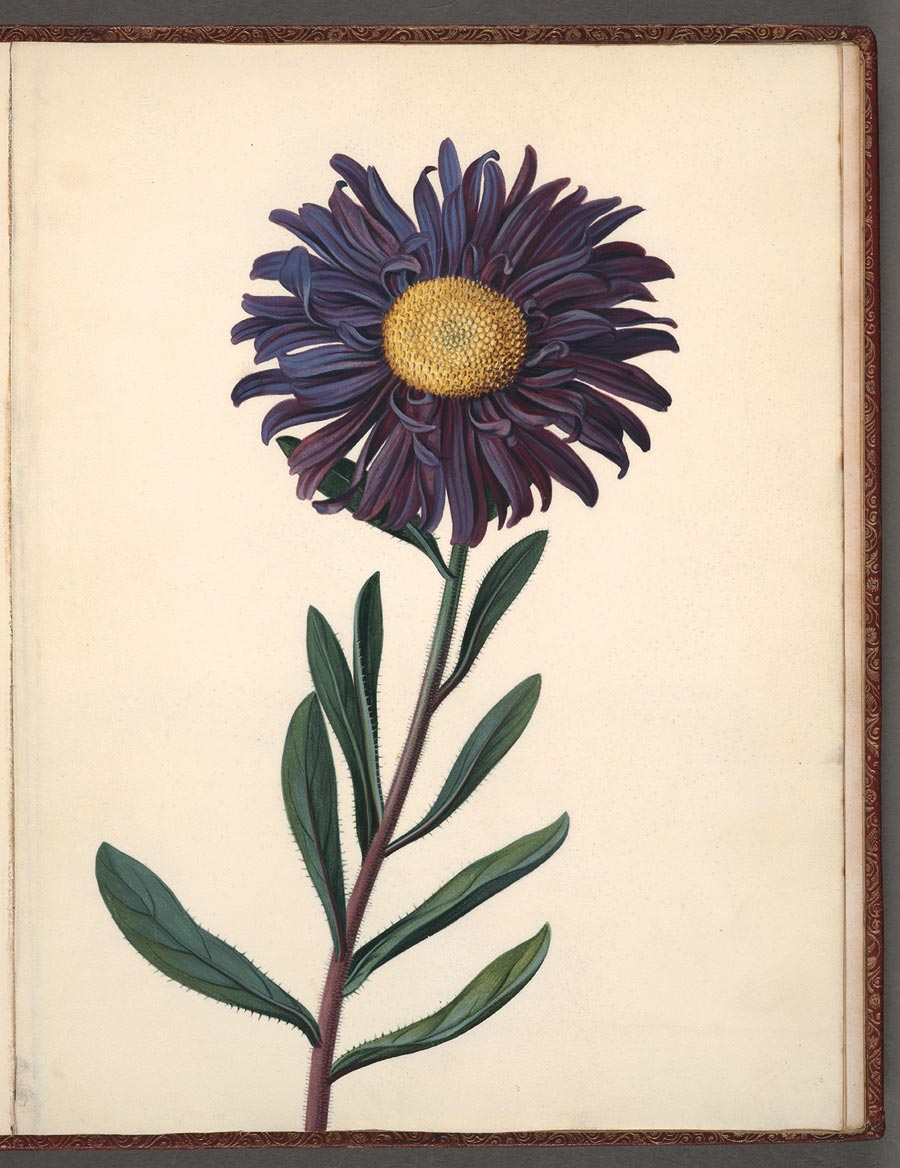 From botanical albums created by a mother and daughter, Countess Mary Macclesfield and Lady Elizabeth Parker Fane, containing 73 watercolor drawings on parchment depicting plant specimens, some drawn with butterflies and other insects. Manuscripts produced in England between 1756 and 1767. The Huntington Library, Art Museum, and Botanical Gardens.
Beautiful Botanical Drawings by Two 18th-century British Women
This collection of two lavish albums, created by Countess Mary Macclesfield (ca. 1761–1823) and her daughter Lady Elizabeth Parker Fane (1751–1829), contain 73 vibrant watercolor drawings depicting botanical specimens in England between 1756 and 1767.
"In the 18th century, women of a high social rank often studied needlepoint, music, and still life drawing," said Vanessa Wilkie, William A. Moffett Curator of Medieval Manuscripts and British History at The Huntington. "Achieving excellence in these areas was considered a crucial aspect of female education. Countess Mary and her daughter, Elizabeth, however, transcended expectations with their remarkable skill."
Their botanical drawings were executed with exceptional artistry, marked by the unmistakable influence of their drawing master, Georg Ehret. The former head of the Oxford Botanical Garden, Ehret gained renown throughout England and taught botanical illustration to the nobility.
Because the plants in the albums were drawn from life, they are almost certainly local to the Macclesfield estate of Shirburn Castle in Oxfordshire.
"The drawings provide essential information about botanical life in the region during that period," said Daniel Lewis, Dibner Senior Curator for the History of Science and Technology at The Huntington. "Identifying the plants in these albums may provide new understandings of their historic ranges, distribution, and density—key details for understanding the influence of imperialism on British horticultural practices, as well as climate change and the unexpected waxing and waning of plant species during the past 250 years."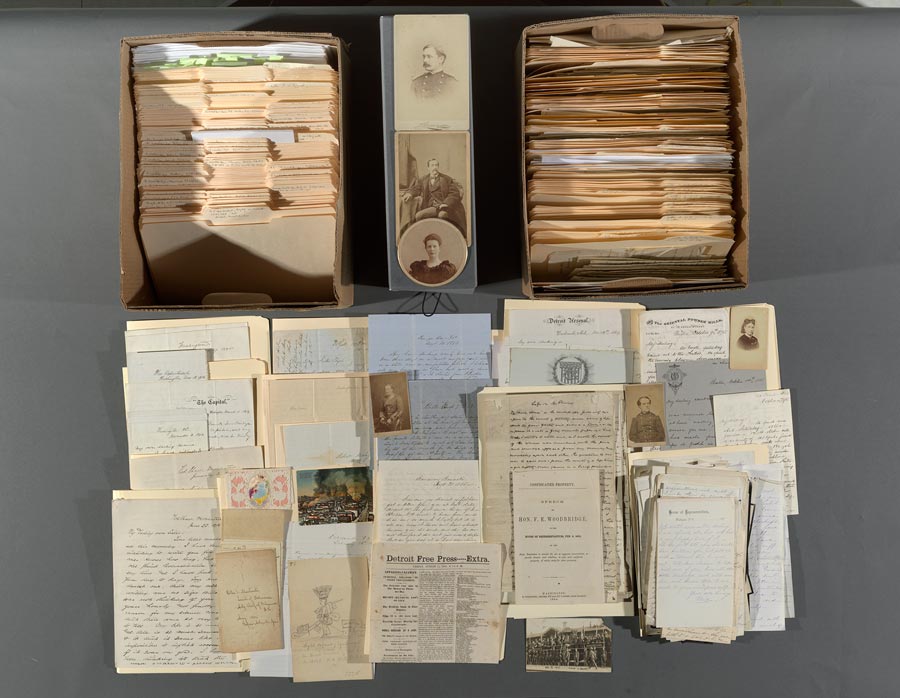 Papers of the Woodbridge and Michaelis Families, 1832–1890, approximately 1,500 items—including 1,270 letters and 53 photographs—as well as numerous invitations, calling and greeting cards, and other printed and manuscript ephemera. The Huntington Library, Art Museum, and Botanical Gardens.
"We of the Army": The Papers of the Woodbridge and Michaelis Families, 1832–1890
This extensive collection documents three generations of men and women whose lives were interwoven with the history of the U.S. Army.
"Hundreds of exceptionally detailed and candid letters, manuscripts, photographs, and other materials shed new light on the military as a powerful engine in the nation's economic, political, and expansive ambitions," said Peter Blodgett, H. Russell Smith Foundation Curator of Western American History at The Huntington. "What we also see, of course, is the military's unvarnished participation in the removal of Native Americans from their homelands and their relocation to what was then called 'Indian Territory.'"
Francis Woodbridge (1816–1855), a scion of a prominent New England family and an 1837 graduate of West Point, began his military career in Florida during the Second Seminole War, with a regiment charged with implementing a policy of removing Native Americans from Florida to territory that is now Oklahoma. In July 1838, he was ordered to the Niagara Frontier, which had become the scene of the so-called Patriot War, a series of armed conflicts triggered by the Upper Canada Rebellion. While stationed in Detroit, Woodbridge met his future wife, Elizabeth Cass Kercheval (1820–1873), the daughter of a prominent Michigan politician.
For five years, Woodbridge traveled extensively throughout the Midwest, accompanying his commanding officer, Gen. Hugh Brady (1768–1851), on tours of military installations. In May 1846, he left for the Mexican American War. Promoted to major, he was then sent in 1848 to Florida, where he worked on logistics for the removal of the Seminoles from the area to Indian Territory in present-day Oklahoma. In 1855, he died at Fort Barrancas at the age of 39, leaving behind his wife and two young children, Kate and Frank.
Frank Woodbridge would follow in his father's footsteps. In the late 1860s and early 1870s, he held a clerical job at the U.S. Department of War while also working as a journalist. In 1876, he was made a lieutenant and posted to Fort Shaw, Montana Territory, to serve in the Sioux and Nez Perce campaigns.
Kate Woodbridge married Otho Michaelis (1843–1890), a German-born New Yorker who, as a soldier of the 23rd Regiment of the New York National Guard, fought at the Battle of Gettysburg and ended the Civil War as a chief of ordnance under Union Gen. George Thomas. Michaelis remained with the U.S. Army for the rest of his life, overseeing arsenals in New York, Pennsylvania, Massachusetts, Minnesota, and Maine.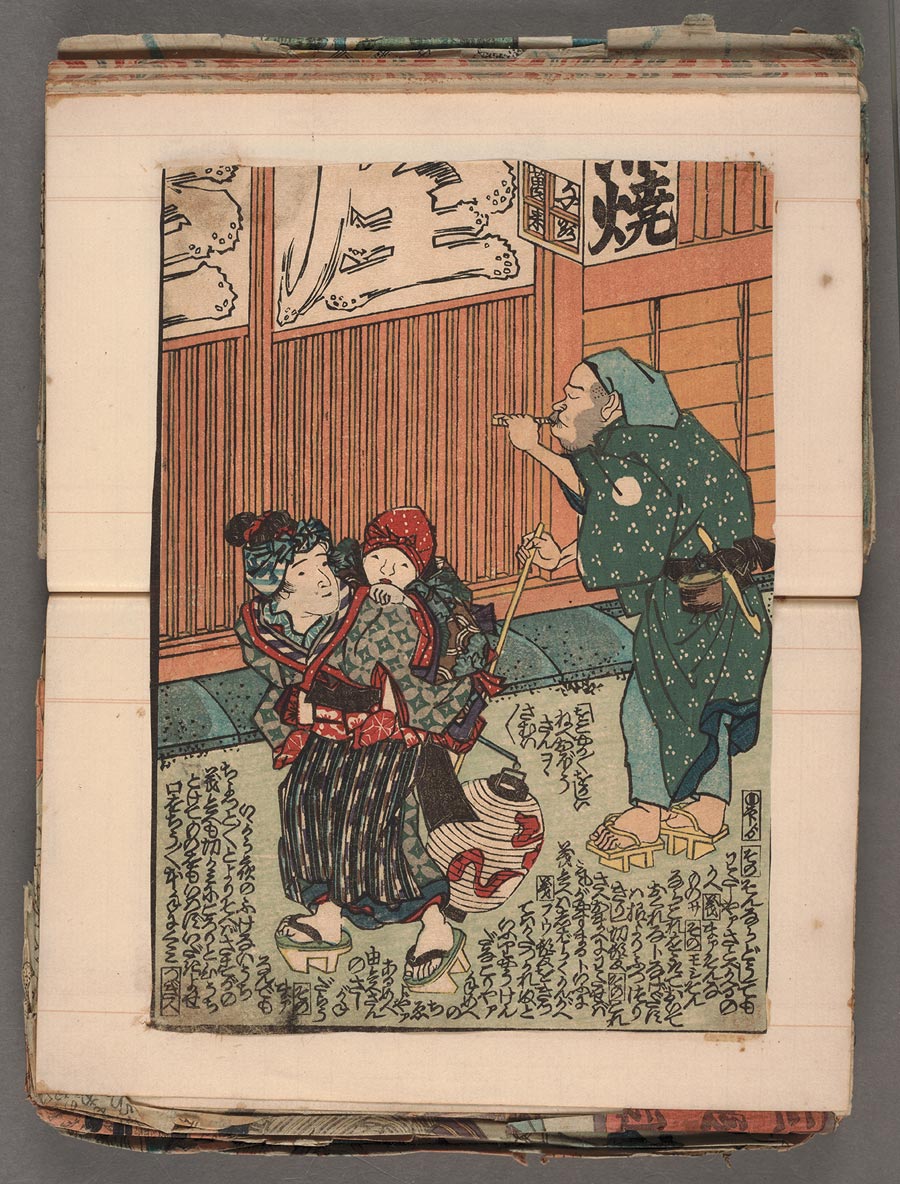 Edward King's Travel Diary about Nagasaki, Japan, and Ningbo, China, 1859. Bound in red leather, this manuscript diary (17.9 x 11.5 cm) contains 89 pages of text, 26 pages of Japanese woodblock printed illustrations, one foldout map, and one Japanese treasury note. The Huntington Library, Art Museum, and Botanical Gardens.
Edward King's Travel Diary about Nagasaki, Japan, and Ningbo, China, 1859
"When Edward King boarded the schooner Minna on March 15, 1859, the Shanghai-based merchant became one of the earliest American businessmen to visit Nagasaki, Japan, before the city officially opened to foreign settlement that same year," said Li Wei Yang, curator of Pacific Rim Collections at The Huntington. "This manuscript diary contains King's observations about the city and its inhabitants and the frenzy surrounding the opening of Japan to Western business interests."
After Commodore Matthew Perry's incursion into Japan in 1853 and the signing of the Treaty of Amity and Commerce in 1858, Nagasaki, Hakodate, and Yokohama were designated as the three treaty ports where Americans could live and work in Japan.
The first part of the 89-page diary covers the period from King's departure from Shanghai to Nagasaki and his return to Shanghai on April 6, 1859. He wrote extensively about the schooner journey, food on board, Japanese officials, local customs, the difficulty of changing money, and Nagasaki and Dejima. The diary also includes 26 pages of Japanese woodblock prints, a Japan treasury certificate, and a foldout map of Nagasaki. The second part of the diary provides fascinating detail and observation regarding his travel to Ningbo, one of China's most historic port cities for foreign traders.
As a partner in Russell & Co., the largest American trading house in China in the mid-19th century, King made a fortune dealing primarily in tea and silk. Born in Newport, Rhode Island, and educated at Brown University, King was most active in Macau and Canton, China's main outlets for the export of commodities sought by Western traders.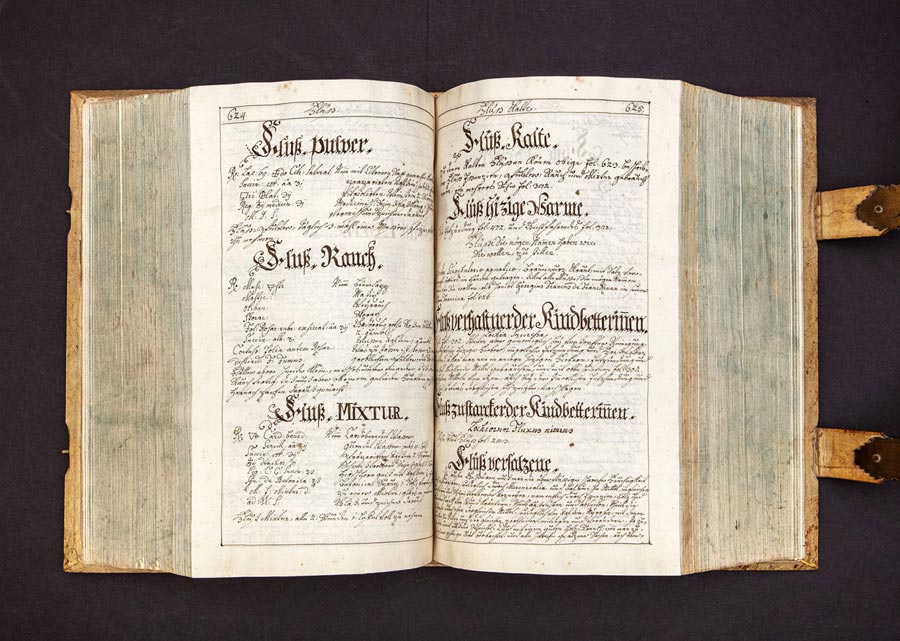 Maximus Fidelis Steigendesch,
Hortus Sanitatis
(Garden of Health), 1775–1785. Three parts in one volume, 1,557 pages, thick folio (355 x 215 mm), blind-stamped pigskin over heavy wooden boards, with original clasps and catches. The Huntington Library, Art Museum, and Botanical Gardens.
The Power to Heal, the Duty to Kill: An Executioner's Manuscript
"If asked to think of a typical medical practitioner, many today would probably picture a highly educated professional wearing a white coat and a stethoscope," said Joel Klein, Molina Curator for the History of Medicine and Allied Sciences at The Huntington. "While such an image may ring true, if we look back further, we see a medical marketplace with diverse healers who defy the type. One of the most surprising and remarkable groups of such practitioners were the many executioners in early modern Europe who also saw patients or compounded medicines."
Maximus Fidelis Steigendesch (1730–1810), also known as Deigendesch, was one such individual who practiced what has come to be known as "executioner's medicine." He hailed from the German town of Ochsenhausen, where his family had served for many generations as executioners, knackers (a person who disposes dead or unwanted animals), and skinners. But because of their considerable knowledge of human anatomy and bodily trauma, as well as their duty to restore the health of torture victims before executions, many executioners excelled as part-time healers.
This imposing manuscript includes 1,500 pages and was composed by Steigendesch, who proudly gives his title as "Justitiae Executore in und zu Ochsenhausen" (Executor of the Law in and at Ochsenhausen) on the ornate title page.
Steigendesch composed the manuscript over the course of a decade, and although he was entirely self-taught, it clearly shows that he was well-read and had experience with patients. The text is divided into three parts: Part I has five chapters on the methods of diagnosis and treatment; Part II explains how to make specific medicines; and Part III includes an extensive collection of recipes and descriptions of ailments organized alphabetically, from "Abluentia" (i.e., cleansing agents) to "Zwerchfalls- Entzündung" (diaphragm inflammation).
"This unique manuscript has much to tell us not only about early modern medical practice, but also about the relationship between medicine, criminal justice, and the authority of the state," Klein said.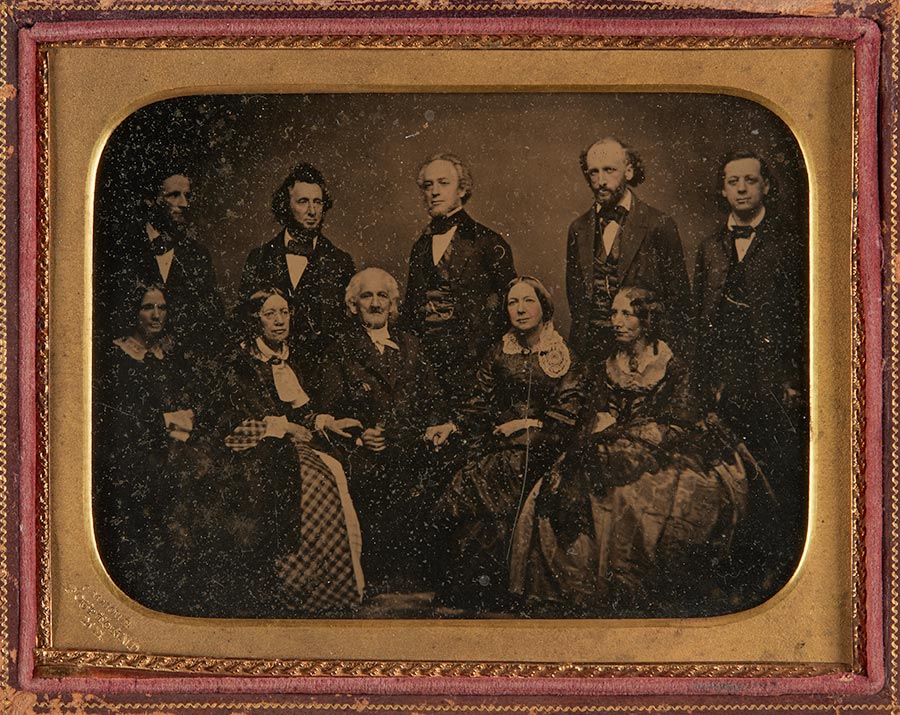 George M. Howe,
The Beecher Family
, ca. 1860, half plate ambrotype in case, 4 x 5 ¼ in. Harriet Beecher Stowe, author of the novel
Uncle Tom's Cabin
, is seated at right; her brother, abolitionist Henry Ward Beecher, stands at far right. The Huntington Library, Art Museum, and Botanical Gardens.
Beecher Family Photograph Collection
"This collection of five photographs captures members of the Beecher family, who were at the center of major 19th-century social movements and events in the United States that continue to resonate today—including women's rights, abolition, and the Civil War," said Linde B. Lehtinen, curator of photography at The Huntington.
Several of the Beechers were well-known public figures: Lyman Beecher was a prominent preacher; Henry Ward Beecher, a dynamic clergyman and social reformer; Catharine Beecher, a pioneer in education and careers for women; and Harriet Beecher Stowe, a renowned author. Their widespread fame led a contemporary to quip in 1863, "This country is inhabited by saints, sinners and Beechers." The collection conveys a unique story about an iconic 19th-century family and the ways in which photography reinforced their celebrity status as well as their deep bonds with each other.
When Lyman Beecher, the family patriarch, sat for Mathew Brady in 1856, changes in photographic technology enabled Brady to make a print from the single glass-plate negative and employ artists to color the surface. During his prime, Lyman was described as "magnetic in personality, incisive and powerful in manner of expression."
In March 1859, the larger Beecher clan gathered in Brady's New York studio for a long-awaited, emotional reunion. A fragile Lyman is seated at center, flanked by his four daughters (Harriet, Catharine, Mary, and Isabella). Behind them stand five of the seven brothers (William, Edward, Henry Ward, Charles, and Thomas—George died in 1843, and James was in Hong Kong serving as a missionary). This would have been the last time they came together before Lyman died in 1863.
This Beecher family portrait was reproduced in several photographic formats over the years. The ambrotype in this collection was copied by photographer George M. Howe from one of the original salted paper prints, perhaps for increased portability. Nearly two decades later, I. C. Pardee in Brooklyn produced a large albumen print—also part of this collection—that was likely intended for home display by later generations.
Other photographs in the collection include an Augustus Morand print based on a miniature of a young Eunice White Beecher (née Bullard), author and wife of Henry Ward Beecher, housed within a Bullard family album. The autographed cabinet card of an older Harriet Beecher Stowe would have been distributed to an eager public profoundly influenced by her writings.
The connection between the Huntington and Beecher families goes all the way back to 1884, when Henry Ward Beecher performed the marriage ceremony of Collis and Arabella Huntington in the parlor of her New York home. The Huntington holds a Beecher family album and papers, as well as Harriet Beecher Stowe letters.
"This collection of photographs strengthens The Huntington's position as a West Coast resource for Beecher research, while also intersecting with our literary collections, materials on the history of slavery and abolition, women's suffrage, and the Civil War," Lehtinen said.
Kevin Durkin is the managing editor in the Office of Communications and Marketing at The Huntington.