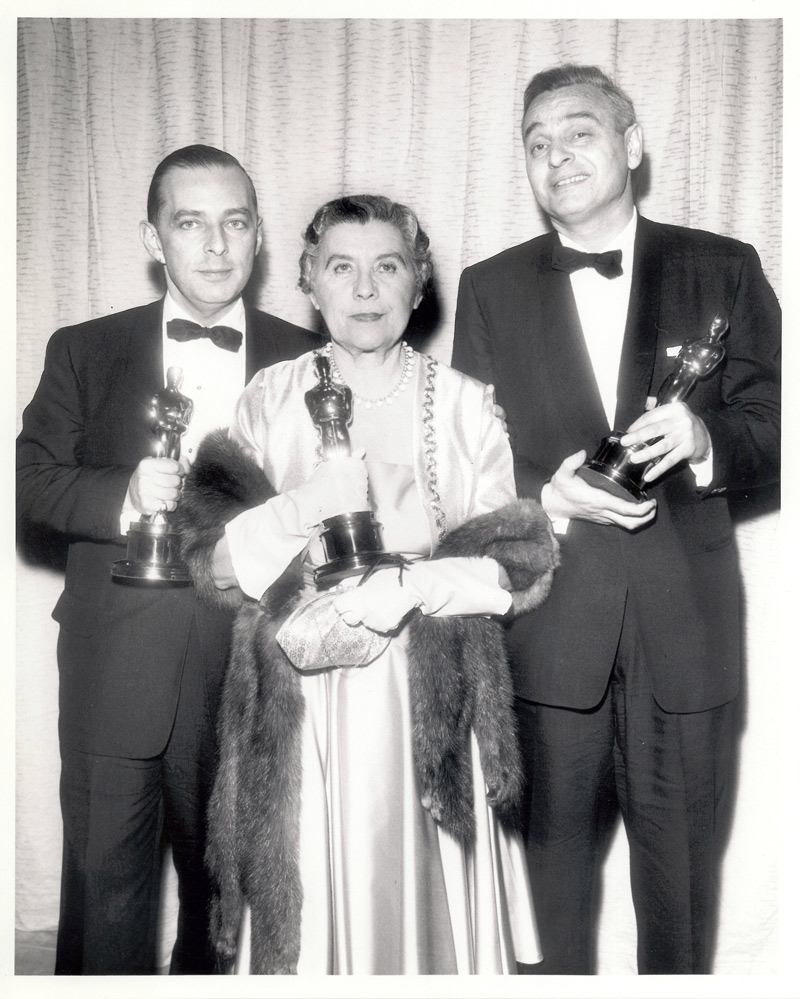 Sonya Levien and William Ludwig (far right) at the 1956 Academy Awards. The man on the left is unidentified. Huntington Library, Art Collections, and Botanical Gardens.
Winners of the Pulitzer Prize might walk the halls of the Huntington Library, but come February the only awards that matter are the Oscars. Luckily, The Huntington has one in its collections.
In 1956, Sonya Levien won an Oscar, along with William Ludwig, for Writing (Story & Screenplay)—an award that's now a part of Best Original Screenplay—for the film Interrupted Melody, a biopic starring Glenn Ford and Eleanor Parker that related the story of Australian opera singer Marjorie Lawrence and her struggle with polio.
Levien's personal archive arrived at The Huntington in 1960, courtesy of her son, shortly after her death. Several copies of screenplays written by Levien currently reside here, including the one for Interrupted Melody, complete with Levien's own notes and edits. Other screenplays in her archive include The Country Doctor (1936), Drums Along the Mohawk (1936), The Hunchback of Notre Dame (1939), and Oklahoma! (1955). The collection also includes a photograph of Levien's win at the 1955 Academy Awards. But, around this time of year, most interest surrounds the object she is holding in her hand—Oscar himself.
For most of the year, the Oscar resides in The Huntington's secure manuscripts stacks area atop a card catalog, which holds evidence of other Huntington treasures, where staff members pass by it on a daily basis. But a few days prior to the Academy Awards, the statuette is brought up from the stacks and displayed at the supervisor desk in the Ahmanson Reading Room, where scholars from all over the world are able to view and handle it. Typically, remarks from scholars range from "My, this is heavy!" to "Is this real?" to "I'd like to thank Henry Huntington for this honor." The sentiments are always humorous and the reactions unabashedly honest. For a few moments, a struggling doctoral student is transported to the glitz and glamour of Hollywood, and a world-renowned medievalist is reduced to wide-eyed wonder at the sight and feel of the most coveted award in the entertainment industry. Let's hope that if they ever get there, they'll remember to thank The Huntington.
Catherine Wehrey is The Huntington's reader services assistant for the Dibner collection.