When Joyce Chaplin attended a conference at The Huntington in January, she completed a rather remarkable journey that began with a visit here in November 2011. In a 14-month period, the Harvard historian presented papers at five Huntington conferences, logging about 26,000 air miles in the process, about a thousand more than a journey around the world (24,900 miles).
Chaplin knows a thing or two about transcontinental travel and then some. Last year she published Round About the Earth: Circumnavigation from Magellan to Orbit (Simon and Schuster), a history of circumnavigation by sea, land, air, and space—from Ferdinand Magellan the 16th-century explorer to Magellan the GPS tool. For most of those Huntington conferences she spoke about research related to her new book. For one of them she delivered a paper about Benjamin Franklin's Autobiography, a subject related to her previous two books—Benjamin Franklin's Political Arithmetic: A View of Humanity (Smithsonian Institution Libraries, 2008) and The First Scientific American: Benjamin Franklin and the Pursuit of Genius(Basic Books, 2006).
"It is testament to the range, depth, and quality of her research, and to her communication skills as a speaker, that so many of our conference conveners are convinced that she can make a significant contribution to the proceedings and discussions," says Steve Hindle, the W. M. Keck Foundation Director of Research at The Huntington.
Hindle's research program hosts six conferences per academic year. In addition to presenting at five recent conferences, Chaplin also served as co-convener of one of those, "Genealogies of Genius," in May 2012.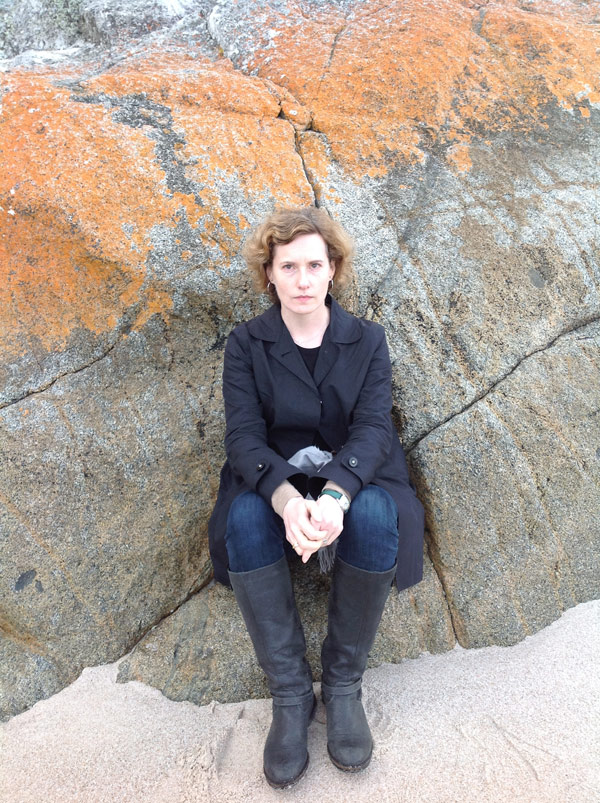 Joyce E. Chaplin in Tasmania, on the Freycinet Peninsula, named for the French circumnavigator Louis-Claude de Saulces de Freycinet (1779–1841).
"The fact that Joyce herself has been prepared to make so many transcontinental trips in such a short period suggests that she enjoys the rigor, stimulation, and hospitality of The Huntington's conference program," says Hindle.
Chaplin spent the full academic year at The Huntington in 2006–07, when she was the Fletcher Jones Foundation Distinguished Fellow.
"The Huntington was absolutely essential to my circumnavigation project," she says. "It's one of the few libraries in the world that has primary-source materials relevant to all eras of circumnavigation, and in many cases unique collections of such materials. I used books from the early modern period for the early chapters, and then the Jack London papers and the amazing Kemble Maritime Ephemera collection for the later chapters. Because I could read so widely and deeply in all relevant historical periods, by the end of my fellowship year, I had a sense of the whole pattern of the book."
Chaplin attended the following conferences: "The New Maritime History: A Conference in Honor of Robert C. Ritchie" (November 2011); "Life-Writing" (March 2012); "Genealogies of Genius" (May 2012); "New World of Projects" (annual conference of the USC-Huntington Early Modern Studies Institute, June 2012); "Oceanic Enterprise: Location, Longitude, and Maritime Culture, 1770–1830" (January 2013). Click here for more information on the conference program, and here for more information about the fellowship program.
To order a copy of the book, contact The Huntington's Bookstore & More. For more on this story, check out News Bytes in the spring/summer 2013 issue of Huntington Frontiers, downloadable in PDF form here.
Matt Stevens is editor of Verso and Huntington Frontiers magazine.