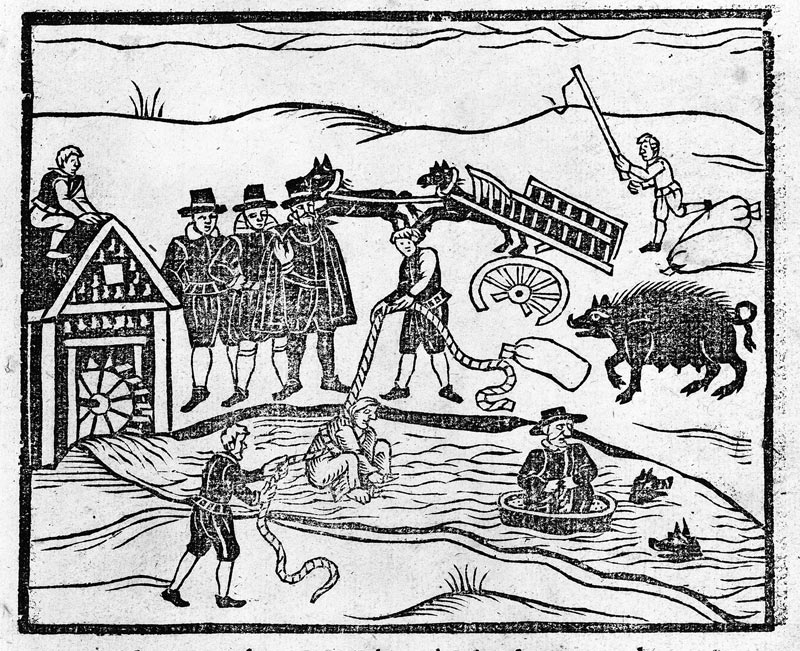 Witches apprehended, examined, and executed, for notable villanies by them committed both by land and water. With a strange and most true triall how to know whether a woman be a witch or not.
Printed at London: [By William Stansby] for Edward Marchant, 1613 (RB 59439). Huntington Library, Art Collections, and Botanical Gardens.
If you missed David Hall's standing-room-only lecture last month about witches, you can now download it from The Huntington's site on iTunes U. Hall's talk was titled "Witch-Hunting and the Sadness of Everyday Life: An Alternative Perspective on Early New England." He is professor of New England Church History at Harvard Divinity School.
Witches have been a popular subject in past lecture programs as well. Last October, Frances E. Dolan spoke about "True Relations and Ridiculous Fictions: Evaluating Stories of Witchcraft in 17th-Century England." Dolan, a professor of English at the University of California, Davis, was the 2011–12 Fletcher Jones Distinguished Fellow at The Huntington. (Here's the blog post that previewed her talk.) And the 2009–10 Fletcher Jones Distinguished Fellow, Nicholas Rogers of York University in Toronto, took his turn at the podium in October 2009 and delivered a lecture titled "Halloween and the Culture Wars." You can download both of those talks by clicking on the lecture titles above.
Hall's talk kicked off the 2012–13 lecture season at The Huntington, a program rich in public presentations about history, literature, art, theater, and the history of science, to name just a few subjects. You can review the list of upcoming talks in a recent Verso post and on the Research section of The Huntington's website. Other lectures that have already taken place are now available from iTunes U: Sir David Cannadine on "Andrew W. Mellon: The Life of Business and the Business of Life" (Haaga Lecture); and Alan Taylor on "The Slave War of 1812" (Ritchie Distinguished Fellowship Lecture). Taylor's talk was previewed in this Verso post.
You can browse through more than a hundred lectures on The Huntington's iTunes U site.
Matt Stevens is editor of Verso and Huntington Frontiers magazine.