Historian Drew Gilpin Faust, president of Harvard University and author of This Republic of Suffering: Death and the American Civil War, spoke at The Huntington last night about Ric Burns' adaptation of her book into the new PBS documentary "Death and the Civil War." You can download her talk from The Huntington's collection of Civil War audio programming on iTunes U.
Burns, who collaborated with his brother, Ken Burns, on the 1990 PBS series "The Civil War," was supposed to join Faust at The Huntington but was unable to travel from New York due to the impact of Hurricane Sandy. Faust represented her partner well, speaking movingly about how she came to write her book and how Burns, in turn, adapted it into a two-hour film.
One of Burns' greatest challenges, according to Faust, was in translating the book's organization into a narrative that worked for television. Faust explained that her chapter titles—Dying, Killing, Burying, Naming, Realizing, Believing and Doubting, Accounting, and Numbering—were meant to evoke what she calls "the work of death," a phrase used frequently by Northerners and Southerners in the 19th century.
"By that, they really meant two things," she said. "They meant what death does—they'd look at bodies on a battlefield and thought, 'That is the work of death.' But they also meant it as the effort that had to be put out to cope with death."
John Reekie (active 1860s), photographer; printed by Alexander Gardner,
A Burial Party, Cold Harbor, Virginia
, April 1865. Albumen print; 6-13/16 x 8-15/16 in. Huntington Library, Art Collections, and Botanical Gardens.
Burns used part of Faust's thematic structure in his section titles in the film, but he imposed another narrative thread, said Faust, "which we might call, to quote Lincoln himself, the 'awful arithmetic of war'"—the mounting death tolls and increasing carnage of battle after battle. So Burns' section titles in the film also included Manassas, Shiloh, and Antietam, a litany of battle names that culminated with the Battle of Gettysburg in July 1863.
While the war would go on for nearly two more years, Gettysburg—and Lincoln's speech there—changed the way Northerners and Southerners dealt with the mounting death around them and how they would grapple with the mourning and memorialization during the generation that followed.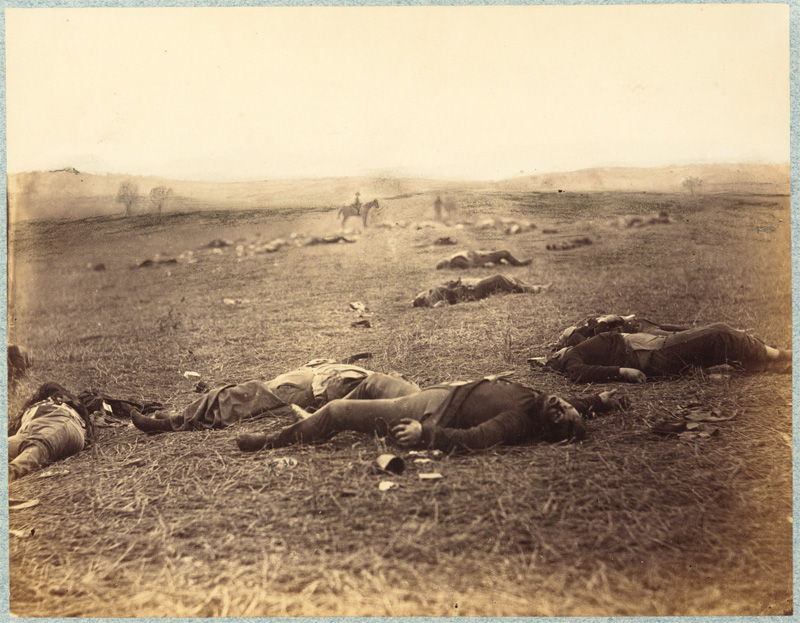 Timothy H. O'Sullivan (ca. 1840–1882), photographer; printed by Alexander Gardner,
A Harvest of Death, Gettysburg
, July 4, 1863; Albumen print; 7 x 9 in. Huntington Library, Art Collections, and Botanical Gardens.
To learn more about Ric Burns' documentary, visit the film's website.
Both historic photos above are from the exhibition "A Strange and Fearful Interest: Death, Mourning, and Memory in the American Civil War," on view in the Boone Gallery through Jan. 14, 2013. You can view many Civil War photos and find accompanying audio and video on the exhibition's website.
Related content on Verso:
The Drew Gilpin Faust Effect (Sept. 17, 2012)
Matt Stevens is editor of Verso and Huntington Frontiers magazine.