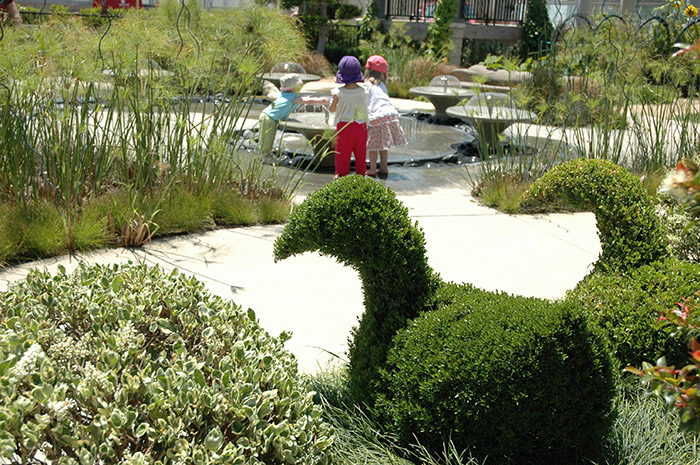 Among the topiary in the Helen and Peter Bing Children's Garden, children get to splash in water and shape its flow with their hands.
Children with autism react to sensory stimuli in very different ways. Some children on the autism spectrum are overly sensitive, while others are just the opposite. The Huntington offers a range of environments to suit any child's needs.
"The Huntington can be a wonderful place for someone with autism because it offers so many opportunities to see, smell, hear, and touch. But it also offers quiet, open spaces," says Ricki Robinson, M.D., co-director of Descanso Medical Center for Development and Learning in La Cañada, California, and a Clinical Professor of Pediatrics at the Keck School of Medicine of USC. She's also a member of The Huntington's Board of Overseers.
April is National Autism Awareness Month, a great time, says Robinson, to consider visiting The Huntington—given the mild weather and plants bursting forth in bloom.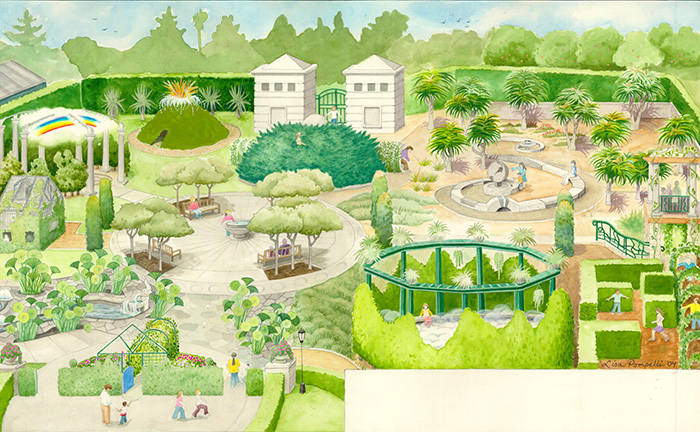 Artist's rendering of the Helen and Peter Bing Children's Garden. Drawing by Lisa Pompelli.
We asked Robinson what she'd recommend to caregivers bringing their kids:
"A first stop for many children (autistic or otherwise) is the Helen and Peter Bing Children's Garden. Designed by California kinetic artist Ned Kahn, children get to splash in water, make music with pebbles, dance under rainbows, disappear into a swirl of fog, and hold the magic of magnetic forces in their hands.
"Many autistic children have a heightened sense of smell. For them, the dozens of fragrances in the Rose Garden may hold great appeal. But each child reacts differently to their environment. What may be a joyous experience for one autistic child may be frightening for another. One child may find the waterfall in the Chinese Garden fascinating. To another, its sound can seem like pounding nails. With so many different sensory experiences that can be explored throughout The Huntington's gardens, parents of a child with autism can tailor their visit to match their child's interests and sensory likes and dislikes.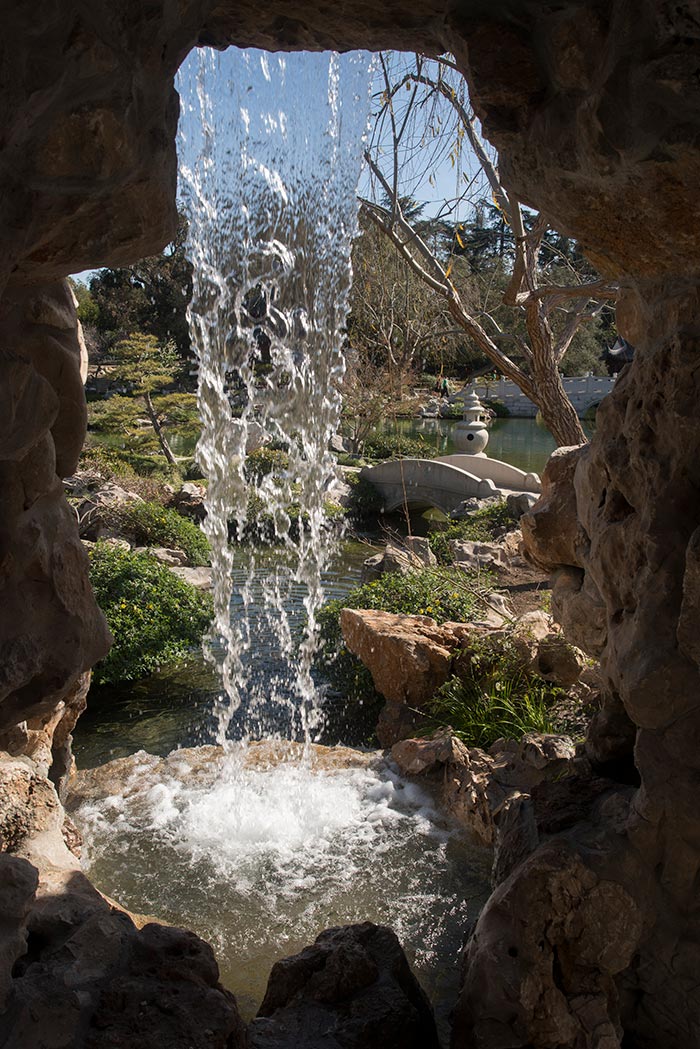 The view from behind a waterfall in the Chinese Garden, also known as Liu Fang Yuan 流芳園, the Garden of Flowing Fragrance.
"There are indoor attractions that provide exciting opportunities as well. In the permanent exhibition about plants and botany, 'Plants Are Up to Something,' in The Rose Hills Foundation Conservatory for Botanical Science, touching is encouraged. So, go ahead: pet a plant!
"Some children may be mesmerized by the displays in the Library's permanent science exhibition, 'Beautiful Science,' with its many light and astronomy sections with interactive features. Children can work with a prism to split the light, or explore a camera obscura, or look through a telescope. It's a way to keep them engaged visually and intellectually.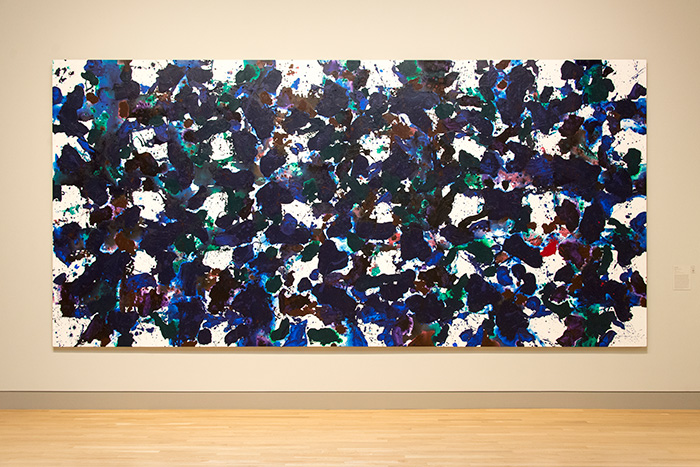 Sam Francis's
Free Floating Clouds
, 1980, acrylic on canvas. Gift of the Sam Francis Foundation. The Huntington Library, Art Collections, and Botanical Gardens.
"If visual stimuli entice your child, consider the huge, bright swirls of paint in Free Floating Clouds by the American painter Sam Francis. It's located in a massive, quiet room in the Virginia Steele Scott Galleries of American Art. Children may find its vivid colors and multiple patterns soothing. Another source of serenity is the raked-gravel dry garden, also known as karesansui, in the Zen Garden of the Japanese Garden. A more intense experience is listening to the soundscape of satellites inside the shell-shaped NASA/JPL Orbit Pavilion on the Celebration Lawn.
"For a break from all the stimuli, I suggest seeking out the open spaces of lawn east of the Huntington Art Gallery and grassy spots near the Lily Ponds, inhabited by peaceful koi fish. These are places to just flop and rest, or run free."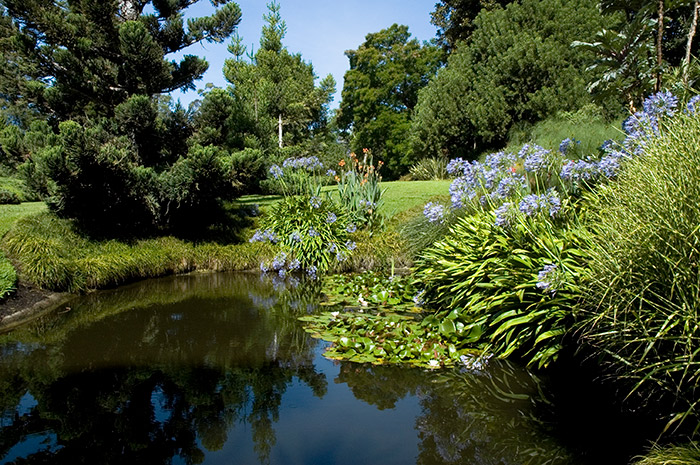 The grassy spots near the Lily Ponds provide calm places to rest and relax.
During the month of April, families can find a flyer with more suggestions on how children with autism can make the best of a visit to The Huntington. The flyers will be available at the Admissions windows and in the Mapel Orientation Gallery. A conference on autism, "Honoring Individual Differences: The Gateway to Supporting Neurodiversity in Autism & Mental Health Treatment," will take place at The Huntington on March 31 and April 1, 2017, featuring internationally recognized experts, including Dr. Robinson.
Linda Chiavaroli is a volunteer in the office of communications and marketing.