On Tuesday, Sotheby's auctioned off a copy of John James Audubon's monumental Birds of America, breaking the record for the highest winning bid for a published book. Aside from the $10.2 million price tag, everything else about the book is big. The Sotheby's volume is one of about 200 survivingcopies (The Huntington owns another) of an edition known as a double elephant folio. "Double elephant" refers to the paper size. Each of the 435 plates is about 2 by 3 feet; Audubon produced the book in different parts, first issuing them in 1827 and concluding in 1838.
"Seeing Audubon's magnificent and lush illustrations in the form of the actual enormous double elephant folio volume makes any digital reproduction look downright inaccurate, which of course it is," says Daniel Lewis, the Dibner Senior Curator for the History of Science and Technology at The Huntington. "There's no substitute for seeing the rich colors in real life, the authentic tone of Audubon's artistry, and—perhaps above all else—the sheer size of the real deal, which Audubon illustrated life size. Not such a big deal when you're drawing a sparrow, but another thing altogether when you're illustrating a bald eagle, a spoonbill, or a turkey."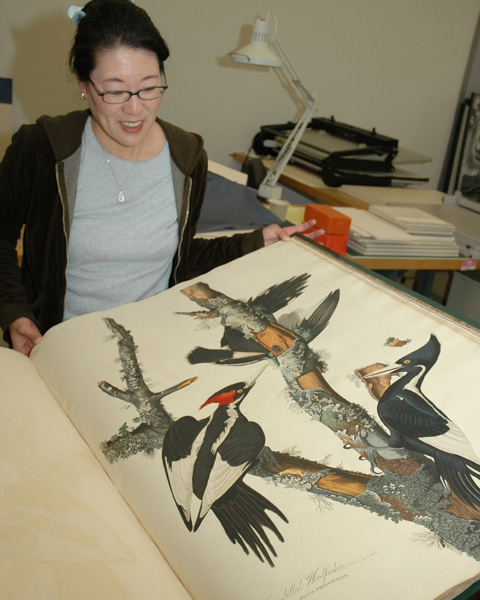 Exhibition preparator Lauren Tawa with the Ivory-Billed Woodpecker, plate no 66. Image from Audubon's
Birds of America
, © 2010 The Huntington.
Visitors to the Library's main exhibition hall can see this magnificent work for themselves. Along with the Gutenberg Bible and Chaucer's Canterbury Tales, Audubon's Birds of America is one of the rarest treasures on permanent display at The Huntington. At regular intervals, conservators turn the pages of these volumes, minimizing light exposure to any one page for extended periods of time. Shortly after the 2005 sighting of the supposedly extinct ivory-billed woodpecker, curators displayed Audubon's illustration of the bird, shown in the photo above. At the moment, you can see the Arctic Jager (Lestris parasiticus) in full color.
Lewis wrote about the rare chromolithographic edition of Birds of America in the Fall/Winter 2006 issue of Huntington Frontiers. You can also read about the double elephant folio in a book by Lee A. Vedder, John James Audubon and "The Birds of America," published in 2006 by the Huntington Library Press.
Matt Stevens is editor of Huntington Frontiers.