Preliminary weather forecasts were looking iffy for the final launch of the space shuttle program, but they didn't keep thousands of people from showing up at the Kennedy Space Center in anticipation of a successful final countdown. They weren't disappointed. Atlantis lifted off at precisely 11:29:04 EDT this morning and is scheduled to return from its final mission on July 20.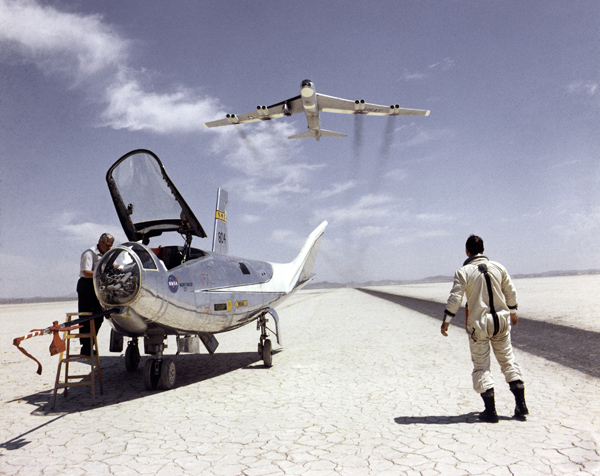 NASA pilot Bill Dana watches a Boeing NB-52B carrier aircraft fly overhead after a successful test flight of the Northrop HL-10 lifting body at NASA Dryden Flight Research Center, Calif., 1969. Fellow pilot John Reeves can be seen at the cockpit of the lifting body. NASA photo.
In an interview yesterday on KCRW, Peter Westwick explained how weather played a factor in Southern California's rise as the center of the aerospace industry in the early 20th century. Westwick is a historian at the University of Southern California and the director of The Huntington's Aerospace History Project. This fall, he will co-curate the Huntington exhibition "Blue Sky Metropolis: The Aerospace Century in Southern California."
In the interview on "Which Way, L.A.?" Westwick said that sunshine and blue skies presented idyllic conditions for pilots as well as engineers, who could build airplanes year round. But he concedes that a perfect storm of other factors were at play, too. Strong boosters, local universities, and a variety of related industries helped establish the region as the center of the aerospace industry, dating back to the 1930s. Factor in the entrepreneurial and risk-taking spirit that drove people west as well as the fun-loving and creative energy that also led to innovations in surfing and hot-rod racing, and you have an idea why Westwick often tells people that "Southern California as we know it would not exist without aerospace."
"Blue Sky Metropolis" will be on view in the West Hall of the Library from Oct. 8, 2011, to Jan. 9, 2012. Matthew Hersch, a postdoctoral fellow in history at USC, is the other co-curator of the exhibition.
Matt Stevens is editor of Huntington Frontiers magazine.