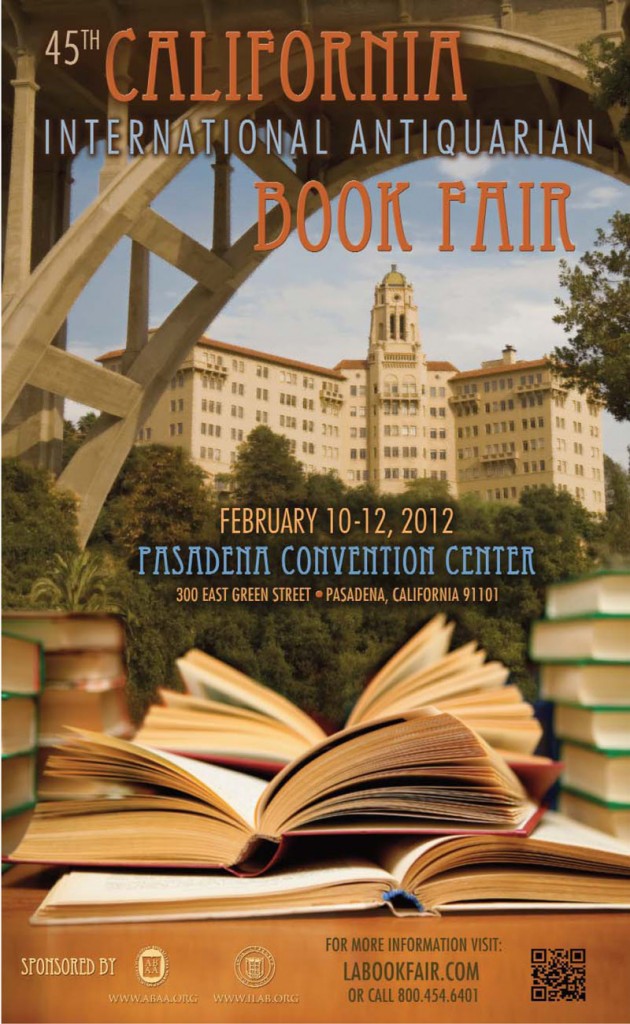 Behind every great book collection is a good love story. Someone with an obsession for antiquarian children's books or signed first editions might spend a lifetime amassing a collection, scouring garage sales, used bookstores, and the Internet for that rare find. They also go to book fairs.
This weekend's 45th Annual California International Antiquarian Book Fair at the Pasadena Convention Center includes a lot of books as well as a special exhibition: "A Love Affair with Books: Personal Stories of Noted Collectors." Henry Huntington's passions will be among the highlighted stories, as told through a display of photographs and facsimiles of many of the Library's treasures.
"We can't bring our rare books," says Laura Stalker, the Avery Associate Director of the Huntington Library, "but we wanted to tell stories about how The Huntington has always tried to share its collections in a variety of ways, including exhibitions, a digital library, and the publishing efforts of the Huntington Library Press."
After shopping for books, you can come see The Huntington's collections up close because the fair includes a bargain you can't pass up: Buy the three-day weekend ticket (Fri.-Sun.) for $25 and you can also use it for one-time admission to The Huntington any time in February. Two-day book fair tickets (for Saturday and Sunday) go for $15 and also get you one-time admission to The Huntington over the same weekend.
The fair features more than 200 booksellers from the Antiquarian Booksellers' Association of America (ABAA) and the International League of Antiquarian Booksellers (ILAB). They will bring everything from the history of travel and exploration and early science and medicine to classic literature, modern first editions, children's and illustrated books, and the arts. Items range in price from a few dollars to more than six figures.
Admission includes free seminars, too, where you can learn about appraisals, the basics of rare book collecting, or "Jefferson's Legacy: Building the Rare Book Collections at the Library of Congress," a talk by Library of Congress's chief of the rare book and special collections division, Mark Dimunation. Sunday, Feb. 12, is dubbed Discovery Day, which gives attendees the opportunity to present up to three books to experts for free examination á la Antiques Roadshow.
"A Love Affair with Books" features a companion seminar on Sat., Feb. 11, at 3 pm. Moderator Patt Morrison will explore the collecting tastes of panelists Tony Bill, Academy Award–winning producer and director; Kenneth Turan, film critic for the Los Angeles Times; and Mary Murphy, a librarian, archivist, digital collections specialist, certified gemologist, and past president of the New York Mineralogical Club.
For more information on the book fair and a complete list of the displays on view in "A Love Affair with Books," visit the fair's website, www.LABookfair.com.
Matt Stevens is editor of Huntington Frontiers magazine.