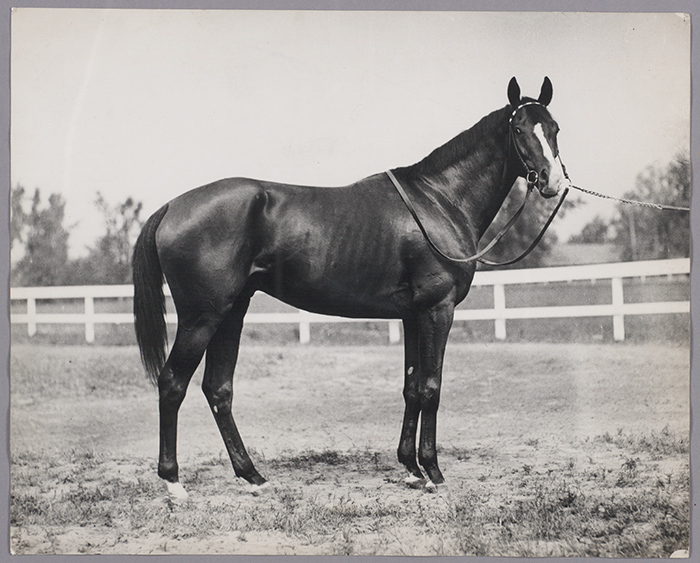 If California Chrome wins this weekend, he will become the 12th horse to win the Triple Crown. Above is Gallant Fox, Triple Crown winner from 1930. From William Woodward,
Gallant Fox: A Memoir
(New York: Privately printed, 1931).
If California Chrome wins the Belmont Stakes this weekend, he will become the first California-bred racehorse to win the Triple Crown. And if he succeeds, it will be his second triple of 2014, following three big wins at Santa Anita Park before the Kentucky Derby in May: the California Cup Derby (Jan. 25); the San Felipe Stakes (March 8); and the Santa Anita Derby (April 5).
California is no late arrival to the grand tradition of horse racing. Elias Jackson "Lucky" Baldwin opened the first racetrack at Rancho Santa Anita in 1904, although it closed five years later and then burned down in 1912. In 1934, Charles H. "Doc" Strub opened Santa Anita Park next to the old Baldwin track. The new park would showcase victories by Seabiscuit (Santa Anita Handicap, 1940), Swaps (Santa Anita Derby, 1955), and, more recently, California Chrome (whose lineage can be traced back to Kentucky Derby Winner Swaps on his mother's side).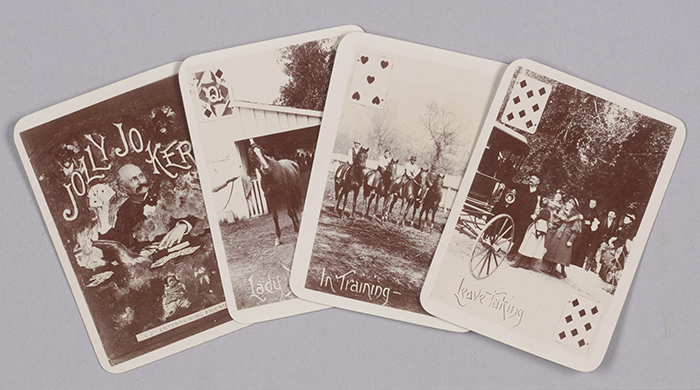 Among items at The Huntington related to local racing lore are these playing cards showing scenes at Rancho Santa Anita and its owner, "Lucky" Baldwin (San Francisco: Alverson Comstock, ca. 1895).
This history is well represented in The Huntington's book and manuscript collection, which includes the papers of Anita Baldwin, daughter of Lucky and namesake of her father's rancho. A set of photographic playing cards from the 1890s features those early stables at Baldwin's rancho. Also in the collection is a handwritten gatekeeper pass, signed by Baldwin, granting the holder access to the field.
Doc Strub, founder of the modern park in Arcadia, once owned a copy of The Tattersall Collection of Race Horse Portraits, a massive five-volume set compiled first by Richard Tattersall (1724–1795) and continued by the horse auction house that he founded in 1766. It illustrates and describes early English Thoroughbreds from 1720 to 1840. Strub donated the set to The Huntington in 1956.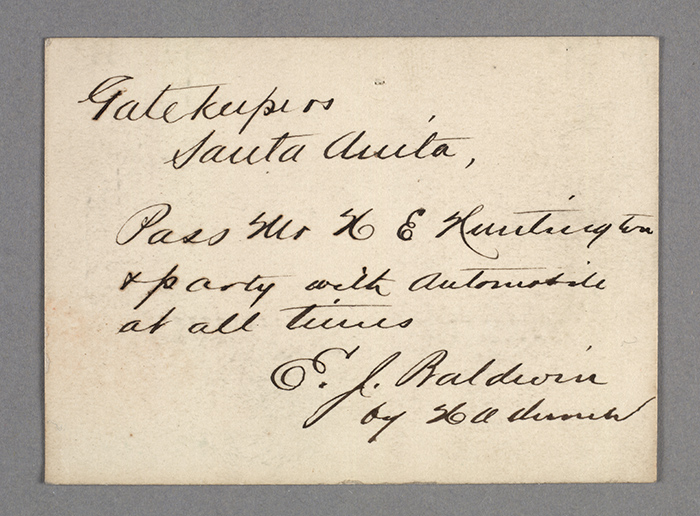 Elias Jackson "Lucky" Baldwin signed this gatekeeper pass, granting its holder access to the racetrack.
Until 1999, the 500 bound prints and descriptions from the Tattersall volumes were The Huntington's most significant material on the history of Thoroughbreds. That's when Cynthia Lasker donated the library of her late husband, Edward Lasker (1912–1997), a Los Angeles attorney and businessman who bred and raced Thoroughbreds for most of his life. Edward Lasker assembled one of the great private equine libraries in America. The 7,000-volume collection includes early printed books (mostly from the 16th to 18th century) as well as English and American sporting magazines, racing calendars and manuals, stud books, and works related to equestrian sports and personalities.
The massive
Tattersall Collection of Race Horse Portraits
measures nearly three feet by two feet and contains 500 prints and descriptions of English Thoroughbreds from 1720 to 1840. Santa Anita Park founder "Doc" Strubs donated the set to The Huntington in 1956.
The Huntington's Avery Chief Rare Book Curator, Alan Jutzi, displayed highlights from that collection in a Huntington exhibition in 2004, "'The Noblest Conquest': The Sport of the Horse in Europe and America from the Edward Lasker Collection." The show's title was taken from the words of French naturalist Georges Louis Leclerc (later Count de Buffon), who called the horse "the noblest conquest man ever made."
While Lasker may have found only modest success as a breeder, he achieved unparalleled success as a book collector, rivaled by the likes of Andrew Mellon (1855–1937), who also amassed a great collection of books on the history of the Thoroughbred.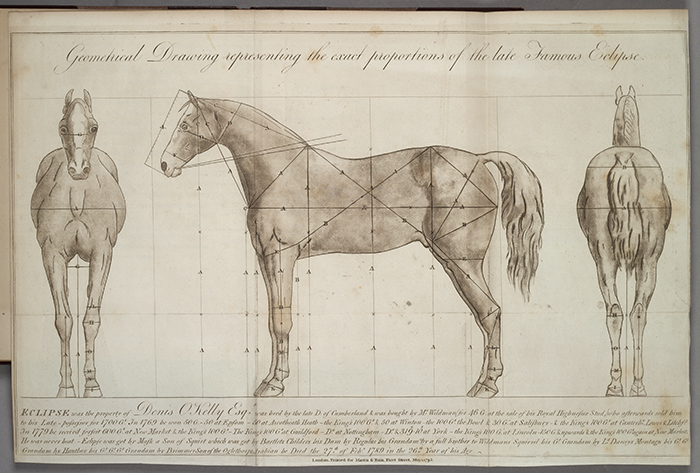 The Lasker collection is proof that California Chrome is more than a West Coast novelty but the latest in a long line of horses to capture the public's imagination, including Eclipse, a British Thoroughbred that went undefeated in 1769 and 1770. From Charles Vial de Sainbel,
An Essay on the Proportions of Eclipse
(London: Martin and Bain, 1795).
Shortly after Cynthia Lasker donated the library, Jutzi paid tribute to her generosity at a Huntington reception, putting her husband's life work in context:
"Serious horse racing and book collecting have a great deal in common—both have existed in Europe and America for a very long time, both have been genteel pastimes undertaken by ladies and gentlemen of wealth and sophistication, both require nurturing, patience, and lots of luck. But, racing varies from book collecting in that one is highly public and the other entirely private. Book collecting takes a contemplative personality; in my opinion, it is quite different from other sorts of collecting. You can't wax a book and proudly drive it around town; you can't frame it and exhibit it on the wall. Accumulating books for learning and pleasure is, however, a centuries-long aristocratic tradition, which still flourishes in modern times, but rarely with the acumen and sensibility of that displayed by Edward Lasker. He among a small handful of collectors I have ever known had the intelligence, energy, and funds to build a great library worth preserving together for posterity."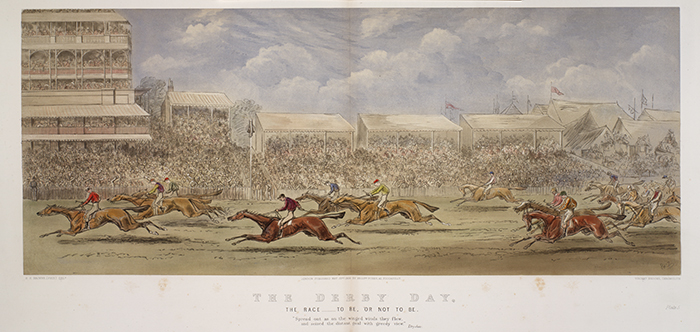 This illustration of the Derby at Epsom, England, is by Hablot Browne, better known as Phiz, the illustrator of books by Charles Dickens. From Hablot Browne,
The Derby Day
(London: Messrs. Fores, 1866).
Matt Stevens is editor of Verso and Huntington Frontiers magazine.