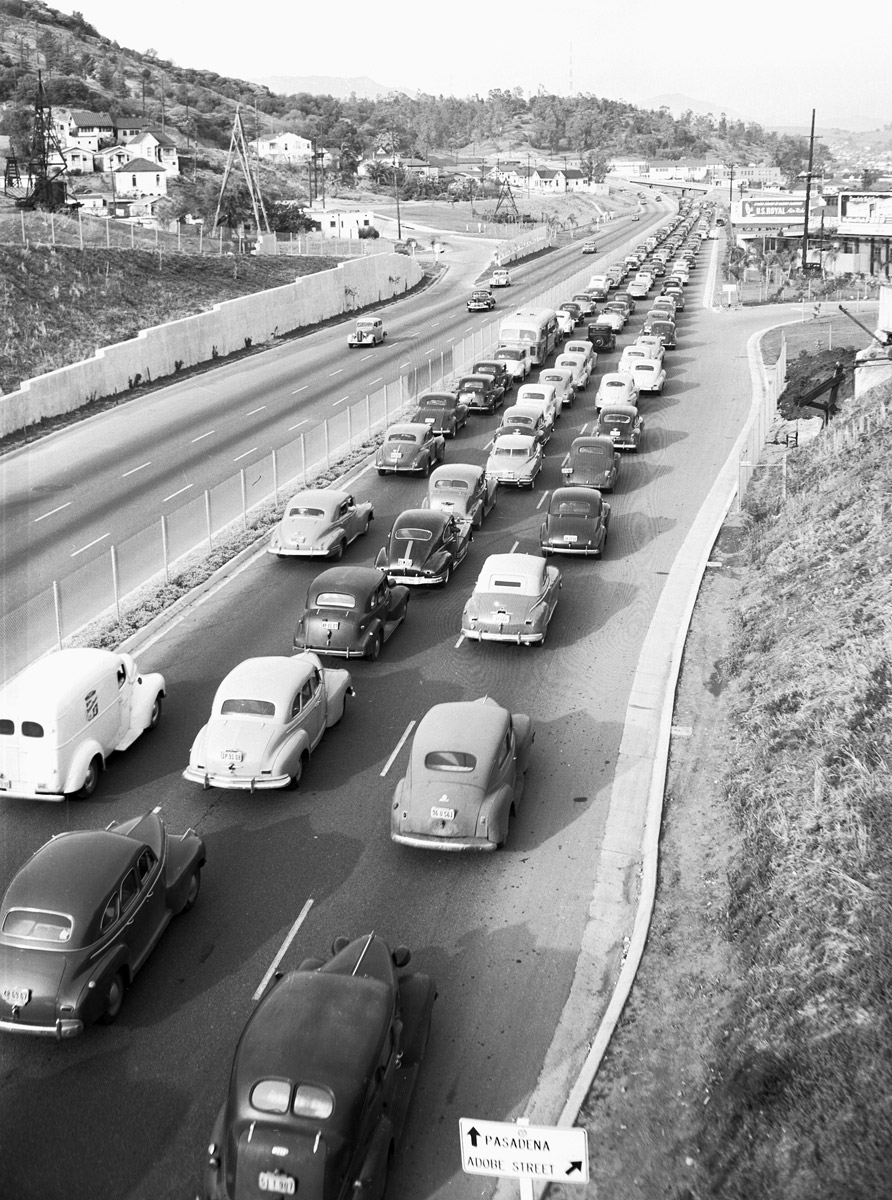 Arroyo Seco Parkway, 1948, northbound traffic at 5:00 p.m. Courtesy Automobile Club of Southern California Archives.
Unless you live under a piece of asphalt, you already know that this coming weekend in greater Los Angeles has been billed as Carmageddon. From Friday evening to Monday morning, a 10-mile stretch of Interstate 405 will be closed so that workers can demolish the Mulholland Drive Bridge. That project will then pave the way for the widening of the freeway and the later construction of a new bridge.
Historian Matthew Roth might be inclined to say that the so-called Carmageddon will go down as a mere SigAlert in the long, complicated history of L.A.'s freeway system. His essay "Mulholland Highway and the Engineering Culture of Los Angeles in the 1920s" appeared in the 2001 book Metropolis in the Making: Los Angeles in the 1920s, edited by Tom Sitton and William Deverell. (Sitton is a long-time Huntington researcher and Deverell is the director of the Huntington-USC Institute on California and the West.)
"Matt knows about as much as anyone in California about the history, politics, engineering, and development of Los Angeles' freeways," said The Huntington's chief curator of rare books, Alan Jutzi, when he introduced Roth as the featured speaker at a lecture here in 2009. You can download that talk, "Concrete Utopia: Roads and Freeways in Los Angeles," and listen to it in your car this weekend if you dare to drive anywhere beyond the corner market.
Listen to Matthew Roth on the history of L.A.'s freeway system.
At the beginning of his remarks, Roth cut to the chase. "There's abundant data in public records to confirm that every major road project in Los Angles faced nearly insurmountable obstacles." He tells the fascinating story of Los Angeles in the 1920s and '30s, when politicians and engineers tried to navigate the future through a convoluted political system still entrenched in the 19th century. While those freeways and bridges were surely technological marvels, their completion was a great feat of local, state, and national politics.
Roth was the founding curator of the Petersen Automotive Museum in Los Angeles and is currently the historian for the Automobile Club of Southern California. He earned his doctorate in history at USC and is currently working on a book about L.A.'s freeways. His talk was part of the Trent R. Dames series of lectures on the history of science and technology. Next month, Michael Hiltzik will deliver the 2011 Dames Lecture about yet another technological marvel: "Colossus: Hoover Dam and the Making of the American Century."
Matt Stevens is editor of Huntington Frontiers magazine.