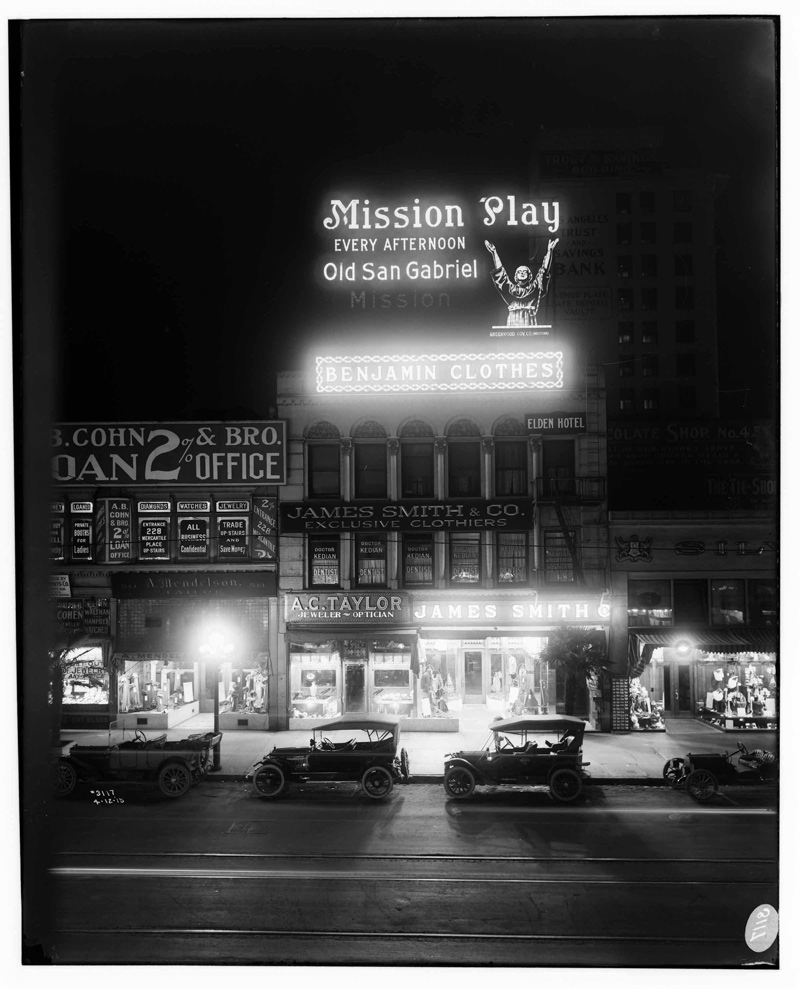 Street scene at night with illuminated sign advertising the "Mission Play" at the San Gabriel Mission. Photograph by G. Haven Bishop, April 12, 1915, from The Huntington's Southern California Edison Archive.
Huntington conferences often bring together scholars who present research in progress and then go on to gather the material into a volume of essays for a new book. On Sat., Sept. 8, The Huntington hosts a conference that acts as a kind of afterword to a book published in 2010.
"Things I'd Like to Know About Los Angeles" brings together most of the contributors to A Companion to Los Angeles, a book edited by William Deverell and Greg Hise and published by Wiley-Blackwell. Deverell is director of the Huntington-USC Institute on California and the West, and Hise is professor of history at the University of Nevada, Las Vegas. The book is part of the publisher's popular series of Blackwell Companions to American History.
Blackwell Companions are found on many college reading lists, so this book in particular is a testament to the ways Huntington research that begins in the manuscript collection finds its ways into classrooms regionally and throughout the nation.
Participants in Saturday's conference are a veritable who's who of experts on Los Angeles from the perspectives of history, political science, cultural studies, and geography, to name just a few. The series of panel discussions feature Stephen Aron, Eric Avila, William Deverell, John Mack Faragher, Anthea Hartig, Christopher Hawthorne, Steve Hindle (The Huntington's W. M. Keck Foundation Director of Research), Greg Hise, Josh Kun, Rubén Martínez, Jim Newton, Michelle Nickerson, Angela Oh, Manuel Pastor, Jane Pisano, George Sanchez, Josh Sides, Raphael Sonenshein, Susan Straight, and Dell Upton.
The workshop and discussion will take place in The Huntington's Friends' Hall on Sat., Sept. 8, from 8:30 a.m. to 4 p.m. To register, which includes a $20 fee plus an optional lunch for another $20, contact Jessica Kim at kimjm@usc.edu. Sept. 6 UPDATE: The conference is now filled.
Matt Stevens is editor of Verso and Huntington Frontiers magazine.