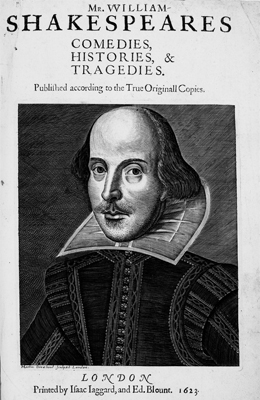 Title page of Shakespeare's first folio edition, 1623. Huntington Library, Art Collections, and Botanical Gardens.
A new exhibition opens Saturday, April 23, which happens to be William Shakespeare's birthday. At first glance, "Revisiting the Regency: England, 1811–1820" might seem to be of greater interest to Jane Austen fans than to admirers of the Bard.
Indeed, first editions of Emma and Pride and Prejudice will be on display, along with works by her contemporaries—Lord Byron, Samuel Taylor Coleridge, John Keats, and Sir Walter Scott. But while the Regency era took place 200 years after Shakespeare's death, it nonetheless felt the great playwright's genius. Curator Mary Robertson explains that Edmund Kean's performances at the Drury Lane Theatre, particularly in Richard III and Othello, "electrified audiences with a new, intense, emotional acting style far from the stately neoclassical manner of the previous generation."
In her exhibition labels describing several playbills and an illustration of Kean by George Cruikshank, Robertson quotes Coleridge's impressions of the great Regency actor: "Seeing him act was like reading Shakespeare by flashes of lightning." This is the kind of thing that scholar Bruce Smith might call the congeniality of Shakespeare—a term Smith prefers to genius.
In a recent talk at a conference at The Huntington, Smith explained that "Shakespearewas not, and is not, an isolated genius but a notably congenial genius—a genius that existed and still exists only in relationship to other people. Shakespeare's genius was his ability to know and to portray other people's genius, hence his congeniality."
Smith, the Dean's Professor of English at the University of Southern California, spoke at the conference "Ingenious Acts: The Nature of Invention in Early Modern Europe," which was sponsored by the USC-Huntington Early Modern Studies Institute. You can listen to his lively talk on iTunes U (or here), along with other talks by visiting scholars about "Shakespeare and His World."
The exhibition "Revisiting the Regency: England, 1811–1820" will be on view until Aug. 1.
In addition to great literature, you can see displays highlighting fashion, music, architecture, politics, and the military exploits of the era.
Matt Stevens is editor of Huntington Frontiers magazine.