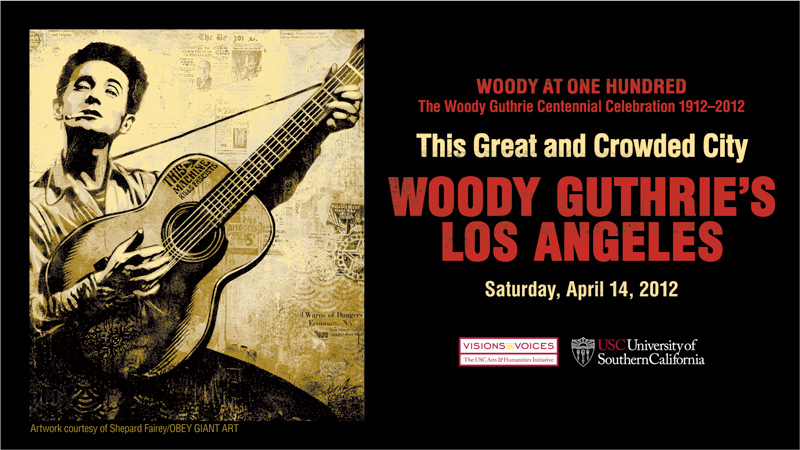 Folk singer Woody Guthrie famously roamed and rambled the country in the 1930s and '40s, writing and singing about the downtrodden caught between the Great Depression and the Dust Bowl. He also found inspiration in Los Angeles. On Sat., April 14, a group of scholars and musicians will gather at USC for a conference titled "This Great and Crowded City: Woody Guthrie's Los Angeles." The event is free but requires registration.
Bill Deverell, professor of history at USC and director of the Huntington-USC institute on California and the West, helped organize the event with co-sponsors Visions and Voices: The USC Arts & Humanities Initiative and the GRAMMY Museum of Los Angeles.
"This celebration of Woody Guthrie's life, work, and legacy is going to be as fun as it is educational," he says, "and we're thrilled to be able to play a role."
Scholars, musicians, and writers will discuss Guthrie's itinerant wanderings through California and the far West, the Dust Bowl culture he drew upon in his songs of commentary and protest, and the backdrop of Los Angeles as it emerged from the Depression at the dawn of the Second World War. You can find a complete schedule here.
The event is part of year-long celebrations marking the centennial of Guthrie's birth. For more information on national events, check out the website www.woody100.com. The other big Los Angeles event will take place after the conference, on the evening of April 14, with "This Land Is Your Land: The Woody Guthrie Centennial Celebration Concert" at Club Nokia at L.A. LIVE in downtown L.A.
For complete information on the conference and concert, visit the website of Visions and Voices.
Matt Stevens is editor of Huntington Frontiers magazine.