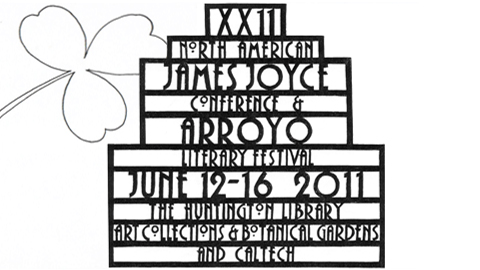 The XXII North American James Joyce Conference takes place June 12–16 at both The Huntington and Caltech, with a full slate of academic panels and several programs open to the public. Events are presented by Libros Schmibros Lending Library and Bookshop and sponsored by the Pasadena Arts Council. For a complete schedule and information on how to buy tickets to the public programs, visit www.joyceconference.2011.
Joyce enthusiasts will note that the conference concludes on Bloomsday, June 16. In Joyce's iconic novel Ulysses, the meanderings of protagonist Leopold Bloom unfold on just one day—June 16, 1904. But as the conference will demonstrate, Joyce is about far more than one book that many of us haven't gotten around to reading.
The theme of the conference is "Joyce in Science and Art," and the academic panels will cover topics ranging from physics to rock music to Irish politics. "This year will be especially exciting," says conference director and Joyce scholar Colleen Jaurretche, "because we're looking at the ways traditionally separate fields shaped Joyce's writing, and vice versa. Plus we're seeing strong registration from new scholars, which just confirms Joyce's canonical place in 21st-century literary study."
Monday night, June 13, will feature an evening of poetry and readings by Paul Muldoon, Eavan Boland, and Sinead Morrissey, among others. The program begins at 7 p.m. and will be held in Friends' Hall at The Huntington.
Tuesday, June 14, will feature actress Fionnula Flanagan reading Joyce's story "Counterparts" at 3:15 in Friends' Hall.
And the highlight on Wednesday, June 15—at 4:30 p.m., also in The Huntington's Friends' Hall—will include novelist and essayist Nicholson Baker, recipient of the National Book Critics Circle Award in 2001 for his nonfiction book Double Fold: Libraries and the Assault on Paper. He'll be in conversation with David Kipen about his work, libraries, and all things Joyce.
Be sure to note that Monday and Wednesday events require a $10 admission charge; for information on these events and the full schedule, be sure to visit the conference's website. Registration for the scholarly panels has already closed.
Matt Stevens is editor of Huntington Frontiers magazine.