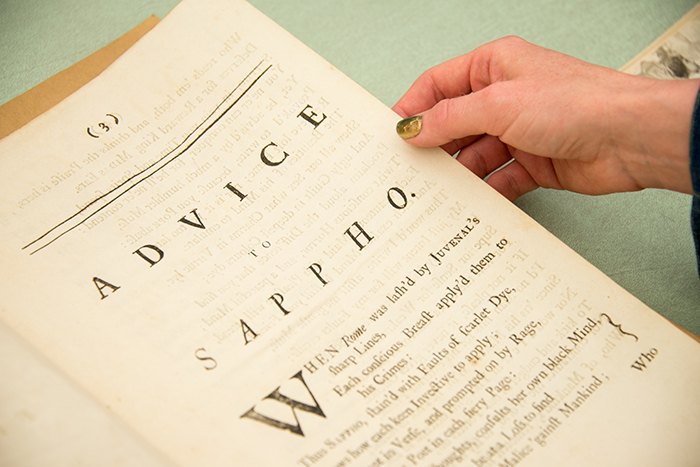 For her

/five

project, kerrie welsh (now Kiki Loveday) is researching materials related to the Greek lyric poet Sappho in the Huntington Library collections. Photo by Kate Lain.
Earlier this week, The Huntington announced "COLLECTION/S: WCCW/five at The Huntington," an exhibition that will be on view in the Virginia Steele Scott Galleries of American Art from Nov. 18, 2017, through Feb. 12, 2018.
Part of the second year of /five—The Huntington's five-year contemporary arts initiative focused on creative collaboration—the exhibition will be a manifestation of The Huntington's yearlong partnership with the Los Angeles-based Women's Center for Creative Work (WCCW). Featuring new work by seven artists who are currently conducting research in The Huntington's library, art, and botanical collections, the exhibition will include an installation of paintings, sculpture, textiles, video, writings, and other new works, as well as performances, talks, and tours by the artists—all of whom were selected in collaboration with WCCW.
The projects that will be featured in "COLLECTION/S: WCCW/five at The Huntington" are described below.
Projects in the Library Collections
Jheanelle Garriques reads 18th-century letters in the Elizabeth Montagu archive at The Huntington as part of her research. Photo by Kate Lain.
Jheanelle Garriques
Garriques' project for /five—called "Storytelling, Solidarity, and the Blue Stockings Society"—uses The Huntington's Elizabeth Montagu archive as inspiration for a writing salon and a mixed-media spoken word performance. Montagu (1718–1800) was a founder of the Blue Stockings Society, a British movement that encouraged intellectualism among women through literary discussions. "I'm trying to draw a thread through the experiences of these female-identified people in 18th-century Britain and the femmes that I'm working with," she says. In the fall exhibition, Garriques will juxtapose a handful of letters from the Montagu collection with new writing produced by eight participants in a multi-week salon Garriques has assembled as part of Naked Narratives, a narrative therapy project she founded in 2014. Her performance piece will involve the participants and dance choreographed by Rissi Zimmermann.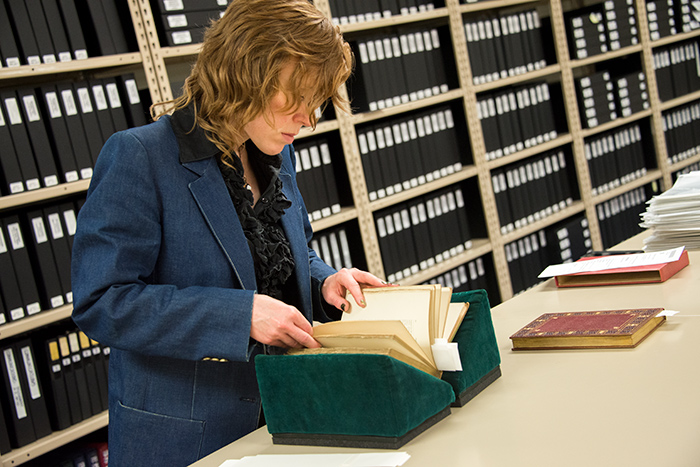 kerrie welsh (now Kiki Loveday) looks through an 1888 copy of Alphonse Daudet's
Sappho: Parisian manners
. Photo by Kate Lain.
kerrie welsh (now Kiki Loveday)
welsh's project, "What You Love," collects LGBT letters, testimonies, and diaries to create an archive of contemporary love stories. Inspired by The Huntington's rare book and theater holdings related to the ancient Greek poet Sappho, the project investigates the story of Olga Nethersole (1863–1951), a controversial and popular British actress who portrayed Sappho on stages across Europe and the United States. It will include correspondence with the local LGBT community and collected ephemera evidencing LGBT lives and loves, highlighting the historical vulnerability of these kinds of materials to destruction, due to secrecy, shame, and fear.
Projects in the Art Collections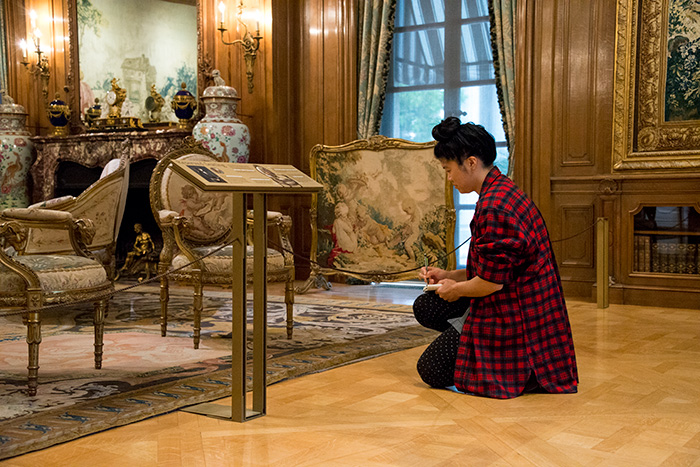 Soyoung Shin takes notes on The Huntington's historic carpet
Astrology
in the Huntington Art Gallery as part of her research. Photo by Kate Lain.
Soyoung Shin
Shin's project for /five, "Picture Elements," is drawn from the word "pixel," an abbreviation of "picture element." Centered on The Huntington's historic carpet Astrology (on view in the Huntington Art Gallery's large library), one of 93 carpets commissioned around 1665 by King Louis XIV to line the Grand Gallery of the Louvre, Shin's project investigates the anonymity of women who engaged in the creation of textiles without receiving credit, in the same way that contemporary women rarely receive credit for their roles in emerging technologies. "Picture Elements" will take the form of textiles (including fragments of a Savonnerie carpet currently in storage), software, a book, and lectures.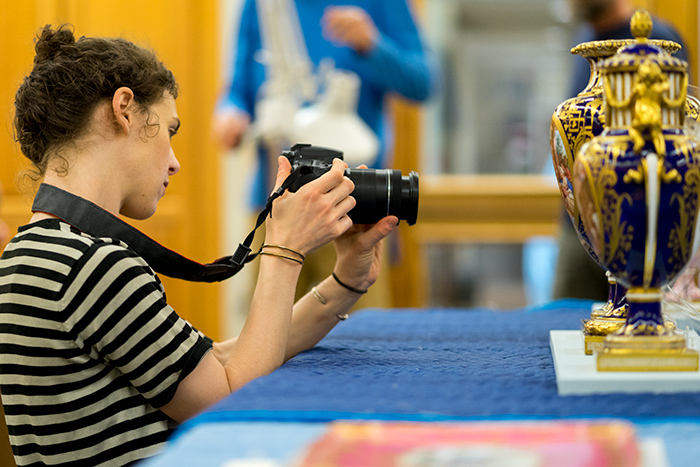 Juliana Wisdom photographs Sèvres porcelain at The Huntington as part of her research. Photo by Aric Allen.
Juliana Wisdom
Wisdom is developing new work in response to The Huntington's 18th-century French porcelain collection. Emulating the Sèvres Porcelain Manufactory's techniques with both traditional and new materials, she will create sculptures that seek to broaden the historical narrative of the Sèvres Manufactory by including the often-anonymous women who served as both makers and benefactors of Sèvres.
Projects in the Botanical Collections
Olivia Chumacero sits alongside Sarita Dougherty as Dougherty works on a painting at The Huntington's Ranch Garden. Photo by Kate Lain.
Olivia Chumacero and Sarita Dougherty
Chumacero and Dougherty are working on a joint project focused on indigenous practices in the natural world, ecology, and aesthetics. Chumacero's contribution will be a video, "When Light Married Water," in which the relationship of light and water gives birth to native California flora in both the manicured and the less cultivated areas of The Huntington's grounds. Dougherty's contribution, "Domestic Flora Familiars," consists of four paintings relating to plants on The Huntington's grounds along with a printed cloth screen, of the type used in home décor, inspired by Chumacero's video.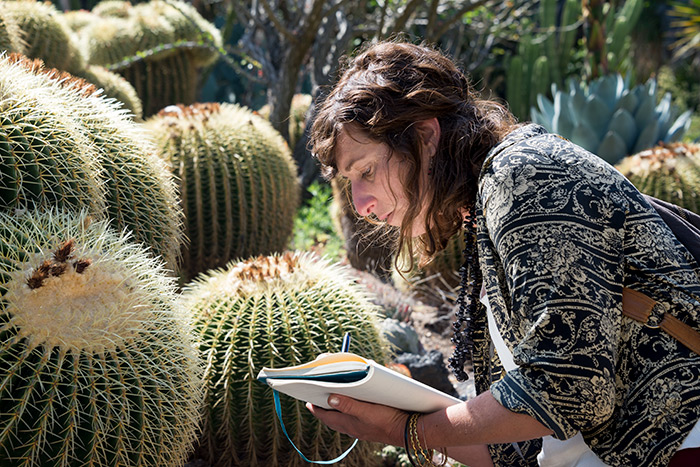 Zya S. Levy takes notes on a Golden Barrel Cactus at The Huntington as part of her research. Photo by Kate Lain.
Zya S. Levy
Levy's project, titled "Green–Gold," explores the Desert Garden collection at The Huntington to draw links between early plant collectors, botanical origins, migration stories, a sense of place, and the future of biological diversity. "Green–Gold" will consist of a visual catalog of cacti diversity at The Huntington, a short audio collage, and sculpture, as well as a series of off-site urban plant tours.
The /five initiative is made possible by a generous gift from The Cheng Family Foundation. Additional funding for the second year of /five has been provided by a grant from the Pasadena Art Alliance.
You can learn more about the initiative and individual projects on the /five website. Find artist bios here.
Related content on Verso:
Women Making Art (March 30, 2017)
Kevin Durkin is managing editor in the office of communications and marketing at The Huntington.