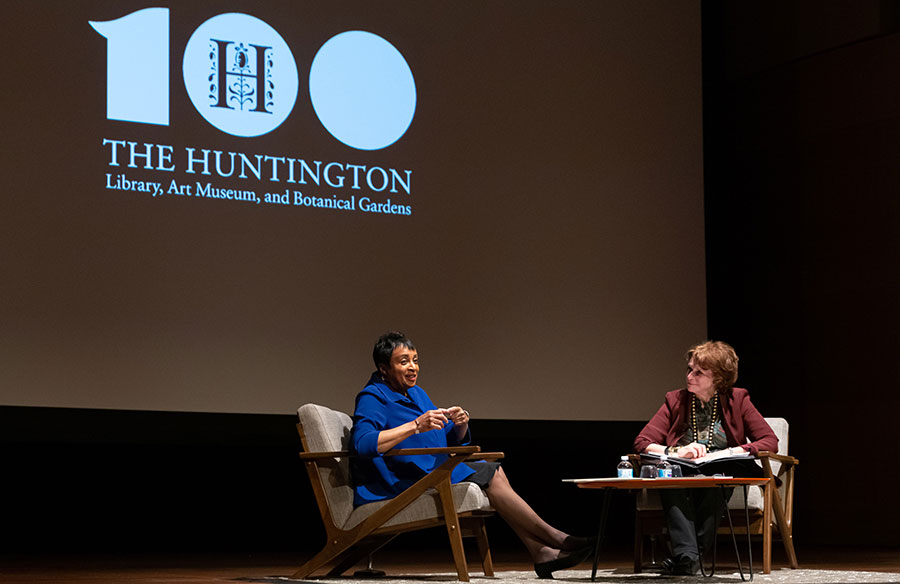 Huntington President Karen R. Lawrence (right) welcomed Librarian of Congress Carla Hayden to The Huntington for the inaugural "Why It Matters" event on Feb. 6. Photo by Sarah M. Golonka.
In The Huntington's Centennial Celebration series called "Why It Matters," Huntington President Karen R. Lawrence speaks with national leaders about the importance of the humanities, archives, and libraries. In the inaugural "Why It Matters" event, held on Feb. 6, Lawrence spoke with Carla Hayden, the first woman and first person of color to be appointed Librarian of Congress, in front of a full and enthusiastic crowd in Rothenberg Hall. The topic of their conversation was why libraries and archives exist and why the work they do continues to be important.
Lawrence started the event by reading from a 1939 letter, part of The Huntington's new Shapiro collection of presidential papers, written by Franklin Roosevelt to his nominee for Librarian of Congress, the poet Archibald MacLeish. Roosevelt wrote that he could easily "take care of the matter of approval" from senators—drawing some laughs from the audience—and agreed to MacLeish's various requests to continue traveling and writing if he were to take the position. Lawrence gave Hayden a copy of the letter and took the opportunity to ask if Hayden's presidential sponsor, Barack Obama, had sent her a similar letter.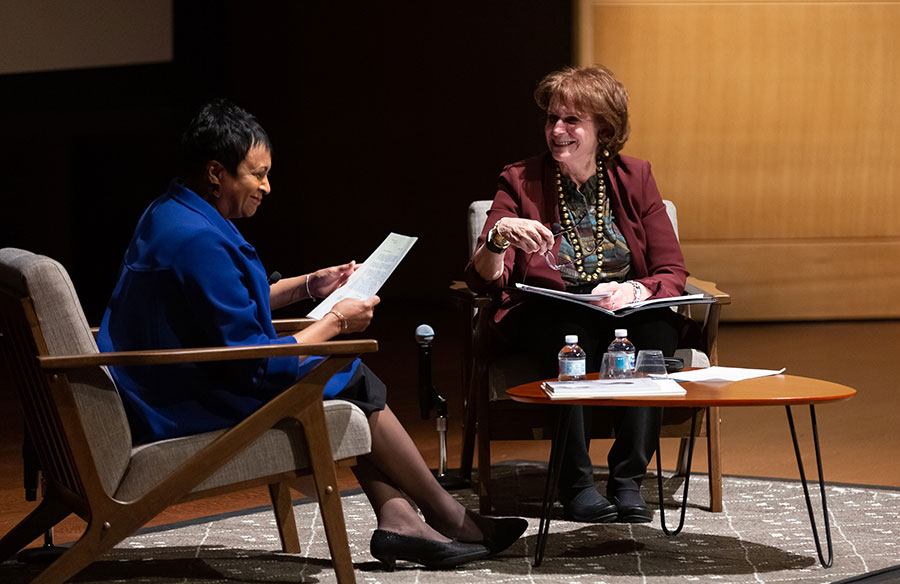 Lawrence and Hayden discussed a letter written by President Franklin Roosevelt to his nominee for Librarian of Congress, the poet Archibald MacLeish. Photo by Sarah M. Golonka.
Hayden said Obama did speak with her about the gravity of her position and the importance of making sure that the Library of Congress's important holdings were accessible to all Americans. Hayden said Obama told her that he had been able to view such incredible historical objects as the contents of Abraham Lincoln's pockets on the day of his death and a diary entry by Theodore Roosevelt on the day his wife and his mother died in the same house. Obama asked: "What can you do, as Librarian of Congress, to . . . make sure that people can see these things and have access to these treasures?"
Hayden, who tweets frequently about the collections, said one of her main priorities was to make sure the public understood exactly what the Library of Congress was and that it did belong to everyone. "This is the nation's library," she said. "People need to know this is theirs."
Hayden also described the library's history. The Library of Congress was founded during the term of President John Adams in 1800, as the seat of the federal government moved from Philadelphia to Washington, D.C. The initial funding of $5,000 went to the purchase of books for the use of Congress.
In 1814, the Capitol building that housed the library was set on fire by British soldiers. The holdings were replaced with Thomas Jefferson's large personal library, which included 6,487 books. The library now contains more than 171 million items in 470 languages, and while Hayden said it does not contain a copy of every book ever published, the Library of Congress is considered the world's most complete record of human creativity and knowledge. The Library serves as the research arm of Congress, but it is also open to the public. "You can get a reader's card at 16," Hayden said.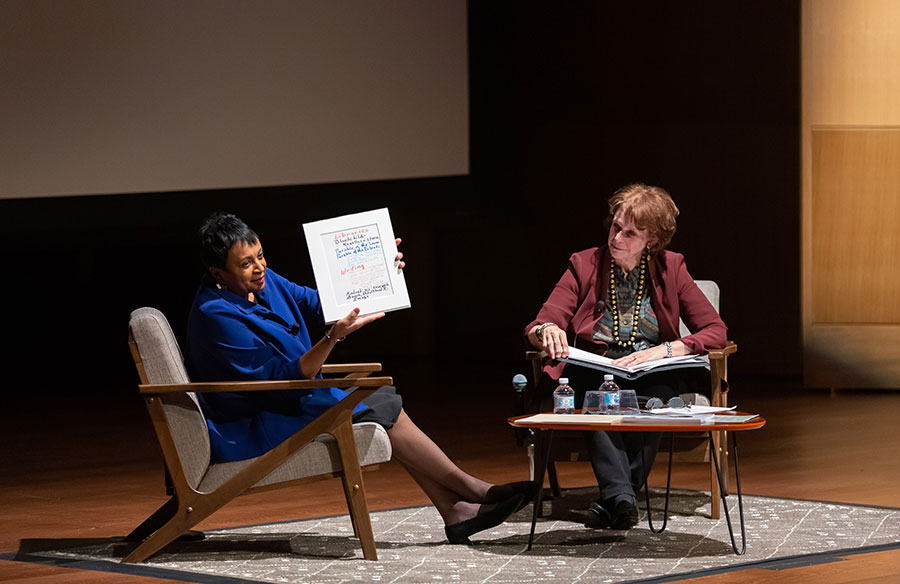 Hayden, a fan of science fiction writer Octavia E. Butler, showed the audience a copy of a page from Butler's notes, which are held at The Huntington. Photo by Sarah M. Golonka.
Lawrence then asked Hayden about her deep connections to Abraham Lincoln. Hayden shared that she had grown up in Illinois and had visited her grandparents—who lived in Springfield, Lincoln's home—every summer. "My earliest memories were about Abraham Lincoln," she said. "I played with Lincoln Logs, I visited his home." Hayden said she was deeply moved to be sworn into her new position using Abraham Lincoln's personal bible, which is housed at the library. "That was very significant to me," she said.
Hayden said she had been moved to see some of Lincoln's papers during her visit to The Huntington, including a letter indicating that Lincoln had given a guard time off on the fateful night he had been assassinated. Hayden was also thrilled to see some of the papers of author Octavia E. Butler and marveled that The Huntington had such a range of materials.
Hayden and Lawrence discussed the importance of "growing scholars" by allowing students to be inspired by library materials and exhibitions. Hayden said the Library of Congress was increasing outreach to the blind and print-disabled with a growing collection of talking and braille books.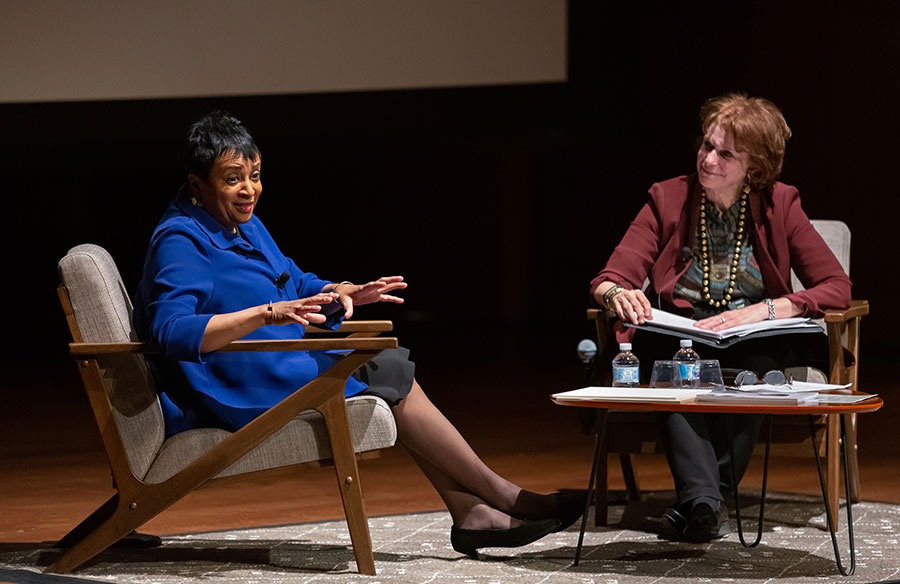 During the evening, Hayden shared stories of how she has worked to make libraries, including the Library of Congress, more accessible to all communities. Photo by Sarah M. Golonka.
The evening concluded with Hayden discussing her well-known decision to keep open the Pennsylvania Avenue branch of Baltimore's Enoch Pratt Free Library in April 2015—despite protests and fires that occurred adjacent to the library after 25-year-old Baltimore resident Freddie Gray had died in police custody.
Hayden said she worried about the signal it would send to the community if she decided to close the library. It remained open, safely, with Hayden, the library system's CEO, working alongside library staff throughout the protests.
Hayden, who has called libraries "community anchors" and the heart of communities in times both good and bad, said that, during the protests, it was community members who worked hard to defend their library. "Lo and behold, young men from the community stood up," she said, and the library was spared.
Because stores in the area had closed and there were few services available for residents, the library became a place that residents could come to for food and such necessities as diapers. Said Hayden: "Being there for the community when you are needed is very important."
Usha Lee McFarling is senior writer and editor in the Office of Communications and Marketing at The Huntington.