Elizabeth Justice's sampler on display with a portrait of Tacy Shoemaker, 1818. The portrait is attributed to Charles Willson Peale (1741–1827) and was a gift to The Huntington from Lelia Canby Hughes, in memory of the estate of Charles Francis Saunders.
When most American girls in the 18th century were young (only 9 or 10 in some cases), they learned "plain" needlework skills for practical reasons: to make, label, and repair clothing. If girls were well-off, they might also have studied "fancy" needlework that spoke of their gentility and refinement, including items like the pictorial samplers on view in the exhibition "Useful Hours: Needlework and Painted Textiles from Southern California Collections."
Both the "plain" and "fancy" are captured in a pairing of a painting and needlework just around the corner from the exhibition, in another room of the Scott Galleries of American Art. In an 1818 portrait by Charles Willson Peale, a Quaker woman named Tacy Shoemaker is depicted making or repairing household items. Next to the portrait is an outstanding sampler from 1833 that didn't make it into "Useful Hours" but is definitely worth a visit. Completed by 10-year-old Elizabeth Justice of Philadelphia, it is framed by an ornate border of white flowers and includes a highly detailed landscape with trees.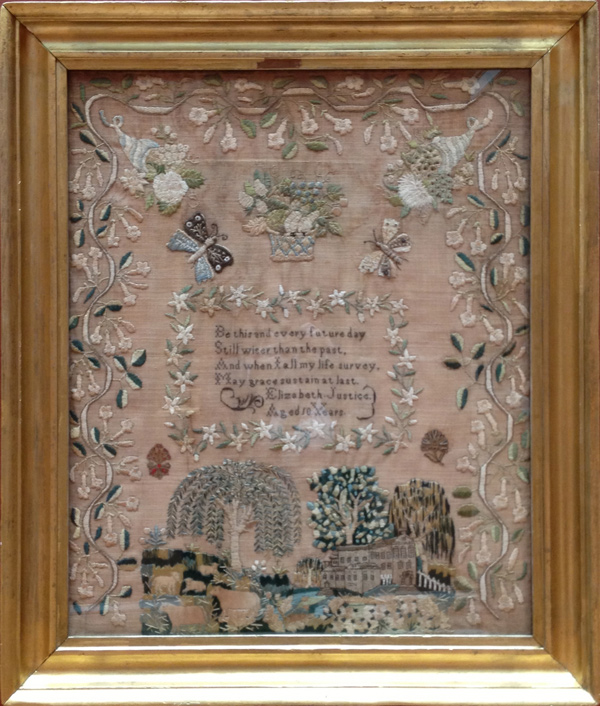 Elizabeth Justice (born 1823), Sampler, 1833, Philadelphia, Penn., silk on linen, collection of Madeleine Swift Butcher, Woodland Hills. Calif.
According to Hal Nelson, The Huntington's curator of American decorative arts and organizer of the exhibition: "In both its monumental scale and its intricately stitched decoration, Elizabeth Justice's sampler is a stellar example of American schoolgirl art in the early 19th century."
Justice, like most of the needleworkers featured in the exhibition, did not create the design of her sampler. Teachers provided the sample designs to their charges. Unfortunately, most of the teachers' names have been lost or forgotten over time.
The piece in "Useful Hours" that kept drawing me back is Eunice Hooper's ca. 1790 sampler, which she created when she was 9. Unlike most of the surrounding needlework, it has a dark background and features a sparer palette. The content, however, is anything but somber. In front of a two-story house, a woman sits on a porch while a man picks fruit from a tree. Another woman sits inside the housereading beside a window. Somewhat unexpectedly, in the lower left corner of this scene of everyday life, a woman in classical attire and sandals greets a helmeted figure riding in a chariot—a fanciful allusion to ancient Greece and Rome.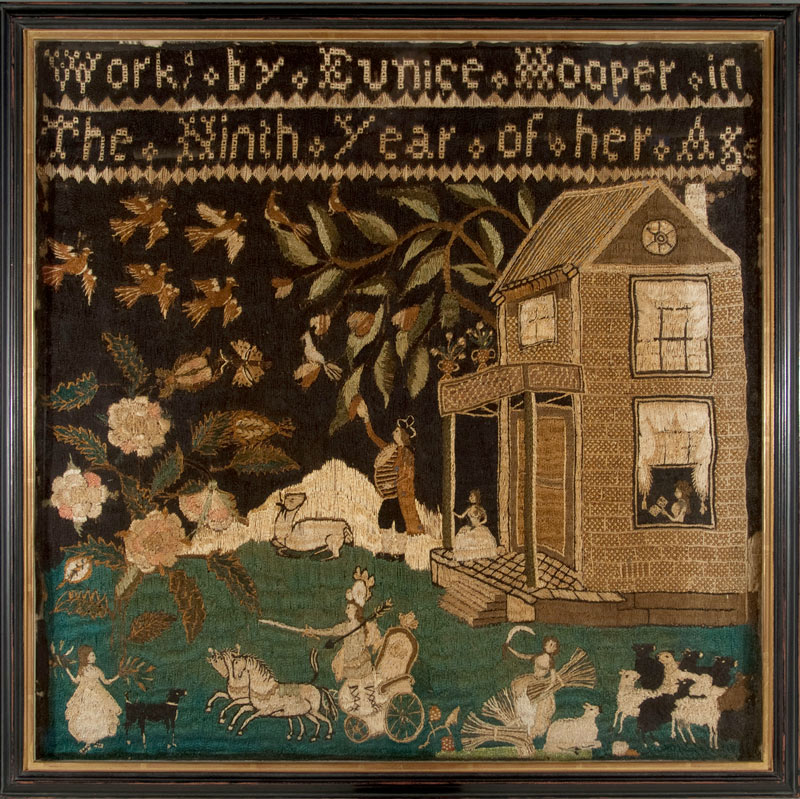 Eunice Hooper (1781–1866), sampler, ca. 1790, silk on linen, collection of Jonathan and Karin Fielding, Los Angeles.
Men in this period did needlework, too. Next to the door of the "Useful Hours" exhibition is a finely executed portrait of a three-masted ship flying the Union Jack. The details of the rigging and the rendering of the water and sky are exceptional. If you've read the Aubrey/Maturin novels by Patrick O'Brian, you know that sailors had to be clever with a needle to repair sails and rigging and mend clothing. They also created ship portraits to give to friends and family.
"Useful Hours" speaks to self-improvement and productivity, but also marks the point where the line between the practical and artistic becomes joyously blurred.
"Useful Hours: Needlework and Painted Textiles from Southern California Collections" is on view in the Susan and Stephen Chandler Wing of the Scott Galleries of American Art through Sept. 2.
Linda Chiavaroli is a volunteer in the office of communications at The Huntington. She is a Los Angeles-based communications consultant.