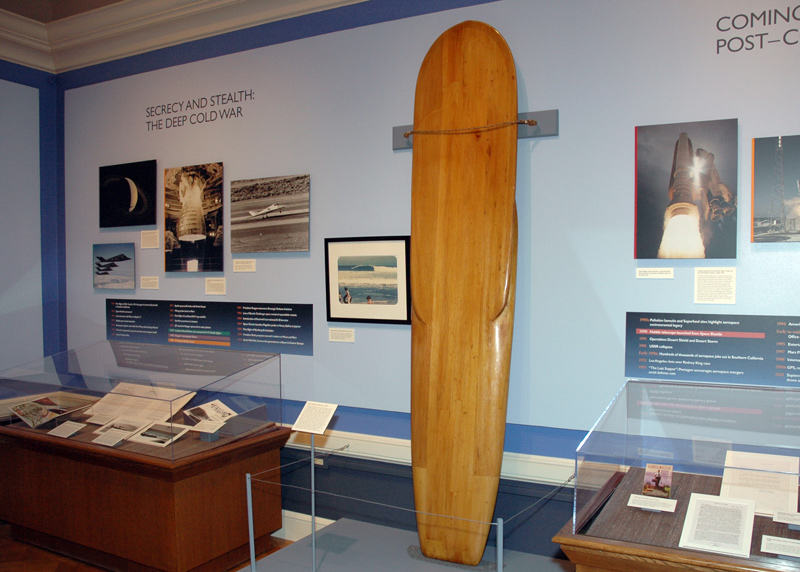 The surfboard, on display in the West Hall through Jan. 9, is courtesy John Mazza Historic Surfboard Collection, Pepperdine University, Special Collections and University Archives. Photo by Lisa Blackburn.
With the temperature in the 80s, you might be pondering whether to come to The Huntington this weekend or head straight to the beach instead. If you come to the Library's West Hall, you'll be able to catch the exhibition "Blue Sky Metropolis" before it closes on Jan. 9 while also seeing an honest-to-goodness surfboard on display among the manuscripts, photos, and other ephemera that document the history of aerospace in Southern California throughout the past century.
Why the surfboard? It was designed in the early 1950s by Robert Simmons, a Caltech engineering student who worked at Douglas Aircraft during World War II. He incorporated aviation materials—foams, resins, and fiberglass—and used engineering principles to exploit lift and drag in the design of his surfboards, revolutionizing the sport. Later aerospace engineers invented the windsurfer and the Boogie Board, helping to make Southern California the epicenter of global surf culture.
"There's always been a kind of ferment here in California that encourages creative thinking," says co-curator Peter Westwick, "whether it's in designing an airplane or shaping a surfboard." Westwick says that the world of surfing has also influenced the aerospace culture, where more often than not the fun-loving spirit found among math whizzes, engineers, and pilots belied the stereotype of nerds with horn-rimmed glasses and pocket protectors.
Westwick has two books in the works: the first is a collection of essays—also titled Blue Sky Metropolis: The Aerospace Century in Southern California—that will investigate the intersection of aerospace and Southern California through the lenses of anthropology, history of science and technology, labor, business, ethnicity and gender, architecture, and the environment. Blue Sky Metropolis will be published jointly by the Huntington Library Press and University of California Press and will be available in June.
The second book will be on a related subject—the history of surfing. In addition to a chapter on the role of aerospace, Westwick and his co-author, Peter Neushul, will cover the sport's 500-year history dating back to Hawaii and carrying through to global spots in Australia and South Africa as well as issues such as women, race, and the environment. That book will be published by Broadway Books (Random House) with a release date in 2013.
Westwick is assistant professor of history at the University of Southern California and director of the Aerospace History Project, an initiative of the Huntington-USC Institute on California and the West (ICW). He co-curated "Blue Sky Metropolis" with Matthew Hersch, who was featured in a blog post last month.
Matt Stevens is editor of Huntington Frontiers magazine.