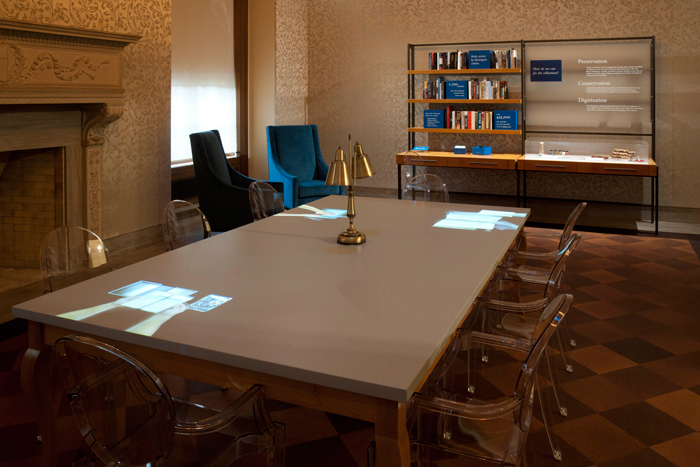 In
Hand/Study
, a new site-specific installation in the room adjacent to the Library Exhibition Hall, video is projected onto a table to bring library activities to life.
Most people are familiar with the activities of a public library, those vital institutions that lend books, videos, music, and more to visitors. But what goes on in a library that isn't open to the public? A lot, it turns out. While visitors are invited to come see selected items on view in the Library exhibition spaces, only qualified scholars are allowed to "check out" and work with the Library's holdings—some 9 million rare books, manuscripts, photographs, maps, and other remarkable objects.
With the reopening of the Library's Exhibition Hall, exhibition designers Karina White and Gordon Chun wanted to incorporate a visual experience for visitors that would help them get a sense of what goes on behind the scenes here. And so they turned to Kate Lain, a talented young filmmaker—and The Huntington's new media developer. Working in collaboration with White and Chun, Lain developed and produced a site-specific video installation called Hand/Study, now on view in the Trustees' Room adjacent to the Exhibition Hall.
And it is mesmerizing.
Projected onto a table designed for the installation, the video shows dozens of pairs of hands of people working with and using The Huntington's rare library materials. There are hands repairing wax seals, hands searching for items in a card catalog, hands marking items in an auction catalog, hands reviewing microfilm, hands mixing paste, hands examining color slides on a light box, hands comparing a manuscript to a book.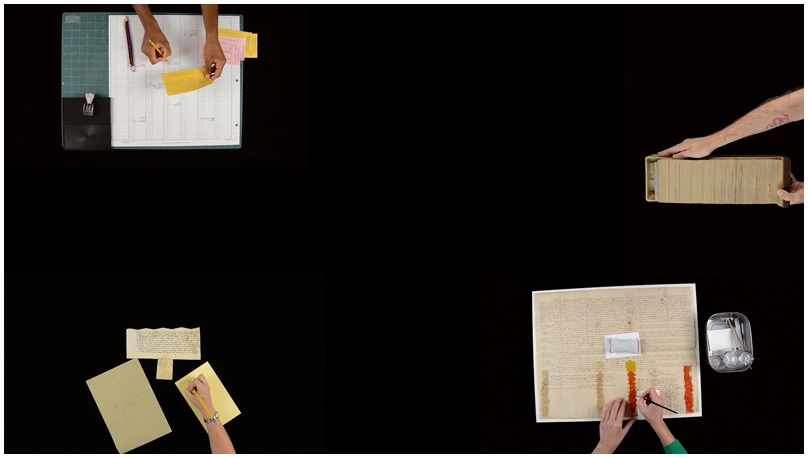 A still from the video being projected onto a table in
Hand/Study
. The hands of Huntington staff members give visitors a glimpse of the activities that go on within the massive archive of The Huntington Library.
At any one time, anywhere from one to five pairs of hands are working with Library materials, showing the range of activities that goes on in a research and rare books library, where materials must be gingerly cared for. Most of the hands shown in the video are not wearing gloves because it's actually safer to handle most items with bare hands. Conservators and scholars at The Huntington typically only use gloves when handling photographs, negatives, or similar materials where fingerprints need to be avoided.
The video installation shows all manner of material being examined or worked on—from a cuneiform cone dating to 2112 B.C. to sheet music, board games, notebooks, diaries and journals, miniature books, sketchbooks, postcards, and scrapbooks.
The process of filming various sets of hands engaged in 80 different activities, ranging from 15 seconds to 17 minutes in length, was done in a mere three days, after months of development and testing. And it took two months to edit, as Lain processed her footage in a painstaking manner to produce a work that is at once engaging, curious, meticulous, and fluid.
"We envisioned the piece to be more experiential than informational. It's a way for visitors to immerse themselves in the work of the Library, the activities they wouldn't ordinarily see. It turns out that what's being projected feels so familiar—the hands themselves seem familiar, and they're going through familiar motions, even though the specific tasks and materials might be totally new to someone watching. For me, it helps convey the humanness, the vitality of the Library, in a way that words and statistics cannot."
One of the 80 activities depicted in the 65-minute video: an archivist leafing through a set of orange crate labels from the Jay T. Last Collection.
In fact, Lain says, when the reinstalled Exhibition Hall first opened, she saw children walking up to the work, putting their hands over the hands in the movie, mimicking the work under way. Adults might be more reserved about it, but many have been watching for extended periods of time—and Lain has enjoyed seeing some of their arms begin to move—albeit at their sides and not near the table—in cadence with the projected hands.
"It opens up a way of understanding the Library that I hope complements the informative object-based exhibition in an unexpected, visceral way," says Lain.
The whole film runs 65 minutes and is completely, and perfectly, silent. In a word: sublime.
Visit The Huntington's Tumblr to see two short video loops of the hands in action.
Susan Turner-Lowe is the vice president for communications at The Huntington.