Matthew Hersch, co-curator of the Huntington exhibition "Blue Sky Metropolis: The Aerospace Century in Southern California," was first drawn to the stars as a boy in the 1970s in Scarsdale, N.Y., where he got hold of books from the public library and read about astronauts, rockets, and space colonies.
His interest in science and technology led him first to the Massachusetts Institute of Technology to earn his undergraduate degree and then on to the University of Pennsylvania for a doctorate. His dissertation was about the history of astronauts as a labor force from the early Apollo program up to the Space Shuttle era.
While he was well aware of the charismatic astronauts and engineers who came out of California, including men like Joe Walker (see photo, lower right), who merged a cowboy mentality with the test pilot culture at Edwards Air Force Base, Hersch's studies had never brought him further west than Philadelphia—that is, until he accepted a postdoctoral fellowship with the Huntington-USC Institute on California and the West and its Aerospace History Project. During the 2010–11 academic year, Hersch taught two classes at USC and helped the project's director, Peter Westwick, sort through the burgeoning aerospace archive at The Huntington and plan "Blue Sky Metropolis."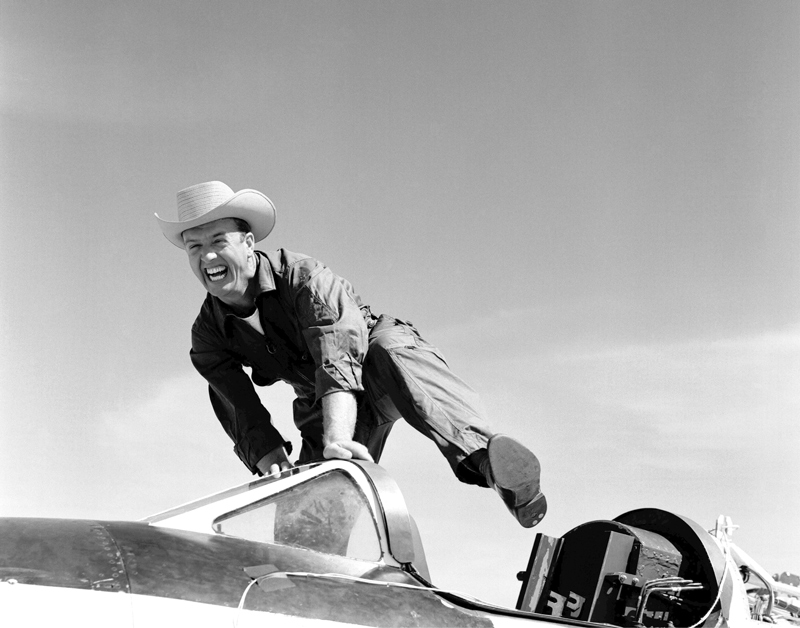 Test Pilot "Cowboy" Joe Walker and the Bell X-1A rocket plane at the NASA High-Speed Flight Station, Edwards Air Force Base, Calif., 1955. NASA photo.
"I jumped at the chance to be part of a museum exhibition," he now recalls of the fellowship. "When you have material this good, you want to share it."
Hersch admits he has been accused of being somewhat provincial, even by his Pennsylvania friends who begrudge his East Coast bias. And to those in California, his views of the history of aerospace were more Cape Canaveral than Edwards Air Force Base.
All of that has changed from his year here working with the collection. But he also says visitors to the exhibition should see it beyond a regional history. "California created modern aerospace, and modern aerospace helped to create California, but it wasn't just the local culture—it was an American culture." Aerospace's impact has been felt on everything from surfing and the entertainment industry to construction techniques and architecture.
Even those visions of space colonies from his childhood carry a new meaning for him, in part driven by the materials he has helped organize at The Huntington. "When you look at those images very carefully," he says, "you realize that they aren't just selling a life in space, but they're depicting communities that look a lot like California suburbs." The architecture was California modern. These were communities where life was made easier through modern technologies.
"And when we talk about traveling in space, it's not just one person in a rubber suit trying to breathe in a tight compartment. This is a vision of humanity's future and of a world that will be better than the world that exists today. And I didn't realize how much of a California story this was back when I was a kid, but I understand that now."
Hersch's fellowship ended in the fall of 2011 and he is now a lecturer in the department of history and sociology of science at the University of Pennsylvania. Hersch says his experience in California will stay with him. "The fellowship at The Huntington has enriched my teaching, it has enriched my scholarship, and it has given me something I think every historian needs, which is experience not only to help put together collections but also displaying those materials for a large public audience."
"Blue Sky Metropolis" is on view in the West Hall of the Library through Jan. 9, 2012.
Matt Stevens is editor of Huntington Frontiers magazine.