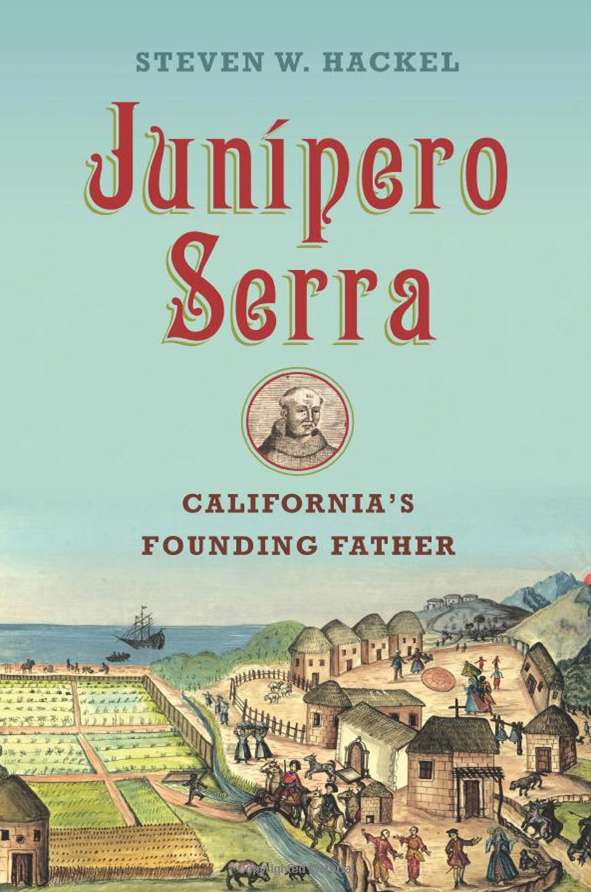 Junípero Serra: California's Founding Father
, the new book by Steven W. Hackel.
On the 300th anniversary of the birth of Junípero Serra comes a new biography certain to shift the discourse about Serra's role in the shaping of California history and the contested legacies of his work as a Franciscan missionary. Junípero Serra: California's Founding Father, written by UC Riverside history professor Steven W. Hackel, paints a vivid portrait of one of the most influential, yet least known, figures in California history.
Hackel's Serra "is neither sinner nor saint, but rather a devout idealist who quietly helps unleash powerful forces of social change," says Héctor Tobar, Pulitzer-prize winning journalist, and author of the acclaimed 2011 novel, The Barbarian Nurseries. I, myself, found the book riveting and profoundly distinct from the view of Serra I had gained a few years back by doing a cursory reading of my daughter's social studies textbook. That Serra was pious, focused, larger than life, but not necessarily multi-dimensional. I found him, ultimately, not particularly interesting.
This Serra, Hackel's Serra, is far more complex and fascinating—born into extreme poverty, sent to study for the priesthood as a matter of survival, wildly intelligent, incredibly committed, and stubborn. On the first leg of the trip he would take from Spain to Mexico in 1749, he argued constantly with the captain of the ship. The captain, it turns out, was protestant and English. He and Serra debated so passionately about religion that at one point, the captain put a dagger to his throat. Wild times on the high seas, indeed!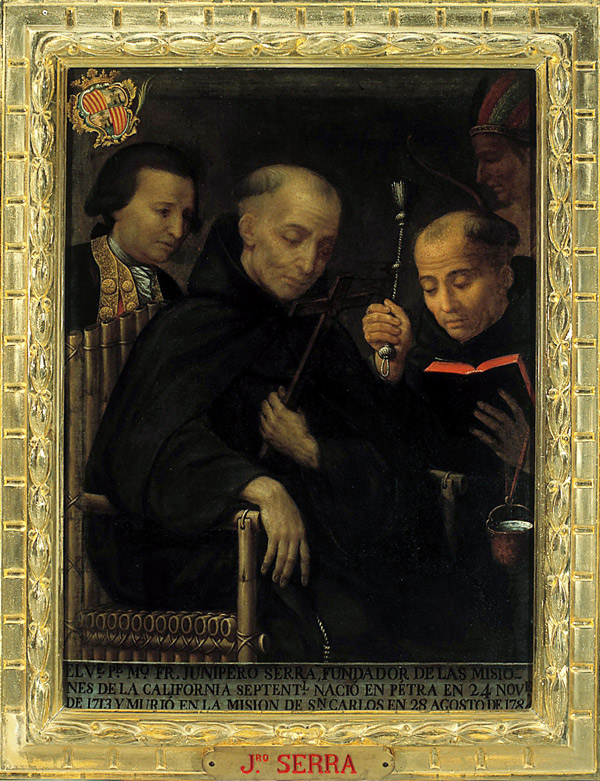 Portrait of Fr. Junípero Serra
by Francesc Caimari Rotger, 1790. Oil on canvas. On loan for the exhibition from the Ayuntamiento [Town Hall] de Palma, Mallorca.
And he was just getting started.
The book is extraordinary for perhaps a single reason: it places Serra in the context of his times. Serra, the youngster, growing up in the devastated economy of rural Mallorca; Serra, the new missionary in Mexico, walking from place to place with a bad leg that never healed properly, intent on spreading the word of God along the way; Serra, the politician, outmaneuvering Spanish royal officials to get what he wanted; Serra, the special agent, ferreting out "witches" during the Spanish Inquisition, and sending them to Mexico City for punishment.
Unfortunately, his view of the world was exactly that: a single perspective that was not without its flaws. For in his zeal to save souls, he assembled a system that ultimately would serve to decimate the native population, principally through disease. I don't come away from the book with either profound admiration for Serra or expressed contempt. Rather, I simply think I understand him better and am in awe of it all. It's a richly layered narrative. As USC history professor William Deverell says, in this book "we see entire worlds collide, overlap, and forever influence one another. As complex and remarkable as the times in which he lived, Serra has long deserved a careful, smart, and judicious study, and now we have it."
The book is available at the Huntington gift shop, online, and at book sellers everywhere.
"Junípero Serra and the Legacies of the California Missions," a new major exhibition co-curated by Hackel and Catherine Gudis, opens Saturday, Aug. 17, in the Erburu Wing of the Virginia Steele Scott Galleries.
Susan Turner-Lowe is the vice president for communications at The Huntington.