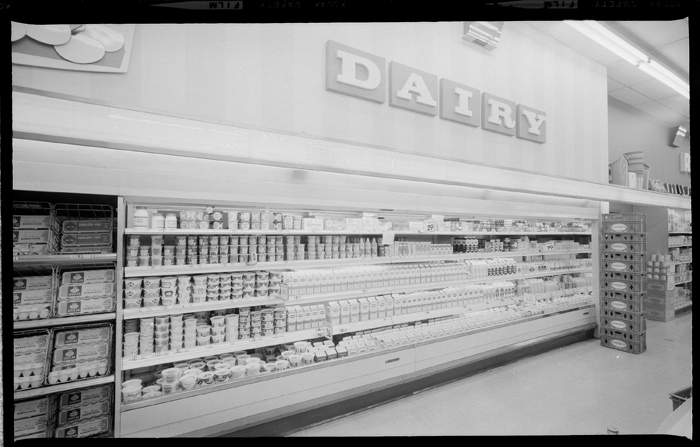 Alpha Beta Supermarket, Joseph Fadler, 1968. Huntington Library, Art Collections, and Botanical Gardens.
How do you showcase a photographic archive of more than 70,000 images documenting Los Angeles' infrastructural development spanning most of the 20th century? The answer, if you are Bill Deverell and Greg Hise, is to ask 16 historians, curators, and writers to select a few dozen of their favorite shots from a 50-year period and organize them into themes such as "scale," "text," domesticity," "mobility," and "noir."
The result is the online exhibition "Form and Landscape: Southern California Edison and the Los Angeles Basin, 1940–1990," which launched on May 1 as part of the Getty's Pacific Standard Time Presents: Modern Architecture in L.A. and includes more than 400 historical photographs from The Huntington's Southern California Edison archive. Deverell and Hise round out the group of 18 curators. Deverell is professor of history at USC and director of the Huntington-USC Institute on California and the West; Hise is professor of history at the University of Nevada, Las Vegas.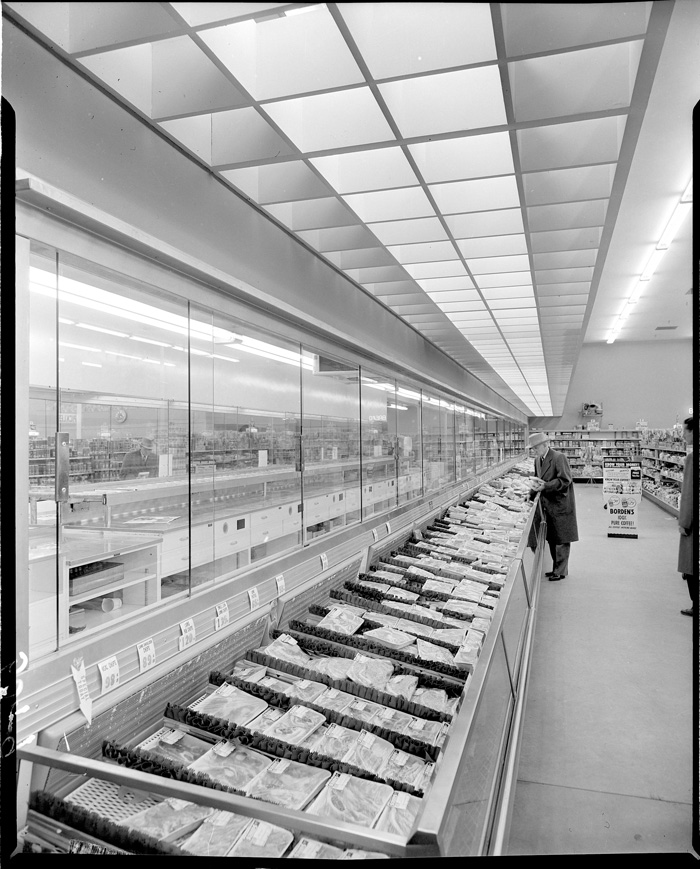 Meat department in Schaub's supermarket, Doug White, no date. Huntington Library, Art Collections, and Botanical Gardens.
This Thursday, at 7 p.m., the Central Branch of the Pasadena Public Library will host a panel discussion highlighting the online exhibition. "Laboratory for Modernity: Los Angeles, 1940–1990," will include Deverell and Hise and two other curators: Eric Avila, associate professor of history, Chicano studies, and urban planning at UCLA; and Alan Loomis, the Principal Urban Designer for the City of Glendale, California. Also on the panel will be Sarah Schrank, professor of history at California State University, Long Beach, and Jan Reiff, associate professor of history at UCLA, who will add further commentary and context.
In "Consumption," Avila highlights photographs that evoke a passage from Nathaniel West's apocalyptic Day of the Locust (1939): "The SunGold Market into which he turned was a large, brilliantly lit place. Colored spotlights played on the showcases and counters, heightening the natural hues of different foods. The oranges were bathed in red, the lemons in yellow, the fish in pale green, the steaks in rose and the eggs in ivory."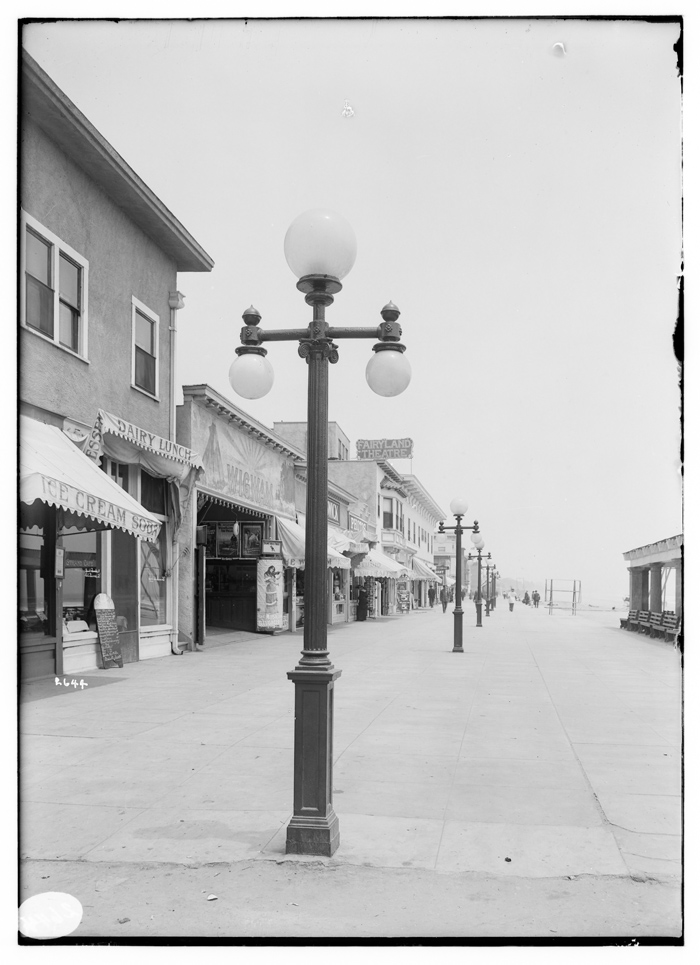 Lighting, streets, G. Haven Bishop, 1914. Huntington Library, Art Collections, and Botanical Gardens.
Photos from the Edison archive show interior shots of Southern California stores like Schaub's and Alpha Beta. "The supermarkets of the 1950s, the ancestor of today's Walmarts and Costcos, and the descendant of mom-and-pop grocers of the Twenties and Thirties, enshrined a postwar ideal of mass consumption," explains Avila in his accompanying essay, "utilizing new modes of commercial display to showcase the staples of the American diet."
Loomis' set, titled "Streetscapes,"brings us outside to views of iconic city intersections teeming with pedestrians, streetcars, and automobiles. Readers of Nathaniel West might recall the metaphorical conflagration of the city, but in Loomis' take, the city is lit up by streetlights, again and again over the years, which he documents with one photo after another from the Edison archive.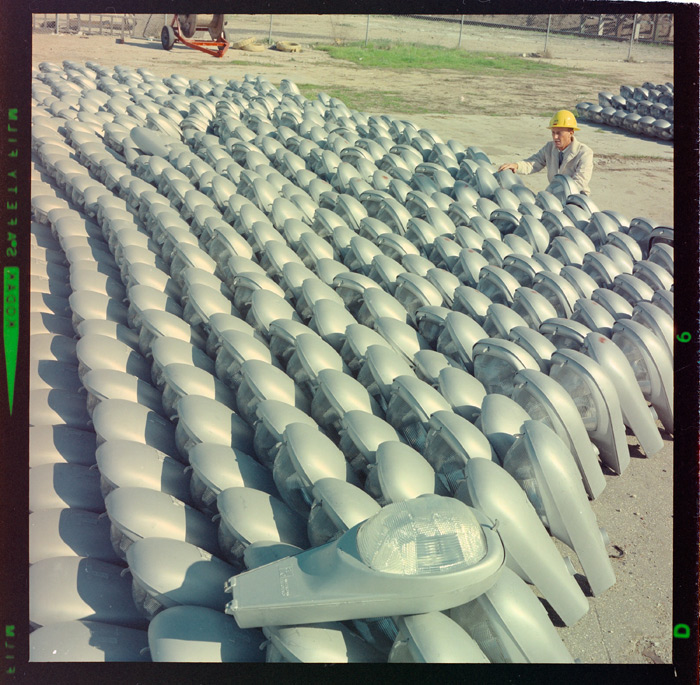 General Store, streetlights in storage, Art Adams, 1967. Huntington Library, Art Collections, and Botanical Gardens.
Matt Stevens is editor of Verso and Huntington Frontiers magazine.